IF YOUR LOOKING TO JUST REPLACE A DEFECTIVE PUMP ILL OUTLINE THE BASIC STEPS
ecss wrote:The fuel pump relay will be enabled by the ECM when you turn the ignition On for

about 2 seconds. It will also enable the relay if it sees distributor reference pulses

which indicates the distributor is rotating either because the engine is cranking

by the starter or the engine is running.think logically, take it step-by-step!

you really need a shop manual for YOUR YEAR CORVETTE.

first verify the fuel pump is getting the voltage it requires, get out a multi meter and use the link above, if the pumps ARE bad theres a very good chance the fuel in the tank is contaminated with alcohol,rust or water and you need an in tank pre-filter

a logical step by step approach will lead you to the problem, youll be amazed at what youll learn reading links. use of a shop manual and multi meter can be very helpful

http://www.harborfreight.com/5-in-1-digital-multimeter-98674.html

If you have 12 volts on pin A of the relay that 12 volts goes to the FP fuse and

then the 12 volts goes to the fuel pump.

http://www.chevythunder.com/fuel_system_diagnosis.htm

If you want to test the fuel pump manually, you can apply 12 volts direct to pin G on the

diagnostic connector above the drivers right knee. The 12 volts goes thru the

normally closed contacts of the fuel pump relay to the fuel pump fuse and then

to the fuel pump motor.

ITS A GOOD IDEA TO ALWAYS REPLACE THE FUEL FILTER WHEN THE PUMPS REPLACED

The fuel pump should turn on and stay running.

http://www.youtube.com/watch?v=_oXLUqE4Sf0

Here's the schematic, of a 1995 corvette fuel pump control. posted below,

save it and print it out.

There are two sources to power the fuel pump.

The PCM enables fuel pump relay #1

As long as the engine is running or cranking.

Otherwise when you turn the ignition on it only enables the relay to provide the fuel pump power for a couple of seconds,

Other source is if the oil pressure switch located next to the rear of the intake ,if the oil pressure is above around 3 psi, 12 volts from fuse ECM Fuse#1

will provide 12 volts to the FP1 fuse#14 which goes to the fuel pump connector Gray wire.

Fuel pump relay #1 is located along the passenger side front edge of the dash. All of the relays

are the same so you can swap them around. Fuel pump relay #2 is used for the LT5 so it

may not be there.
HERES A FAIRLY NEW ,AND VERY INTERESTING ADDITION TO THE POTENTIAL FUEL SYSTEM DESIGN, as IT INCREASES THE FUEL PUMPS ABILITY TO ACCESS FUEL
http://www.motoiq.com/MagazineArticles/ ... rvoir.aspx
ROCK AUTO HAS FUEL PUMPS THAT DON,T COST NEARLY AS MUCH AS MOST AUTO PARTS STORES< BUT KEEP IN MIND BRAND NAME PUMPS TEND TO LAST LONGER THAN BARGAIN BASEMENT PRICE CHINESE IMPORT CRAP
http://www.rockauto.com/catalog/raframe ... nih4detdi1
THERES A BIG DIFFERENCE IN PURCHASING A COMPLETE ASSEMBLY OF MATCHED COMPONENTS FOR $250
vs a BARGAIN BASEMENT PUMP OF UNKNOWN QUALITY FOR UNDER $30

viewtopic.php?f=55&t=10536&p=44732&hilit=holley+fuel#p44732


I bought and have used the BOSCH PUMP, but theres better options available now than there were 12 years ago


Bosch High Pressure Pump in the tank replacement fuel pump in my 1985 vette when the original pump failed, and yes after helping others install the cheaper knock-offs I think theres a difference in quality,and while the price is higher and there are other options, I would at least consider the better brand name pumps, rather than the less expensive knock-offs.
if you look at places that sell BOTH good quality and bargain priced parts like ROCKAUTO or SUMMIT OR JEGS, youll see theres fuel pumps available from under $30 to over $250 PLUS aftermarket sources can go up from there, theres no way that a fuel pump from a well known manufacturer like lets say BOSCH that sells for 8 times what the bargain basement pump is going to be made to the same quality or contain the same attention to detail or have similar component quality, you tend to get what you pay for

viewtopic.php?f=55&t=10664&p=46009&hilit=pump+push#p46009
http://members.shaw.ca/corvette86/FuelS ... gnosis.pdf
viewtopic.php?f=55&t=635
viewtopic.php?f=55&t=1939
http://www.weldonracing.com/product/64/ ... _Pump.html
first check your shop manual for the fuse and fuse able link locations
fuses are located in several locations and fuse-able links near the battery
Bosch High Pressure Pump 0-580-254-984
Rated at 44 GPH @ 90 PSI 750+ Hp This pump is identical to the Accel part number 74702 which they boast will handle 870 Hp!
http://www.lucasinjection.com/bosch_and ... _pumps.htm
http://www.expressfuelpumps.com/
http://www.boschfuelpumps.com/
http://www.caspeed.com/boschpump/boschpump.html
the fuel pump has a 12 volt 15 AMP fused circuit
Under the hood--to the right of the blower motor---should be 2 relays---fuel pump is the one farthest to the right.
theres a good deal of good and useful advise, in this thread but Id point out the
sensor(s) next to the distributor, base ,could be a cause of a problem, because occasionally one of these starts acting up intermittently causing the fuel pump or ECM to stop working,or the VATS system, or the FUEL SUPPLY SYSTEM.
READ THRU THIS LINKED INFO
http://www.joby.se/corvette/mods/2001-0X07_fuelpump/
heres some other possibility,s
http://members.shaw.ca/corvette86/FuelS ... gnosis.pdf
viewtopic.php?f=80&t=1470&p=3304&hilit=+fuel+filter#p3304
viewtopic.php?f=62&t=3401&p=8972&hilit=vats+resistor#p8972
viewtopic.php?f=55&t=635
viewtopic.php?f=36&t=520&p=645&hilit=vats+resistor#p645
viewtopic.php?f=32&t=33
viewtopic.php?f=80&t=1470&p=3304#p3304
viewtopic.php?f=80&t=728&p=9217&hilit=fuel+filter#p9217
read thru these threads also, as theres a good deal more related info in those threads and links
obviously the first step is PROVING its the FUEL PUMP ITSELF THAT NEEDS REPLACEMENT AND NOT A FUSE OR RELAY OR SENSOR SO READ THRU THESE SUB LINKS, and DO A FEW TESTS BEFORE JUST ASSUMING ITS A DEFECTIVE FUEL PUMP,

If the ECM sees oil pressure greater than 4 PSI and the reference pulses from the distributor, it will energize the injector drivers
The ECM will also pull in the fuel pump relay in effect paralleling it electrically with the oil pressure switch.
(If the fuel pump relay fails, you can still normally get the car to start and run unless you can,t make at least 4 PSI oil pressure. This is a limp home mode feature put in place to allow for a fuel pump relay failure).
viewtopic.php?f=32&t=596
http://www.corvette-guru.com/modules/ne ... post129791
viewtopic.php?f=55&t=635
viewtopic.php?f=32&t=1401
viewtopic.php?f=32&t=67&p=83#p83
its not necessary to drain the tank but its a good idea to do so.
IT IS NECESSARY TO DISCONNECT THE BATTERY

READ THAT AS ABSOLUTELY MANDATORY

during the swap procedure to prevent any chance of accidental problems
step one have the parts on hand PLUS 3 ft of 3/8" fuel line and 1 ft of 5/16" fuel line , I know, you may not need the fuel line but in many cases its faster and easier to remove the old line and replace with new ones
hose clamps, youll want several 1/2" size for the lines
fuel pump
http://www.ecklers.com/product.asp?pf%5Fid=30666&dept%5Fid=1277
fuel pump screen
http://www.ecklers.com/product.asp?pf_id=30668&dept_id=1277
fuel filter
http://www.ecklers.com/product.asp?pf_id=A3479&dept_id=1303
(optional but a GREAT IDEA)
ok, step one,
make darn sure the keys are out of the car and the battery is disconnected for extra safety
step two, open the fuel fill door center rear deck where you normally fill the car and remove the gas cap
step three
remove the four very small torx screws in the corners and lift off the door assembly
step four
theres a rubber bib fuel spill tray)(around the fill spout, remove the gas cap and work the bib fuel spill tray ) (out , and disconnect the water drain line and label it with masking tape/pen
step five
label the three lines with masking tape/pen (upper line/lower line /left side line)
remove each at the central point in the opening, then disconnect the electrical connector on the lower edge of the opening
step six
remove the 8 10mm bolts and look carefully at where the components go, after they are removed the pump lifts up and out, the pump normally comes with instructions also, but its fairly simple, the pump, lines and fuel level sensor lifts out as a sub assembly, look thru the link below for pictures and more info
the stock pump puts out less than 60 gallons an hour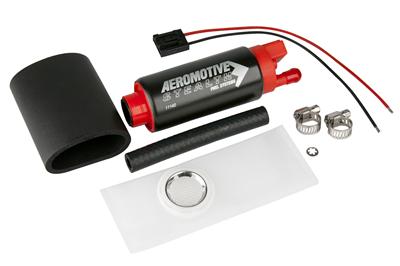 http://aeromotiveinc.com/tech-help/freq ... uel-pumps/
340 liters per hour flow should be good for/ approximately 700HP (thats approximately 90 gallons an hour
just a bit of related info that may or may not apply in your case, electric in tank fuel pumps are COOLED by both sloshing fuel and fuel flow rates and are DESIGNED to be used with a return style fuel pressure regulator, use with a nearly empty fuel tank or with a dead head style fuel pressure regulator will DRASTICALLY reduce the pumps life expectancy
http://www.racerpartswholesale.com/prod ... And_Wiring
heres a 200 gallon an hour rated pump that should easily supply over 1000hp, but youll need AN#8 or larger fuel lines
http://aeromotiveinc.com/wp-content/upl ... _guide.pdf
BTW RELATED THREADS
the fuel pump has a 12 volt 15 AMP fused circuit
http://store.summitracing.com/parts/aei-11169
http://forum.grumpysperformance.com/viewtopic.php?f=55&t=635
http://forum.grumpysperformance.com/viewtopic.php?f=55&t=211
http://forum.grumpysperformance.com/viewtopic.php?f=55&t=1200
http://forum.grumpysperformance.com/viewtopic.php?f=55&t=3165&p=8442#p8442
"I have replaced countless in tank fuel pumps. In tank fuel pumps are submerged in fuel in order to help them run cooler. I see many people out there (especially with today's gas prices) who run their vehicles on the empty side of the tank.
Empty tank=hot pump. It's just as easy to keep the top half filled as the bottom half. Keeping adequate gas in the tank in conjunction with a regular filter change will insure your pump will last it's longest."
http://www.joby.se/corvette/mods/2001-0X07_fuelpump/
NOW IF YOU WANT TOO UPGRADE HERES A MORE USEFUL LINK WITH PART NUMBERS
http://www.caspeed.com/boschpump/boschpump.html
http://www.racetronix.biz/customkititem ... A-010H&eq=
255 liters per hour flow should be good for/ approximately 500HP
access to the fuel pump is thru the panel around the tank fill cap SIMILAR TO THIS, held in place with 10mm bolts in this picture
label the fuel return lines before you disconnect them to insure replacing them correctly
Fuel Pump
http://boschfuelpumps.com/
In a C4 Corvette, the fuel pump is one of those crossover items that is part of both the electrical system and the fuel system. The pump is a submerged variety, electrically operated, contained in the fuel tank and somewhat difficult to get to.
Although the pump is difficult to physically check, you can make certain that it at least runs by turning the ignition switch to on (but don't start the engine).
If the pump motor is working, you will hear a whirring noise coming from from the rear of the vehicle that will last for 2 seconds. Note that this does not prove that the pump is actually pumping fuel in sufficient quantity and/or pressure but it does prove if the pump motor itself is operating.
If you do not hear any sound, check the fuse labeled "Crank" on the fuse panel.
If the fuse is not blown but there is no sound from the tank area, there is a problem with either the motor or the wiring feeding the fuel pump motor.
If the pump appears to be working, you will need to measure the fuel pressure at the Shraeder valve located on the fuel rail on the engine. Anything below 35 PSI is cause for alarm and can be the fuel pump (pumps---2 each---on a ZR-1), the fuel pressure regulator, the check valves in the fuel return line, the fuel filter or a obstructed fuel line.
Once you have troubleshooted your Corvette's Fuel System and determined it is time to install a new fuel pump & sending unit on your Corvette you will first need to disconnect the negative battery cable and relieve the pressure in the fuel system. To relieve the fuel system pressure on a C4 Corvette you can simply remove the gas cap and let the car sit for 15 minutes. Once the pressure is relieved drain your Corvette's fuel tank and remove the tank filler door attaching screws and bezel. Next, lift the fuel tank filler pipe housing and disconnect the drain hose from the nipple. Before disconnecting the fuel tank filler pipe housing, clean all fuel connections and surrounding areas to avoid contaminating the fuel system. Next disconnect the fuel hoses and EVAP hose from the fuel sender assembly. Plug or pinch the fuel feed and return hoses and remove the fuel sender electrical connector. To finish removal of your C4 Corvette's fuel pump and sending unit remove the fuel sender assembly attaching screws, assembly, and gasket. You can re-install the old gasket but first check to see if your new C4 Corvette Sending Unit came with a new gasket. If it did then discard the gasket and thoroughly clean the gasket sealing surfaces. If you just purchased a new C4 Corvette Fuel Pump you will need to purchase a gasket separately or re-install the old gasket. Finally, cuts, nicks, swelling, or distortion is common on the fuel feed, fuel return and EVAP hoses so be sure to inspect these hoses before proceeding.
Once you are ready to install your new C4 Corvette Fuel Pump & Sending Unit begin by positioning the gasket on the fuel tank with the notch facing forward in the right hand corner of the tank. Carefully fold the strainer to allow it to fit through the opening in the tank. Next, install the fuel sender assembly into the fuel tank and re-connect the fuel sender electrical connector. Then connect the EVAP hose and tighten the hose clamps. Re-connect the fuel drain hose to the nipple on the filler pipe housing and place the housing around the filler pipe. Now you can re-install the filler door bezel, add fuel, and re-connect the negative battery cable. Before driving your Corvette away, be sure to turn the ignition switch on, off, then back on and check for any possible fuel leaks. If no leaks are recognized your Corvette fuel pump replacement was a success.
the answer to how big a fuel pump yoou need or what injector size is required or what fuel pressure level will be necessary is a predicable value and it depends on what power range your dealing with and what your trying to supply with fuel and the rate its potentially using that fuel, the stock fuel pump will easily supply 400hp plus on a c4 corvette or a bit more and the stock injector size won,t
it takes (X) amount of fuel/air mix at about a 13:1-14:1 ratio being burned per minute to make (Y) amount of HORSEPOWER
you can spin a small engine fast or a big engine slower but it will take a certain amount of fuel being consumed to produce a power level and its reasonably predictable at about a BSFC of about .5-.55, you might be amazed at what you can learn reading thru the linked info on the site.
the fuel filters located under the front pass side door area near the frame and the shop manual will go into some detail on its removal, yes your going to loose some fuel so its best to do this up on a lift or jack stands where access is easier and where you can see what your doing.
theres an arrow on the filter indicating direction of fuel flow for a reason , pay attention and do it correctly,
have some shop towels and a fire extinguisher handy ANYTIME you work on fuel lines!
http://forum.grumpysperformance.com/viewtopic.php?f=55&t=635
http://forum.grumpysperformance.com/viewtopic.php?f=55&t=211
http://forum.grumpysperformance.com/viewtopic.php?f=55&t=1200
http://forum.grumpysperformance.com/viewtopic.php?f=55&t=3165&p=8442#p8442