GOT a
distrib
that seems to come loose and not hold timing?
MOST
DISTRIB
CLAMPS LOOK LIKE THIS
THEY WORK BUT NOT EXCEPTIONALLY WELL,
step one
buy & install this
http://www.jegs.com/i/Moroso/710/26215/10002/-1
the distributor won,t move if its installed correctly
"Why does it have the bolt hole and the slot?
John"
the clamps firmly tightened to the distributor shaft after the timing is correctly set,locking its location in relation to the block,a STUD gets installed with LOCTITE into the intake manifold, it sticks up about 1.25" and most guys use one of these
and it has to go thru the SLOT, the cap screw is used to tighten the
clamp
to the intake.
with practice you can pull and replace the distributor and maintain the correct timing.
you SHOULD READ THRU THIS LINK ALSO
viewtopic.php?f=55&t=293&p=358#p358
BTW if you have a mijnor oil leak around the distributor base youll want to verify that
you have the GASKET between the intake and distributor housing, and a decent
clamp
?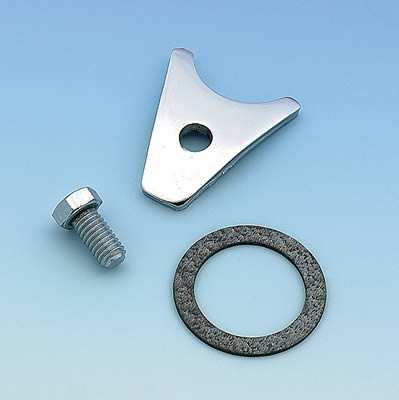 http://www.summitracing.com/parts/MRG-1009/?image=large