Ok you just built your dream engine and find out it runs better than you even expected,
but once it heats up, its got that tendency to start pinging when it heats up or when you try to save a few bucks and use less than high test gas!


SO NOW WHATS YOUR OPTIONS?
detonation is in part ,the result of too much combustion chamber heat ,for the level of compression and fuels octane, being used . reducing that heat, or increasing the octane or REDUCING THE EFFECTIVE WORKING COMPRESSION , or CONTROLLING THE IGNITION TIMING CAN, reduce that tendency
you know your prone to detonation damage,if you hear pinging , lower engine speeds and heavy loads with low octane fuel is a very dangerous combo,such as towing up a long uphill grade, with a heavy load at lower engine speeds, can quickly cause cylinder head heat to build. the heat builds rapidly in the combustion chamber if the engine rpms won,t allow , frequent and constant combustion chamber flushing with cooler intake air,and effective cylinder scavenging from the exhaust, and lower engine speeds tend to reduce coolant flow rates thru the heads, it generally makes conditions available to induce detonation, youll also find many manufacturers suggest you don,t tow in overdrive gears as in many transmissions the gear strength in O.D. is lower than when the transmission is in direct drive ,so now what are your options?
well the first step is verifying what your dealing with and that requires knowing what your coolant and oil temperatures are during the time the engines running and the peak temps reached, that also requires knowing your ignition advance curve, your installed cam timing and your true engine compression along with the fuels octane.
(PLOT IT OUT AND VERIFY DON,T GUESS) theres several things most guys can adjust or change to lower an engines tendency to get into detonation conditions, lowering operating temps ,slowing the ignition advance curve and richening up the fuel air ratio, use of ducted outside air to the engine,a larger radiator and more efficient cooling fans and retarding cam timing are common cures.


theres always a compromise and on most engines the best oil temp range to reduce wear,emissions and get the best mileage is found when the oil temps kept in the 190F-215F range MOST OF THE TIME and it RARELY exceeds 220F
http://www.zddplus.com/TechBrief13%20-% ... cosity.pdf


[/color]
[/b]
well I'll assume you previously read the links on engine building,and quench, and you have at least tried to build a well balanced combo with reasonable quench,and tried to match the cam duration and lsa to the engines compression and intended power range, and you selected a fairly well matched cam timing and reasonable compression, but at this point in the tuning ,your still having indications your getting into detonation.
so what your trying to do is reduce combustion chamber temps,increase your fuels octane, reduce your fuel/air temperatures, or reduce your combustion chamber pressure or speed up combustion
OK, detonation potential in a high compression engines hardly a rare issue and if you look into the basic problem you find theres several routes you can take to reduce that problem.
theres a very good reason WHY most guys run a separate smaller tank of E85 fuel, thats rather easy to get compared to methanol to use with water injection systems rather than strait water alone and that reason is that water alone in the form of steam is highly corrosive, while ethanol mixed with gas in the form of E85 fuel is considerably LESS corrosive,and can be used to effectively increase octane and reduce cylinder burn temps if used only under high heat and load conditions.
HERES THE LIKELY RESULT OF PROLONGED DETONATION
I list a few, but the links posted below have far more detailed info
http://www.chevyhiperformance.com/tech/ ... nce_guide/
http://www.enginebasics.com/Advanced%20 ... ooler.html
[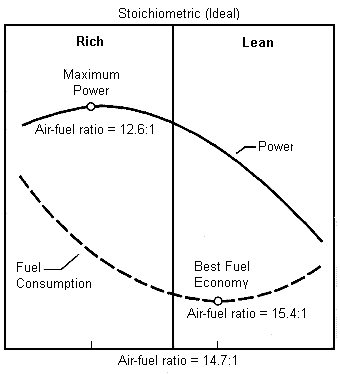 http://www.autospeed.com/cms/article.html?&A=0348
INCREASE OCTANE OF FUEL
SIGNIFICANTLY REDUCE THE TEMPERATURE OF THE FUEL/AIR MIX
SIGNIFICANTLY REDUCE THE ENGINES COOLANT TEMPS
REDUCE THE ENGINES OIL TEMPS
CONTROL THE IGNITION ADVANCE CURVE
ALTER THE FUEL/AIR RATIO
USE A COOLER RATED SPARK PLUG
RETARD YOUR CAM TIMING A FEW DEGREES
USE WATER/METHANOL INJECTION
SWAPPING TO A LONGER DURATION CAM
THE DETAILED LINKS AND THREADS BELOW PROVIDE MUCH MORE INFO

INCREASE OCTANE OF FUEL
this is usually the first response, and it works, but it can be fairly expensive,in some cases , yet it might be the easiest to implement, you just need to figure out whats required, adding a gallon of some additive like race octane gas, toluene or some other octane booster to a tank of high test pump gas may be all thats required
and swapping to some other higher octane fuel like E85 might be an option
SIGNIFICANTLY REDUCE THE TEMPERATURE OF THE FUEL/AIR MIX
this might sound difficult but it may be far easier in some cases than you may think, routing cool outside air directly into the intake or using some careful re=-routing of your fuel supply limes might be all thats required, its not uncommon for outside air to be 50F-100F degrees cooler than air taken from the area around the engine in many engine compartments once the engines up to operational temps, installing a 1" insulated spacer under a carburetor base can be all thats required in some cases.

SIGNIFICANTLY REDUCE THE ENGINES COOLANT TEMPS
swapping to a 180F thermostat and a larger more efficient radiator ,more efficient cooling fans and possibly hood heat ducts can significantly reduce your engines operational temps
REDUCE THE ENGINES OIL TEMPS

adding an effective oil and or transmission cooler can significantly reduce the heat load on the radiator, and reduce engine temperatures making the average temp drop and be far more stable

CONTROL THE IGNITION ADVANCE CURVE
this should be obvious, detonation can be the result of too rapid of an ignition advance curve or a advance curve that advances too far, backing off either the total advance or the rate of the advance as the rpms increase can reduce the engines tendency to get into detonation
ALTER THE FUEL/AIR RATIO
youll make the best power at about a 12.5:1-13:1 fuel/air ratio and youll also tend to have detonation become far more likely with leaner hotter burning ratios so it makes sense to monitor and control and be consistent here
USE A COOLER RATED SPARK PLUG
its hardly news to most experienced tuners that its possible for the spark plug you use to effect the combustion chambers tendency to reach detonation, or that a cooler plug heat rate can at times reduce that tendency

RETARD YOUR CAM TIMING A FEW DEGREES
retarding your cams timing in relation to the piston rotation can both increase the upper rpm power curve and reduce the effective lower rpm compression, moving the timing as little a 4 degrees can move the whole torque curve about 200rpm higher and in some cases drop the compression .2%-to-.5% which may be enough to significantly reduce the problem
USE WATER/METHANOL INJECTION
an auxiliary system to spray a mix of water/methanol alcohol into the engine when the knock sensor senses a tendency to detonation, significantly cools the combustion process and effectively increases the resistance to get into detonation, many guys have recently swapped to use of E85 fuel and water injection to reduce the cylinder temps, as its cheaper and easier to locate and still works well if tuned correctly

SWAPPING TO A LONGER DURATION CAM
SWAPPING to a longer duration cam or one with a WIDER LSA delays the intake valve close point in relation to the pistons upward movement on the compression stroke, effectively reducing the low rpm compression.
RELATED THREADS & INFO
viewtopic.php?f=55&t=2718&p=35581&hilit=detonation#p35581
viewtopic.php?f=70&t=4683&p=34586&hilit=detonation#p34586
viewtopic.php?f=55&t=613&p=12677&hilit=octane+boosters#p12677
viewtopic.php?f=52&t=4081&hilit=detonation
http://www.chevyhiperformance.com/tech/ ... nce_guide/
viewtopic.php?f=55&t=8961&p=31945#p31945
viewtopic.php?f=86&t=4484&p=11858&hilit=water+methanol#p11858
viewtopic.php?f=86&t=1644&p=3956&hilit=alcohol+spray#p3956
viewtopic.php?f=54&t=10028&p=38941#p38941
viewtopic.php?f=52&t=9162&p=32706&hilit=detonation#p32706
viewtopic.php?f=54&t=3519&p=10293&hilit=melling+oil+pump#p10293
viewtopic.php?f=52&t=9074&p=32520&hilit=detonation#p32520
viewtopic.php?f=50&t=208&p=16848&hilit=detonation#p16848
viewtopic.php?f=52&t=8460&p=29682&hilit=detonation#p29682
viewtopic.php?f=57&t=149&hilit=detonation
viewtopic.php?f=87&t=2141&p=25201&hilit=detonation#p25201
viewtopic.php?f=86&t=7277&p=24725&hilit=detonation#p24725
viewtopic.php?f=57&t=4701&p=19139&hilit=detonation#p19139
viewtopic.php?f=70&t=4683&p=34611&hilit=bushing+advance#p34611
viewtopic.php?f=70&t=2798&p=13695&hilit=bushing+advance#p13695
viewtopic.php?f=52&t=4532&p=12045&hilit=bushing+advance#p12045
viewtopic.php?f=70&t=5372&p=18557&hilit=detonation#p18557
viewtopic.php?f=55&t=537&p=16255&hilit=airfilter#p16255
viewtopic.php?f=32&t=3954&p=10553&hilit=corvette+hood+duct#p10553
viewtopic.php?f=57&t=2756&p=7161&hilit=corvette+ducting#p7161
viewtopic.php?f=50&t=268&p=324&hilit=+corvette+corvette+cooler+route#p324