Detonation vs power
this is worth reading,
viewtopic.php?f=50&t=9816
http://www.enginebasics.com/Advanced%20 ... ooler.html
http://kb-silvolite.com/article.php?action=read&A_id=58
if you do a simple compression test and find out a single or pair of cylinders read far less than most of the others theres an excellent chance your dealing with a defective head gasket, detonation damage on the pistons and rings, a broken valve spring that won,t keep the valve seated, or a busted valve or piston and be aware if it over heated a top compression ring that ring might have expanded enough for the piston ring ends to butt, expand and lock the ring in the bore for an instant, resulting in cracking or deforming the piston groove, if it did the compression ring seal will have been mostly destroyed(PERMANENTLY)
might also check the cam/lifters/pushrods. if valve(s) are stuck open, cracked cylinder head,no compression.
TYPICAL DAMAGE APPEARANCE
A hole has formed in the piston crown after a relatively short running time.
The upper third of the hole has formed by melting, the remaining two thirds, where the hole opens out in the downward direction, by breakage.
The piston skirt and undamaged part of the piston head often show no sign of thermal overload, and the hardness relaxation is within normal limits. In many cases scuffing has not even occurred.
ASSESSMENT
Holes in the piston crown form mostly in high compression engines with predominantly hemispherical combustion chambers. Specific combustion defects cause such rapid local overheating that material in the affected area becomes pasty. The inertia forces due to the axial piston movement and the fast flowing combustion gases cause removal of the soft material. As a result of the loss of strength in this area, the combustion pressure then causes mechanical failure of the remaining two-thirds of the piston crown thickness. This lower part of the hole opens out downwards. Such a rapid local overheating of the piston crown to a pasty condition can only be caused by pre-ignition. Combustion is initiated some time prior to the actual spark enabling the flame to operate on the piston crown much longer than usual. Tests have shown that the piston crown heats up locally to the melting point within a few seconds under continuous pre-ignition.
With pre-ignition, combustion is initiated by a glowing area in the combustion chamber when the mixture self-ignition temperature is exceeded. Probable sources are the sparking plug, the exhaust valve and deposits adhering to the combustion chamber walls.
POSSIBLE CAUSES
The fuel quality must match the compression ratio of the engine, i.e. the octane rating of the fuel must cover the engine octane requirement at all operating conditions
Diesel fuel in petrol.
Oil in combustion chamber due to leakage past piston rings or valve guides.
Sparking plugs with incorrect heat range.
The ignition timing and advance/retard characteristics and the distributor condition.
Leaking exhaust valves.
Combustion chamber deposits (hard and soft carbon).
Inlet temperature too high. This can be considerably raised by a faulty or incorrect exhaust, particularly with uniflow scavanged cylinder heads.
High engine or inlet temperature due to inadequate under-bonnet ventilation.
General overheating.
engine heat can be a huge issue, detonation can destroy even a well built engine, I have tried to maintain an 8:1-8.4:1 dynamic compression ratio and a .040-.042 quench in most of my engines,I try to keep the oil temps at no more than 220F most of the time and ideally under 215F, I try to keep coolant temps under 190F most of the time and try to avoid getting coolant over 215 f, keep in mind that you can,t audibly hear detonation in most engines in the upper rpm range until it becomes rather extreme and potentially rather destructive, and that just because you can,t hear it at lower rpms or when its not happening consistently, its not an indication that the cumulative damage is not occurring over time.
I lost count of the guys I know who built engines that "for no apparent reason... busted pistons or rings" when those engines get torn down and closely inspected DETONATION is frequently a prime suspect, and todays crappy fuel octane is a prime contributor.
every combos different and simple things like polishing combustion chambers. retarding a cam a few degrees,using a larger more efficient radiator, and changing the fuel/air ratio and ignition advance curve or adding a highly effective scavenging header on a low restriction exhaust can make or brake a combo as far as its tendency to get into detonation.
and be aware if the engine over heated a top compression ring, that ring might have expanded enough for the piston ring ends to butt, expand and lock the ring in the bore for an instant, resulting in cracking or deforming the piston groove, if it did the compression ring seal will have been mostly destroyed(PERMANENTLY)
viewtopic.php?f=52&t=2630&p=13142&hilit=curtain#p13142
viewtopic.php?f=55&t=613&p=1379&hilit=octane+booster#p1379
viewtopic.php?f=52&t=4081&p=10861&hilit=curtain#p10861
viewtopic.php?f=53&t=510
viewtopic.php?f=55&t=2718&p=12119&hilit=calculate+octane#p12119
some of the major factors in your engines potential power, is the volumetric efficiency (how efficiently you fill and empty the cylinders) and the octane of the fuel used, compression ratio and detonation limits,
With detonation, prevention the main factors are
Ignition timing
Quench
FUEL OCTANE
DCR
and cylinder heat level
you'll be fairly safe if you stay under
8.5:1 dcr at 170f degrees
8.25 dcr at 180f degrees
7.8:1 dcr at 210f degrees
and keep the quench in the .036-.043 range
heres some differant calculators
http://www.kb-silvolite.com/calc.php?action=comp2
http://www.wallaceracing.com/dynamic-cr.php
http://www.smokemup.com/auto_math/compression_ratio.php
http://not2fast.wryday.com/turbo/compre ... sure.shtml
average the results
the numbers are for 92 octane premium gas run at a 14.7:1 a/f ratio
BTW heres a VERY SIMILAR GRAPH
[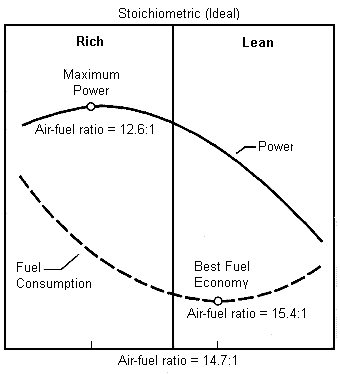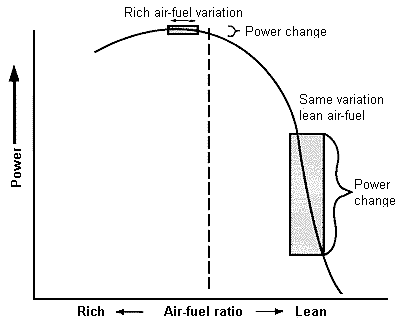 failure to verify clearances, verify valve train geometry , provide lubrication, and maintain cooling , stay out of DETONATION,or use of inferior components or exceeding your engines valve train control limitations, or red line on rotating assembly design strength can get darn expensive


and can result in expensive lessons in engine repair
http://www.misterfixit.com/deton.htm
]http://www.misterfixit.com/deton.htm
I won,t get into the extensive details of why, but heres what you can DO,
(1) retard the cam 4 degrees, (this tends to reduce your dcr and lower cylinder temps due to slightly lower DCR)
(2) add a pusher fan or in some way REDUCE your coolant temp, this tends to reduce the detonation tendency
(3) richen the air/fuel ratio to about 12.7:1 this tend to increase power and reduce the potential for detonation due to cooler cylinder temps)
(4)change to a spark plug two ranges colder and change the plug gap to .040, this tends (at least in theory)to reduce the plugs tip temp due to a lower electrical resistance of the spark jumping the gap)
(5) add some fresh coolant,and flush the radiator and install a 160 degree t-stat, some water wetter or purple ice ,in that coolant might help
(6) add a good multi spark ignition and have your distributor curve checked/modified to advance smoothly from 1000rpm to full advance at 3000rpm
(7) check for and remove any vacuum leaks
(8)next time the heads are off POLISH the combustion chambers, remove any sharp edges and make sure the QUENCH falls in the .037-.043 range
(9)swapping too aluminum heads is a good way to reduce the detonation tendency in some engines
(10) swapping to a larger capacity and more efficient,aluminim radiator helps in some cases
richen up the mix to 12.5:1 for max power/tq vs low emmissions and you can cheat slightly as the cylinder temps go down slightly.
keep in mind ALUMINUM absorbs and allows the transfer of heat to the coolant at a much faster rate, so your less likely to have cylinder temps raise into the detonation range as quickly.
and it should be obvious that your igntion curve and spark strength will also effect results, personally Ive found the BETTER MSD multi strike ignitions keep the cylinders cleaner and less likely to detonate
A bore scope can help locate problems like leaking intake gaskets, do a google search on (SLIPV618)its a bore scope I use and it easily slides thru a spark plug hole
http://store.dejavujewelry.com/tlw-slipv618.html
just be aware that oil in the runners doesn,t necessarily indicate a bad intake gasket because reversion pulse at low rpms can and does suck oil out of the cylinders into the intake runners even on engines with perfectly sealed intake gaskets if the ring seal or valve guides are warn