thats a good question for this forum,
Ok Ive got one and have tested several of them.
I YOUR HAVING ISSUES< WITH THE CAR RUNNING CORRECTLY,LOOK FOR LOOSE OR CORRODED ELECTRICAL WIRING CONNECTORS, in THE WIRING HARNESS, and VERIFY YOUR FIRING ORDER, YEAH I KNOW YOUR SURE ITS CORRECT, CHECK IT CAREFULLY AGAIN, YOUR NOID TEST LIGHT AND MULTI- METER CAN SAVE YOU A GREAT DEAL OF PROBLEMS AND SCRATCHING YOUR HEAD IF YOU TEST BASIC ELECTRICAL CONNECTIONS< RESISTANCE AND VOLTAGE, CHECK YOUR SENSORS AND GROUNDS, A SHOP MANUALS MANDATORY, HEAT SENSORS AND IGNITION MODULES AND OIL PRESSURE SENSORS HAVE A LONG TRACK RECORD OF FAILING OR PARTIALLY AND INTERMITTENTLY NOT FUNCTIONING
http://www.autometer.com/tech_faq_answe ... d=1&qid=48
http://www.innovatemotorsports.com/products/lm2.php
http://www.jegs.com/c/Gauges-Tachs_Air- ... 5/10002/-1
http://www.lethalperformance.com/05-201 ... io-p-18965
http://www.aa1car.com/library/wraf.htm
http://www.modernperformance.com/product_info.php?manufacturers_id=&products_id=1149
http://www.3barracing.com/product_3.htm
http://www.rbracing-rsr.com/rsrgauge.htm
http://www.scirocco.org/tech/misc/afgauge/af.html
http://www.innovatemotorsports.com/products/lm1.php
http://www.autospeed.com/cms/A_0217/article.html?popularArticle
http://thedynoshop.net/prod01.htm
heres my take on them, short answer, they are a big help but a P.I.T.A. to set up and use if your not going to semi permenantly install them on your car.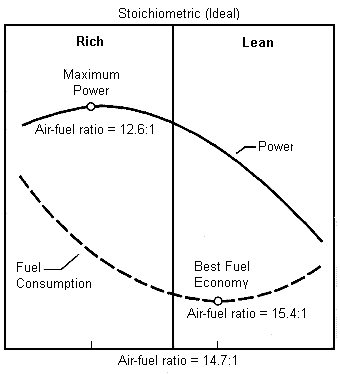 IVE come to use reading spark plug condition,
http://www.digitalcorvettes.com/forums/showthread.php?t=80783
http://www.digitalcorvettes.com/forums/showthread.php?t=85537&highlight=plugs
use of a good timing light and vacuum gauge , fuel pressure gauge and use of a GOOD HIGH TEMP INFARED THERMOMETER (THIS ONE)
http://www.professionalequipment.com/extech-high-temperature-infrared-laser-thermometer-501-ds-42545/infrared-thermometer/
as a very quick to use and accurate set of tools. :thumbsup:
OK WHY???
well your main concern when tuning an engine is to keep the all the cylinders running aproximately the same ratio and at about 12.8:1 for max power up to about 14.7:1 for low emmissions and good mileage, AND WHILE A A/F GAUGE IS A GREAT ASSET, ITS EASY TO DAMAGE, AND ITS BEST INSTALLED IN YOUR CAR , NOT USED AS A SHOP TOOL.
so whats the advantage/disadvantages
a fuel air meter uses a o2 sensor, if you place it in the header collector it gives an AVERAGE of all the cylinders on that cylinder head,If theres an (X) installed close to the dual collectors reversion pulses can occasionally even give data from the other side of the engine, so in theory and in practice you can have two cylinders run lean and two rich and the AVERAGE tends to look RICH to the O2 sensor as it SEES unburnt fuel, if you place it in the individual primary header tubes you either need eight O2 sensors (VERY EXPENSIVE, and keeping the wires from burning or grounding outs a TOTAL P.I.T.A......IF you don,t succeed you destroy the O2 sensor and need to replace it.) or you need to be constantly swapping very hot and fragile O2 sensors and bung plugs constantly, but with the IR thermometer you can almost instantly see which cylinders are running hotter or cooler and adjust the jets or look for vacuum leaks, or other CAUSED for the TEMP DIFFERANCE, ETC, far faster too get all the cylinders running at approximately the same temp, indicating the same fuel air ratio, youll be amazed at how close the temp follows the fuel/air ratio, and you can confirm it with plug condition and the other test equipment. run any cylinder too lean and detonation can break rings or melt pistons, run it too rich and you can wash the oil off the cylinder walls and ruin rings/scuff pistons, you need to know whats going on in EACH CYLINDER not the AVERAGE of all cylinders.
SO, if your going to install a decent wide band fuel air ratio meter on your car thats fine, its going to be an asset to your tunning skills, if you install the indicator/gauge inside the car and weld in a couple extra bungs in the collectors for tunning and wide band O2 sensors which are a big help, but you will quickly find that its a P.I.T.A. to use it for tune ups on all your buddies cars with the welding collector bungs and installing plugs and O2 sensors while the IR thermometer route is fast and very simple and you can confirm with oplug reading the condition of the engine.
YEAH! theres meters that you can stick in a tail pipe, but they read THE AVERAGE, not the individual cylinders ,
think about AVERAGEs
AS my old physics proffesor once said,
IF, I pour molten lead in your front slacks pockets and pack your butt in solid with DRY ICE,.... ON AVERAGE your comfortable:D
BTW
http://www.digitalcorvettes.com/forums/showthread.php?t=79676
bits of useful info on these
http://www.thirdgen.org/o2tuning
http://www.thirdgen.org/fuelgauge
http://www.thirdgen.org/tpimod2
http://www.thirdgen.org/injectorswap
http://www.thirdgen.org/coolantbypass
http://www.mummbrothers.com/SRF_Stuff/Secrets/Driveline/Air_Fuel.htm
http://www.ws6.com/mycar.htm



leon

posted this bit of info
"Exhaust gas temperature (EGT) depends on combustion temperatures. The hotter the mixture burns inside the cylinder, the hotter it will be coming out. Theoretically, combustion temperatures are at a maximum at stoichiometric, but realistically the maximum occurs slightly rich from peak because of the dissociation of Oxygen from the combustion products (CO2, H2O). Why temperature drops when rich or lean is described by the energy released caused by the chemical reactions between the fuel and air. Too little fuel (lean) and there is less energy contained within and more heat is transferred to the cylinder walls (no fuel evaporation or boundary layer), thus the lower temperature when it burns. Too much fuel, and combustion efficiency drops thus generating less heat.

I know, this is not too detailed, but it gets the point across without involving too much technical jargon.

Of course, this all assumes MBT timing and stable combustion. You can also change exhaust temps by varying spark timing, arguably more so than by just varying AFR. EGT is increased when spark timing is retarded since you are giving the gasses in the cylinder less time to cool off before the exhaust valve opens. "