GEAR PULLERS, for me,
its a darn love/hate relationship
, most of the time if your using the correct design and a quality tool everything goes smoothly and you don,t give it a second thought, but if you don,t know what your doing, if your using a cheap tool or the wrong tool, the potential to screw up expensive components is very high!
first bit of advice, Id strongly suggest you NEVER waste money on crappy imported Chinese gear pullers they are a total waste of money
EXAMPLE
http://www.atiracing.com/products/dampe ... ctions.htm
I bought this set mostly just to see if there was any chance they were serviceable (

but at $23 I really knew better, and I was correct the first puller I used broke withing minutes of force being applied

)
http://www.harborfreight.com/three-jaw- ... 69105.html
CAST

right into the arms is the word

(FORGED STEEL)

they are NOT

,
they are a cheap brittle casting that breaks the first time a significant loads applied,
I broke all three the first time I used them on applications that my old SEARS gear pullers smoothly and effectively removed with little effort.
http://www.summitracing.com/parts/pro-66514
or
http://www.summitracing.com/parts/shc-947626
heres a reasonably CHEAP but serviceable sets
Id strongly suggest you buy three jaw style pullers the two arm tend to bend and fold some types of metal pulleys rather than remove them.
http://www.zoro.com/g/Mechanical%20Jaw% ... /00059706/
http://www.zoro.com/i/G5310295/?category=5268
http://www.zoro.com/i/G5307382/?category=5268
http://www.sears.com/shc/s/p_10153_1260 ... Cookie=Yes
http://www.northerntool.com/webapp/wcs/ ... 3315_13315
decent cheap pullers
http://www.stanleyproto.com/default.asp ... alog=PROTO
http://www.mytoolstore.com/otc/1020.html
keep in mind you NEVER want to center the threaded screw center section , of the puller into the end of a cranks threaded hole or the gear puller shaft will destroy the threaded section, UNLESS youve used a hardened center support between them.
http://www.stanleyproto.com/default.asp ... ement+Part
BTW check out local PAWN SHOPS I see snap-on and MAC gear pullers occasionally and buy any that are reasonably priced
use the correct tool, beating the damper onto the crank frequently damages both the damper and the thrust bearing in the engine
http://www.tavia.com/cat12.html#1

"You put the damper on the crankshaft after oiling the crank snout and inner damper as far as you can get it with a few soft taps of large plastic mallet.
You thread grump's tool into the crankshaft as far as possible.OIL THE THREADS...with the roller bearing against the damper, the washer next, between the nut and roller bearing, then the nut,outer most, you turn the nut forcing the damper on, but be aware the damper generally slides on and the tool makes it fairly easy, so carefully watch as over tightening the tool once the damper bottoms against the cranks shoulder will brake the tool..........the picture depicts the tool set up for a sbc, you'll need to use the larger end and reverse it for the bbc
You then turn the real big nut, and the balancer walks on to the crankshaft
RELATED INFO
viewtopic.php?f=52&t=90
they also make combo puller/installers Proform 66514 - Proform
http://www.jegs.com/webapp/wcs/stores/servlet/product_10001_10002_43866_-1
there's a TOOL designed expressly for removing the damper and its
NOT a conventional swing jaw type gear puller LIKE THESE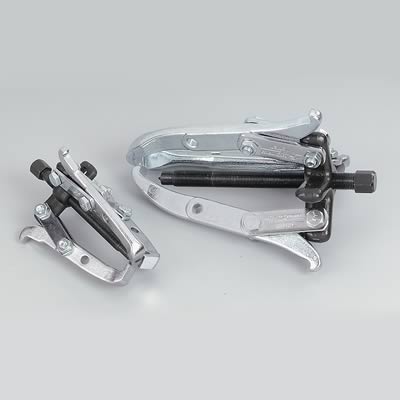 they tend to bind and distort the damper, frequently damaging it
youll need something like this (you can get a cheap version at most auto parts stores for under $40 but the one from summit better quality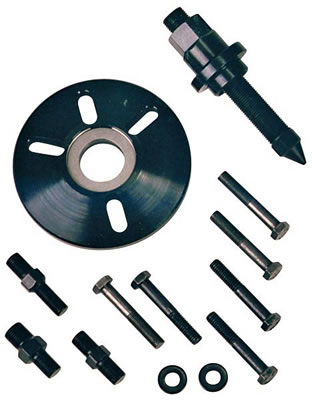 http://store.summitracing.com/partdetail.asp?part=PRO%2D66514&autoview=sku
http://store.summitracing.com/partdetail.asp?part=ATI%2D918999&autoview=sku
BTW
the crank gears requires a 3 or 4 jaw gear puller ,because the two jaw style tends to try and fold/bind the gear into the crank snout, a lighted propane torch applied briefly to heat the crank gear tends to expand & loosen its hold on the crank
http://www.ccohs.ca/oshanswers/safety_h ... llers.html
http://www.tooltopia.com/sunex-tools-39 ... lebase_18u
http://www.tooltopia.com/kd-tools-3624.aspx
be aware that some damper designs do tend to fail over time!
beating a balancer onto a crank, pulling it with the wrong type of tool, or letting it get fuel or oil soaked can damage a damper, this can easily result in the outer damper ring with the TDC mark rotating to a random location
if your front crank seal leaks, over time it can dissolve the elastic, between the inner and outer damper hub weight, beating on a damper tends to hurt the flex ring seal also

s