One of the most frequent questions I hear, is
" will adding 1.6:1

roller

rockers

really do much for my engine vs the standard 1.5:1 ratio

roller

rockers

?"
changing just the rocker ratio but sticking to the cheaper stamped ball & socket stock rocker design tends to have a minimal power advantage, the fact that the aftermarket stamped
rockers
do tend to be a bit more consistent in effective ratio helps but gains of 5-8 hp are common, not the 10-12 hp commonly quoted from what IVE seen on dyno results.
keep in mind the flat side of the
rockers
axle or trunnion faces up to mate with the adjustment nut, and the rounder side faces the cylinder heads,
if you change the rocker ratio the push rod alignment changes and you might need a LUIS TOOL to lengthen the cylinder head clearance slots in the cylinder heads.
be sure to check clearances carefully like coil bind,and push-rod to guide plate alignment and clearances ,verify the rocker slots don,t bind on the rocker studs as this is a common problem with stock stamped style 1.6:1 ratio rocker, verify the push rods don,t bind in the slots in the cylinder head, if they do even for an instant at one point in the

rockers

arc, they can bind the lifter rotation on the cam lobe and cause the cam to wipe, out the lobe and the lobe & lifter contact area resulting in a quickly failed cam,and/or restrict oil to the

rockers
s
notice the standard slot length rocker on the left , in the picture above, is self aligning while the rocker on the right would require guide plates for the push rods
swapping to 1.6:1

ROLLER

ROCKERS

from your old standard ball & socket 1.5:1 ratio, stock

rockers

is usually worth 15-20hp,due too both lower friction losses and a bit more valve lift
occasionally youll find the swap to 1.6:1 ratio
roller
rocker produces a bit more power, the change in lift at the valve with the new higher ratio rocker is a minor factor compared to the reduced friction decent
roller
rockers
provide,along with the lower heat the oil sees from the rocker friction, but together the two factors, higher valve lift and less friction are usually worth the time and effort, swapping from a 1.5:1 to a higher 1.6:1 ration can at times provide little if any benefits but on other combos the results are very noticeable (ON A DYNO)
you also want to remember that you need to carefully check push rod to cylinder head clearances thru the full engine rotation, its fairly common when swapping to the higher ratio to find the push rods rub in the push rod slot in some locations, this can cause wear, noise or lack of oil flow to several
rockers
, a
louis tool can be used
to open up the cylinder head
rockers
push rod slots for proper clearance. (look lower in the thread for more info )
especially if your really UNDER CAMED for the application, or find you need extra rocker/push rod clearance
the change in rocker ratio, from 1.5:1 to 1.6:1 would have an effect on valve lift that would look similar to this on a graph
heres a flat tappet solid lifter cam I used to use a great deal in 10.5:1-11.5:1 compression ratio 383-406 sbc race engines, I built, run on race octane gas , changing the rocker ratio from 1.5:1 to 1.6:1 on that cam, boosts the lift from the original .518/.536 too a .552/.571, so you darn sure needed better valve springs and needed to verify clearances
CRANE CAMS wrote:How does an increase in Rocker Arm Ratio improve the engine's performance?
The lobe lift of the cam is increased by the ratio of the rocker arm to produce the final amount of valve lift. A cam with a .320" lobe lift using a 1.50:1 ratio rocker arm will have a .480" valve lift (.320" x 1.50 = .480"). If you install rocker arms with an increased ratio of 1.60:1, with the same cam, the lift would increase to .512" (.320" x 1.60 = .512"). The engine reacts to the movement of the valve. It doesn't know how the increased lift was generated. It responds the same way it would as if a slightly larger lift cam had been installed. In fact, since the speed of the valve is increased with the higher rocker arm ratio, the engine thinks it has also gained 2° to 4° of camshaft duration.

The end result is an easy and quick way to improve the performance of the existing cam without having to install a new one. See the Buyers Guide section for availability of increased ratio rocker arms. Remember, whenever you increase the valve lift, with either a bigger cam or larger rocker arm ratio, you must check for valve spring coil bind and for other mechanical interference. Please review the previous sections concerning these matters.

read thru these threads, and links, yeah I know you want to skip over them, but if you do youll skip over a great deal of useful info
viewtopic.php?f=52&t=126
viewtopic.php?f=52&t=198
http://www.superchevy.com/how-to/148-02 ... d-

rockers

/
http://www.pontiacstreetperformance.com ... rArms.html
http://www.hotrod.com/techarticles/engi ... ock_chevy/
http://www.hotrod.com/how-to/engine/hrd ... m-comparo/
viewtopic.php?f=52&t=10268&p=41624&hilit=ratio+

roller

+

rockers

#p41624
viewtopic.php?f=52&t=1719
viewtopic.php?f=52&t=3009
http://www.superchevy.com/how-to/148-02 ... d-

rockers

/
http://www.wallaceracing.com/rockercalc.php
http://www.popularhotrodding.com/engine ... phr_ratio/
http://wallaceracing.com/rockercalc.php
http://www.dapa.org/jhpages/jhandracing13.htm
http://www.thedirtforum.com/rockercalc.htm
viewtopic.php?f=52&t=196
http://www.vetteweb.com/tech/vemp_0703_ ... index.html
http://www.vetteweb.com/tech/0204vet_sm ... index.html
http://www.compcams.com/Products/CC-%27 ... %27-0.aspx
http://chevyhighperformance.automotive. ... index.html
Well the answer depend a great deal on exactly which engine your putting them on!
and if youve got the necessary clearances!
If its a fairly mild engine with a mild cam ,and clearances allow, yes there very likely to aid the power curve a bit, you could easily gain 10-12 hp MINIMUM over stock friction BALL style
rockers
with either ratio
ROLLER
ROCKER due to the reduced friction alone.
but its not at all unlikely that the additional lift and slight added duration could add 4-5 extra hp in some cases., and since the cost is very similar between ratios for the same application, ITs generally not a bad idea!
now every once in awhile you'll see no gains, but its darn rare to see the larger 1.6:1 ratio cause anything like a loss compared to the 1.5:1 ratio
rockers
on any combo even close to a stock or slightly modified combo simply because most are flow rate restricted to some degree.
IVE always preferred STEEL
roller
rockers
over ALUMINUM for two reasons
first STEEL has a MUCH GREATER fatigue life under repeat stress than aluminum, and steel generally has far fewer clearance insures with other components, plus some STEEL
roller
rockers
are REBUILD ABLE.
NATURALLY IF YOU DON,T READ THE LINKED INFO YOU'LL MISS A LOT OF GOOD STUFF!

in the picture above, you see self aligning on the left, on the right the common style that needs push-rod guide plates
http://www.vetteweb.com/tech/vemp_0703_ ... index.html
http://www.pontiacstreetperformance.com ... rArms.html
http://store.summitracing.com/partdetail.asp?part=CCA%2D1302%2D16&autoview=sku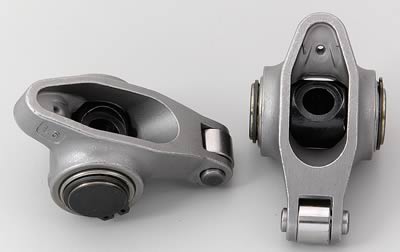 http://store.summitracing.com/partdetail.asp?part=CRN%2D11600%2D1&autoview=sku
in MOST cases you can install 1.6:1
roller
rockers
with MINOR machine work, (I have seen on rare occasions no machine work necessary)
but in any case its easily done,
the tool comes with instructions
http://store.summitracing.com/partdetail.asp?autofilter=1&part=PRO%2D66485&N=700+115&autoview=sku
and before a dozen guys start telling you they installed them with zero problems on stock heads, keep in mind most guys don,t take the time to check ALL the clearances thru THE FULL rotation of the
rockers
arc. and it they don,t break or bind parts ,THEY assume its fine
but the truth is the pushrod should NEVER touch either end of the slot even lightly anywhere in the arc.
more info
http://www.vetteweb.com/tech/0204vet_sm ... index.html
http://www.digitalcorvettes.com/forums/showthread.php?t=82474
http://www.centuryperformance.com/valveadjustment.asp
sure, this
type
USUALLY fits inside many stock valve covers,naturally youll need the BBC version if its a BBC and the self aligning version on a SBC VORTEC HEAD
http://store.summitracing.com/partdetail.asp?part=CCA%2D1331%2D16&autoview=sku
or
http://store.summitracing.com/partdetail.asp?part=CRO%2D73640%2D16&autoview=sku
but you might need to get different adjustment nuts as those might be too tall for some valve covers, I know they fit on most corvettes stock covers AFTER use of a DIE GRINDER to remove the DRIP TABS on the inner valve cover surface
READ THRU THIS THREAD AND SUB LINKED INFO ALSO
viewtopic.php?f=52&t=181&p=2342&hilit=guide+plates#p2342