this is an old post I got asked to repost,

naturally the first step is to install and correctly degree in your cam

,
http://69.20.53.62/pdf/803.pdf
this is a common warning posted , on the subject of checking piston to valve clearance, this is from AFR website
if the end user builds an engine without properly verifying he has enough piston to valve clearance (depth and radial clearance both checked). We recommend a

minimum

depth of .080 on the intake valve and .100 on the exhaust with a radial clearance of .200 minimum around the perimeter of each valve. Clay is recommended to visually verify both depth as well as radial clearance. Just checking depth is not enough...the position of the valve pocket must also be addressed.
it should be rather obvious that youll need to know the exact distance the piston deck sits at TDC ,above or below the block deck surface and the valve notch recess or pop-up dome volume of the piston to do accurate quench or compression calculations
heres a few links with that info.
like always reading thru all the links gives you much more complete info
...
you need .090 clearance between the retainer to valve seal and a TOTAL of .060 clearance MINIMUM on the valve spring coils from spring bind
, or solid stacking the spring coils
Position the cylinder head on the block and use enough head bolts to tighten snugly. Install the lifters and pushrods. If the engine is to be built with hydraulic lifters, they cannot be used for checking clearances. Hydraulic lifters will bleed down and corrupt the measurements using both the clay or indicator methods. A solid lifter must be used for measurements. Install the rocker arms and zero the valve lash. Finger-tight is okay for securing the rocker arm. Note the checker springs. Regular valve springs can be used for the clay method, but it's much tougher to rotate the crank. With a ratchet and crank socket--or in our case, the timing wheel--rotate the crankshaft in the normal direction several times to ensure that the valves make a good clean impression in the clay. Remember, it takes two crankshaft rotations to completely rotate the camshaft once. There's a chance the clay may adhere to a valve, so carefully remove the cylinder head so that the clay is not disturbed. Now you can observe the distinct impressions in the clay on top of the piston. Use a razor blade or thin, sharp knife to cut carefully through the center of the impression made by the intake valve.
Carefully lift away the outer half of the clay to reveal the clearance between the piston and valve. Use a machinist's scale or the depth probe on a dial caliper to get an accurate measurement of piston to valve clearance at the thinnest area of the clay impression.
check clearances especially radial or edge to valve pocket clearances carefully , I try for .100" -to-.120" on both intake and exhaust but Ive run engines with as little as .080 at times with no problems
keep in mind that the intake valve usually starts to open well before the piston reaches TDC on its exhaust stroke, and continues to extend out towards the piston after it passes TDC and follows it down into the bore as it descends on the intake stroke, generally closest contact points are in the 20 degees btdc too 20 degrees atdc, obviously exact potential clearances are dependent on both cam timing and cam indexing
viewtopic.php?f=52&t=90
viewtopic.php?f=52&t=528
http://www.centuryperformance.com/check ... g-144.html
http://findarticles.com/p/articles/mi_q ... _n9406663/
viewtopic.php?f=53&t=852
http://victorylibrary.com/mopar/rod-tech-c.htm
http://victorylibrary.com/mopar/piston_position-c.htm
http://pcmofnc.com/index.php?option=com ... &Itemid=56
http://www.carcraft.com/howto/116_0701_ ... index.html
http://video.google.com/videosearch?sou ... &ct=title#
IF your like most guys you wonder how a cam can have a .600-.700 plus lift and theres obviously no way theres sufficient piston to valve clearance with the piston at TOP DEAD CENTER... TDC in its stroke,
keep in mind that the valve never reaches its full lift figures until the pistons between .400"-.800" away from TDC,
heres a typical radical cam s index card
http://www.cranecams.com/?show=browsePa ... e=camshaft
opens Closes Max Lift Duration
Intake 25.0 BTDC 53.0 ABDC
max lift near 104degs past tdc
103 258.0 °
Exhaust 65.0 BBDC 21.0 ATDC 113 266.0 °
max lift near 68degs past bdc
viewtopic.php?f=52&t=1477
http://www.chevyhiperformance.com/techa ... ewall.html
viewtopic.php?f=52&t=181
viewtopic.php?f=52&t=8582
isky cams sells piston notching tools
read thru these LINKS CAREFULLY
IF your looking for a quick answer on whats the correct valve to piston clearance, Ive seen guys get by with as tight as .060 intake/.090 exhaust, but in my opinion thats rather tight and allows little to no safety if you ever get into valve float , and you can be 100% certain youll bust parts, miss a shift or get into condition's of valve float eventually, if you race the car.
its just a mater of time before you do.

Ive always tried for .100 intake/.120 exhaust
http://www.centuryperformance.com/check ... g-144.html
http://www.racingheadservice.com/Inform ... arance.asp
http://www.cdxglobal.com/content/sample ... ear_WS.pdf
http://www.chevyhiperformance.com/techa ... index.html
http://www.carcraft.com/howto/116_0701_ ... index.html
if your using the low pressure check springs its best to roll clay into several 1/4" diam. 3" long strips, resembling soda straws and lay several parallel across the piston valve notches as its far easier to compress that a solid layer of clay. strips tend to work better than small blobs like this picture below, spray both the piston and clay strips with WD40 to prevent sticking
if your thinking, well my new cam has only a bit more lift and duration than the current cam I don,t need to verify clearances, keep in mind pistons vary a good deal in shape as do valve angles so clearance issues are common, do yourself a favor and verify clearances before you start busting parts, by making random assumptions
GRAPH SHOWING VALVE AND PISTON LOCATION, ,USUALLY AT ITS CLOSEST BETWEEN 10-20 DEGREES BFTDC and USUALLY AT ITS CLOSEST BETWEEN 10-20 DEGREES AFTDC
ISKY CAMS SELLS CUTTERS LIKE THIS TO NOTCH PISTONS
I still use the strips of modeling clay about 1" square and .2-.25" (two tenths too a 1/4" thick) but one thing everyone forgot to mention so far is that you need to spray the piston and valve and clay strips with WD-40 to ensure the clay does not stick to any parts, otherwise the clay will tend to stick to the valve and piston allowing them to push the clay between them during the compression of its surface by the valve (exactly what its there for) and
PULL ON THE SURFACE of the clay as the valve moves away during separation (because the clay tends to stick ever so slightly as the parts pull away from each other if you don,t)which tends to give a false slightly greater than correct clearance measurement
most people tend to tell me Im wrong about that until they try it both ways
yeah the difference is usually minor but five to 10 thousands difference is not rare if the parts are clean and dry versus sprayed with an oil mist
don,t forget you check BOTH the depth the valve extends down into the valve notch on the piston and how close the radial outside edge of the valve extends out towards the edge of the valve clearance notch
CHANGE RESULT
Advance cam timing Decreases intake valve-to-piston clearance, increases exhaust valve-to-piston clearance
Retard cam timing Decreases exhaust valve-to-piston clearance, increases intake valve-to-piston clearance
VALVE-TO-PISTON SPECS
Intake and exhaust: Minimum
0.100-inch depth clearance preferred
Minimum 0.050-inch radially
Piston dome to head: 0.050-inch minimum*
Piston to spark plug: 0.050-inch minimum*
*Steel-connecting-rod engines only
Variables That Affect VALVE-TO-Piston Clearance
Intake center line (cam position)
Duration
Valve lift
Rocker ratio
Valve diameter
Piston top (domed, dish, or flat)
Shape and angle of piston valve reliefs
Valve angle
Piston deck height
Head-gasket thickness
Valve float at high rpm (loss of spring control)
Pushrod deflection at high rpm
Angle milling heads
One of the easiest and quickest methods thats a bunch
more accurate than the clay-method , would be to use
Acid-core solder (usually .120" thick )
or
Resin-core solder (usually .090" thick )
READ THIS LINK
http://www.fordmuscle.com/fundamentals/pistontovalve/index.shtml
With the solder-method , you don't actually need a degree wheel
..just the harmonic balancer timing marks and a 6" dial caliper
Turn the engine over till you are coming up to TDC-Overlap
with both the exhaust valve on its way to closing, and
the intake valve beginning to open
Turn the engine till you are about 1/2 inch from TDC ,
then roll out and straighten a piece of acid-core solder about
6 to 8 inches long ....then with headers off , look thru
#1 Cylinder's exhaust port with a pen lite...take the solder
and place it thru the spark plug hole , placing solder
across the Exhaust valve piston notch...then hold solder at that
angle while someone slowly turns engine over to TDC-Overlap
and then past TDC until you "feel" you can pull out solder .
as you turn the engine over at TDC the exhaust valve will
touch or squeeze the solder to the valve-to-piston clearance
...as you keep turning engine past TDC-Overlap,
the solder will be released
remove the solder and look for indentation ...measure with
dial-caliper ..and this is the valve-to-piston clearance !
No clay mess , no clay spring-back , very much accurate than clay-method
Cut a new piece of solder ...and just repeat for intake side !
Note=>can use solder method to check total deck heights accurately !
----------------------------------------------------------------------
the best method would be to use a 1.000" dial indicator and
magnetic stand ....bolt a 1/8 thick small plate to valve cover
bolt hole then stick the indicator in place on the steel plate .
(sometimes a SBC fuel-pump cover works great)
attach a degree wheel and pointer and find true TDC ,
then turn engine over till 10 degrees BEFORE TDC-Overlap
to measure Exhaust clearance . (8 -to- 12 deg closest points)
at 10 deg BTDC ...place the 1.000" dial indicator's point on
the flat part of the spring retainer , zero the indicator,
and with the set-screw backed out of the adjuster nut, take
a wrench and turn the adjuster nut till you force the valve to
bottom out against the piston's exhaust notch ....read how much
the dial indicator traveled ...that's your Exhaust clearance
back-off Exhaust adjuster nut back to ZERO point on dial indicator
now, repeat the same procedure on the Intake side ...but this
time turn engine past TDC-Overlap to 10 degrees AFTER TDC
then check Intake clearance .
--------------------------------------------------------------------------
Note : You should always check valve-to-piston clearance with
a fully assembled valvetrain with the real springs in place
and every rocker lashed ...and ONLY turning the engine over in
the direction of rotation (ClockWise).
using light checker type springs will make you flycut pistons
approx. .030" more than necessary ...in other words, what ever
valve-to-piston clearance you check with lite-springs, when the
engine is fully assembled with the real springs, it will have
approx. .030" more clearance !
using lite-checker springs will be a "SAFER" way to check and will
be a good method to use for a beginner engine builder !!!
-------------------------------------------------------------------------
A professional engine builder would use the real springs and watch this
effect upon the cam-twist, Jesel belt distortion, push rod flex , ETC.
A professional engine builder would check each and every Cylinder's
clearance..and have detailed computer records of things like
1- Piston Intake and Exhaust fly cut valve notch depth
2- Piston Valve notch fly cut radius , angle + tilt, center-to-bore location
3- Intake and Exhaust valve seat depths on heads, valve margins, etc.
and other things like
4- Total Valve-Notch-Depths
to check the Total Notch Depths ...just place each piston at TDC ,
then place dial indicator zeroed on the top of the valve stem ,
push the valve down till it rests ontop of the piston notch ,
then record this distance !
(need to have springs off , and 2 rubber O-Rings holding up valve
in guides ...when you go to check distance)
As you gain experience and information, you can easily know in advance
what the ballpark valve-to-piston clearance will be with known cam lobes and
rocker ratios , along with cylinder head's valve depth readings , and
piston flycut data .
I try for 0.080 on the intake and 0.100 on the exhaust as absolute minimums but am far happier with 0.120 thousands (just under 1/8") or greater on both!
Ill always trade increased clearance to gain reliability for a slight loss in compression,keep in mind that if you get to tight on those clearances you will be locked into that cam timing and dropping it back (RETARDING the cam) for greater high rpm power or (advancing the cam) for more low rpm torque becomes next to impossible in some cases while you tune the engine combo!
"you'll need to consistently measure the piston quench area and the wrist pin center-line heights on the pistons, keeping in mind that rod and pistons dimensions vary slightly so you'll want to mix/match to minimize the combined differences, placing taller pin height pistons on shorter rods, etc."
pistons can and do rock in the bore very slightly so if you want the most consistent measurements between cylinders , youll use the yellow dot or center of the piston over the pin bore center line,and rock the piston on both edges measuring 90 degrees from the pin center line and average the two results, just be aware that your quench distance can change when the piston rocks slightly at higher rpms as theres definitely a thrust side and ring drag so the piston doesn,t always remain exactly strait in the bore center line

RELATED INFO
viewtopic.php?f=52&t=4081&p=13147&hilit=quench+swirl#p13147
viewtopic.php?f=52&t=399&p=21603&hilit=compression+height+piston#p21603
viewtopic.php?f=52&t=8582&p=30180#p30180
viewtopic.php?f=53&t=5064&p=14370&hilit=compression+height+piston#p14370
viewtopic.php?f=53&t=3760&p=9968&hilit=compression+height+piston+measure+deck+height#p9968
viewtopic.php?f=53&t=509&p=11324&hilit=compression+height+piston+measure+deck+height#p11324
http://www.islandblue.com/store/product ... -ASSORTED/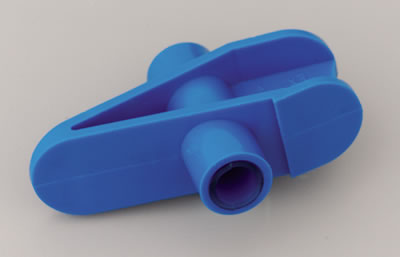 Proper push rod length is absolutely critical for peak performance—minimizing bent or broken valve stems, guide wear, and energy-wasting valve side-loading friction. IF YOU CHANGE VALVE TRAIN COMPONENTS VERIFY YOUR ROCKER GEOMETRY, AND ALL RELATED CLEARANCE ISSUES
With the lifter located on the round base circle, position the Push Rod length Checker (make sure you have the Checker with the proper diameter hole) over the stud. Ideally the Checker should contact the top of the push rod and the valve tip evenly at the same moment, should the Checker contact the push rod first, measure the gap between the front of the checker and the valve tip, and purchase a shorter push rod of the correct length. Should the Checker contact the valve tip first, measure the gap between the back of the Checker and the top of the push rod, and purchase a longer push rod

I don,t know many or in fact any engine builder that doesn,t have some good model clay in his tool box for checking clearances


or a can of wd 40 to spray on the valves and clay too prevent clay sticking to parts measured, use good quality modeling clay, some crap like kids PLAY DOW, is SPRINGY and won,t give exact and consistent measurements, I pick mine up at a local arts & craft supply