I got this question posted to me
Thought you guys would like to hear the new motor. Got it done and it runs great.
Scat 900 crank, 6 inch scat I beams, Kieth black forgings with 4 v relief, 11:1, 230 pro 1 heads, cam is 242/252 duration at .050, 565/540 lift, 112 LSA, RPM air gap intake, hooker super comp ceramic coated full lengths, holey 750 vac sec for street, pro form 750 for play, ls7 lifters, 4 bolt block, OE roller, fluid damper street damper, crower roller rockers...
Well, on the way to work today i had the oil pressure fine till it gets into the RPMs, it will go up to 60 lbs and then start dropping to 40lbs while going up, and if i keep going it will drop to 20 lbs when i get closer to 6000. There is no noise from the motor so i hope it is a gauge problem. I bought another line kit in hopes it is from the small leak on the back of the motor where the tube goes in to the motor
that's FREQUENTLY a symptom of the oil pump pick-up being mounted too close to the oil pan floor or a restricted oil drain in the upper engine or too small of an oil pan capacity or no windage tray,or crap collecting in the oil pump pick-up screen that restrict flow into the pump as the rpms increase, ALL RESULT in restricted RETURN of oil flowing into the oil pump
THE OIL PUMP PICK-UP VIBRATING CLOSER TO THE OIL PAN FLOOR, OR LOOSE CRAP like bits of gaskets or sealants partly blocking the screen on that pick-up, COMES INSTANTLY TO MIND!
one of my friends had purchased a 1967 fire bird 400 from a guy that had 120k on the original engine it had good oil pressure at idle and up to about 3000rpm where it peaked then fell off if revved higher, the guy that sold the car said it had been that way for several YEARS, ever since he had the timing chain replaced? my buddy thought he was crazy, (thinking the timing chain had zero to do with oil pressure), but being more old school, I had a very good idea of the cause, and when I explained it too him he thought I was nuts, but I was correct, when we pulled the oil pan the oil pump pick-up was crammed full of plastic fragments from the original aluminum and

nylon

timing set,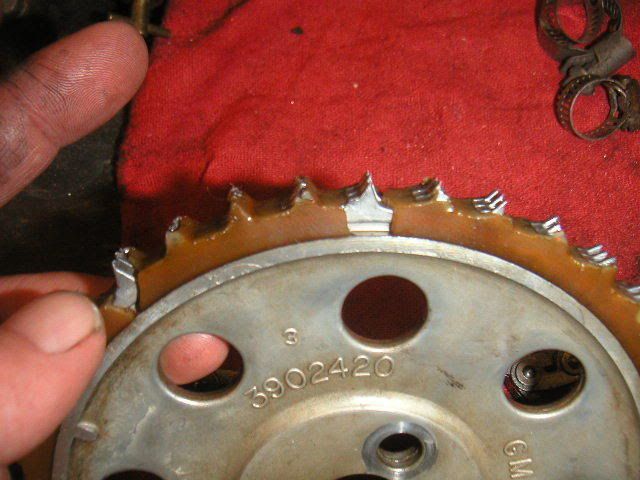 (similar to this)that had dropped into the sump as the old original timing set had worn. replacing it with a cloyes true roller set and a baffled 8 qt oil pan, and a high volume pump, instantly put the oil pressure curve back where it should have been
"It will idle at 45, when you rev it it will jump to 60-70"
ok the pump functions and the bearing clearances (SEEM) ok
"when you step into it and bring the RPM up slowly to 4000+ it starts dropping, in gear and without a load on it. I have a extra quart in her and it does nothing. "
http://www.summersbrothersracing.com/ca ... drives.htm
then logically theres a restriction in the oil return flow too the sump,OR theres a restriction in the passages, in the block or oil filter, or pump feed/pick-up.

if its a 4-5 qt oil pan your using YOU could EASILY be having windage control issues where as the rpms increase the oil in the sumps beat to a froth, or a good percentage is being dragged around in the crankcase with the crank acting like a pump, impeller and you can,t get a solid supply into the pump,

stock pans seldom work on stroker combos above about 5000rpm, a decent pan/windage screen combo will cure that, and since I ASSUME you've checked or tested the other potential causes like your bearing clearances, oil pick-up clearance, and replaced the oil filter and verified the gauges, ETC.ETC, that seems like the most likely source & fix
http://www.moroso.com/catalog/categorydisplay.asp?catcode=11330
CLOYES makes TRUE ROLLER SETS that last longer and stretch less than the cheap imported link belt chains
, that sell for $20 in the auto parts stores, its not un-common for the cheap sets to have the index off several degrees, and if you don,t degree in the cam its not un-common to have an engine run at less than its potential with the cam timing being off several degrees
http://store.summitracing.com/partdetail.asp?part=CLO%2D9%2D3100&autoview=sku
btw
its a good idea to mix some crane cams (MOLY) assembly lube and some marvel mystery oil in a tinfoil pan and soak the timing set in the mix for a few minutes before installing them, coating the surfaces tends to lower the tendency to wear as the moly forms a chemical layer that penetrates into the metals surface and protects it.