Ok you've decided to buy/build a 383 from parts you've collected from that 350 in your car, you've got the parts an your itching to start assembly....should you take the time to balance the parts or just slap it together....
balancing/clearancing the rotating assembly will effectively reduce the stress on the components, the amount that stress will be reduced depends on how far off the components are from the originals the crank,damper and flex plate or flywheel were designed for , now I think balancing the new assembly's a NO BRAINER as its usually under $200 and even if it reduced the stress only 15% its a big improvement, but the truth here is that without re-balancing you've more than likely got zero idea how far off the new parts are and you might be assembling a combo that will shake itself to pieces in 10K......Id suggest spending the $200 and getting it done correctly.A crank with just 2 ounce-inches of imbalance sees 14.2 lbs of force at 2,000 RPM. That means each time the piston changes direction, a 14 lb hammer is knocking on the bearings (and subsequently the crank). Speed it up to 4,000 RPM, and that force climbs to 56.8 lbs, at 8,000 RPM, you have 227.2 lbs smacking each bearing, twice per revolution. When an engine is in balance, these heavy forces are countered by the counter weights of the crank shaft. To add a little extra insurance, the main caps and rod bolts were provided by ARP.
READ THIS LINKED THREAD
viewtopic.php?f=38&t=3900&p=28672&hilit=balancing#p28672
http://www.maintenanceresources.com/ref ... alance.htm
http://www.circletrack.com/enginetech/c ... rminology/
viewtopic.php?f=53&t=343&p=1170&hilit=redline#p1170
yeah! we all know guys that skip the balance work and run engines, we all also know guys that have constant freak engine and drive train breakage and tuning, and oil control issues/ problems, with their cars and can,t seem to locate the source.
you can spend $150-200 in most cases up front to prevent problems or a take a chance on spending a good deal more once they occur, your choice!
and Id figure the chances are about like playing Russian roulette with two or three cylinders loaded in your revolver.
the next question that comes up,
("can I re-use my 350 damper and flexplate or flywheel ?")
OEM flex plates are far thinner and more flexible than the SFI certified flex-plates , so they are far more likely to crack and split over time, sometimes a small crack can make a constant banging noise thats hard to isolate , other times it rapidly causes a failure that fairly easy to locate
that depends on several factors, 3.75" stroke cranks come in BOTH internally balanced and EXTERNALLY BALANCED designs, the 400 crank cut down to use in a 350 block is externally balanced and requires in most cases a 400 damper and flex-plate or flywheel, if the cranks designed for an EXTERNALLY balanced flex-plate and damper like a 400 has ,you CAN get it RE-balanced for a INTERNALLY balanced flex-plate and damper like a 350, so that you can use internally balanced components like a 350 damper and flywheel/flex-plate... but the cost is frequently higher than just buying a new crank of the correct design, generally your stuck using the type of balance the cranks originally designed for due to counter weight size, placement and cost issues, as welding in extra mallory metal weights gets expensive fast, and forged 3.75" SBC internally balanced cranks are not all that expensive. theres also the option of installing counter weights on the 350 components to use with the 400 crank, if you choose to go that route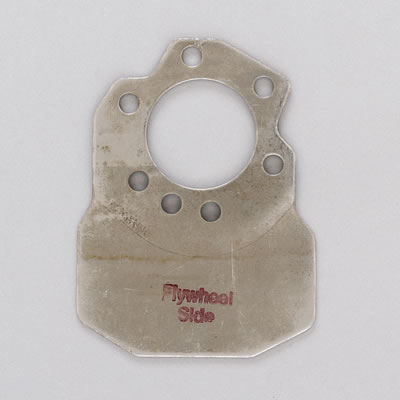 http://www.scatcrankshafts.com/
externally balanced assembly's have counter weights on the flex-plate and damper
theres a DIFFERENCE between CAN, you physically do something and CAN you do it at a reasonable cost!
I know of no-one that will take the time and effort and go thru the expense to modify a 400 crank to run 350 components because an INTERNALLY ballanced 3.75" stroke crank that's designed to run those 350 components is fairly cheap and easily obtainable, but a decent shop can weld up counter weights and add enough mallory metal to rebalanced almost any crank to internally balance it
The Chevy v8 flywheel or flex-plate usually has seven holes in it. 6 for bolts and one for a location dowel pin, which can be missing, on some cranks.
on the mount flange in the back of the crankshaft, so the flywheel will bolt on 6 different ways if the dowel pin is missing as the bolt hole spacing is the same. Check to be sure the dowel pin hole in flywheel is aligned with the dowel hole in the crankshaft flange, if the pins missing, or its will unbalance the assembly.
Ive always suggested buying a complete balanced rotating assembly from a single name brand source like LUNATI , CROWER, SCAT,OLIVER,EAGLE, HERBERT PERFORMANCE,OHIO CRANK, or several other sources,
but even supposedly factory balanced assemblies need to be checked
as Ive seen some (SUPPOSEDLY BALANCED) assembly's that were obviously just matched weight components
precision balance jobs generally try to get the engine to be balance to within a 1/2--1 gram tolerance, naturally the more time it takes, and the more precise the work, the more it tends to cost
the only way your going to get a precise balance job is to have all the components weights and balance known and all the components matched in individual weight, first balanced individually, as each connecting rod big and small end weight needs to match, and each piston needs to match, then have all the bob weights on the crank match the weight the piston & rods weight as a complete assembly, the crank with its flywheel or flex- plate and damper need to be balanced as a rotating assembly
What is Balancing?
Balancing is the action of matching the weights of the reciprocating parts of the engine. These parts include, but are not limited to:
Pistons and Piston Pins
Piston Rings
Rod Bearings
Connecting Rods
(large and small ends, need to be weight matched)
Crankshaft
Damper (harmonic balancer)
Flywheel/Flex Plate
Pressure Plate/Clutch
(frequently over looked)
Also, an "Estimated" Weight of Oil is part of the calculations
once you get the assembly balanced ask for the SPECS so any future replacement parts can be easily matched
example if your piston weights 589 grams you need to know that.
once balanced your clutch pressure plate should have a obvious index mark that matches the identical mark on the flywheel so the two components are always assembled together the same way as a unit. SOME SHOPS stamp a
BL
some shops JUST drill or punch a small DOT
, on both the pressure plate and flywheel ,so be aware and look for and match components indexed correctly, and MENTION that you WANT the pressure plate balanced with the flywheel, theres a good chance that if you don,t mention and insist on getting it done that its ignored and this can be a source of vibration if not done(one more reason to get a good SFI rated blow proof pressure plate and BILLET fly wheel, and use a LAKEWOOD blow proof bell housing)
read thru these links
viewtopic.php?f=53&t=259&p=314#p314
you obviously need a correctly installed bell housing that correctly centers the transmission input shaft with the crank center-line or that can cause problems
viewtopic.php?f=71&t=584&p=757&hilit=lakewood#p757
viewtopic.php?f=71&t=2596&p=6689&hilit=+pilot+grease#p6689