I build mostly BBC engines, but most of this info also applies to SBC connecting rod selection,
I was asked if stock

rods

were ok or should they swap to better ARP bolts or BUY the BETTER

RODS

WITH THE UPGRADED BOLTS,
the first thing Id point out is that, in most cases, when I diagnose engine failures , I see that its usually related to rod bolt stretch or valve train control issues or failures to check clearances, or occasionally failure to provide cooling or lubrication that are the major factors that cause problems, but by far, failure to check clearances , valve train stability issues at higher rpms and rod bolt stretch , and detonation issues are more common.
no connecting rod made can successful compress bent valves or loose chunks of detonation damaged piston, without damage occurring
http://www.wiseco.com/Calculators.aspx
failure to verify clearances, verify valve train geometry , provide lubrication, and maintain cooling , stay out of DETONATION,or use of inferior components or exceeding your engines valve train control limitations, or red line on rotating assembly design strength can get darn expensive
read these links
notice how the longer crank stroke effects the piston stroke distance in the bore, both at the lower and upper end of the cylinder
http://arp-bolts.com/pages/technical_failures.shtml
http://www.hotrod.com/techarticles/stee ... index.html
the 7/16" ARP connecting rod bolts are about 18% larger in cross sectional area than the 3/8" bolts and the better L19 or ARP 2000 bolts are a MINIMUM of 150% stronger than stock bolts even in the smaller 3/8" size,, the larger 7/16" is at least 200% stronger than the stock bolts in the

rods

., now

rods

can fail from high rpms and stress in other areas but its the rod bolts that fail in many cases, and in no case would I advise the use of stock 3/8" bolt connecting

rods

with lots of mileage on them be reused. the (H) design

rods

can be made slightly lighter in total weight for a given strength level, than a similar (I) beam rod, in the common 4340 steel forgings ,but tends to cost slightly more,(notice I DIDN,T SAY STRONGER, but STRONGER FOR A GIVEN WEIGHT) the weak point is usually the connecting rod bolts not the rod forging itself, always go with the 7/16" ARP bolts and the BOLT upgrade is advisable to L19 or better bolts once you start expecting to exceed 4000 feet per minute in piston speed, and its almost mandatory over 600hp and 4500 fpm (FEET PER MINUTE)in piston speed.
strength, obviously it depends on materials, design, care in manufacturing and which connecting

rods

are being compared properly prepared LS7 or L88 big block

rods

are a whole lot stronger than the stock 3/8" rod bolts big block

rods

, but many of the better aftermarket

rods

are significantly stronger that even the l88

rods


I beam

rods

typically have a balance pad and thats a good feature, typical H beam

rods

are SUPPOSED TO BE nearly identical in weight, as they are usually machined not castings (obviously they too occasionally need to be balanced)
theres not a thing wrong with either the (H) or (I) designs if the quality is there in the design and manufacturing.
for most high performance cars,the choice should probably be based on which design has better clearance too the cam lobes and block rails and the use of 7/16" arp bolts, and what kind of package deal you can get on an INTERNALLY BALANCE CRANK, DESIGNED FOR THE

RODS

if your looking to build the better assembly
look most stock chevy connecting
rods
are rated at no more than 6000rpm and 450-500hp
one factor to keep in mind is that

rods

typically have a side that rides against its matched companion and a side thats BEVELED for clearance on the crank journals radias
EXAMPLE
notice how one side of the bearing holding section has a radias (left) but the opposite sides flush (right)
if you wonder why I suggest using SCAT (H) beam style cap screw connecting

rods

vs stock or most (I) beam designs this picture should show the increased cam to connecting rod clearance
notice the pin height in the pistons pictured above allow a longer or shorter connecting rod length
heres a selection of commonly available big block chevy connecting rod lengths
now I may be in the small minority here, but I have always given away 3/8" bolt sbc or bbc
rods
rather than use them and purchased the 7/16" versions or aftermarket 7/16" cap screw
rods
, WITH the L19 bolt upgrade,the 7/16"
rods
ARE significantly stronger. rod bolts are critical, high stress items and one of the areas most likely to cause problems at high rpms and loads.
cross sectional area of a 3/8" bolt is approx .11 sq inches, a 7/16" bolt is approx .15 sq inches BTW when you go to buy a ring compressor....this type works far better than the others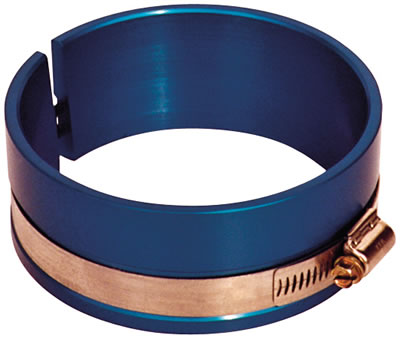 http://store.summitracing.com/partdetail.asp?autofilter=1&part=PRO%2D66766&N=700+115&autoview=sku
Proform 66766 $31
how they work is you clamp it around your piston and adjust it to that size before the rings are installed so the piston is a snug slide thru fit, then, install the rings, dip the rings and piston in clean oil, place the compressor over the cylinder on the block with the base firmly held against the block deck and push the piston into its much larger open entrance, as it slides thru the funnel like construction squeezes the rings into the grooves and they can,t spring back until they are in the bore, remember to line up the rod bolts and having them covered with the ends of a 3 ft long section or 3/8" fuel line to protect the crank journal is a good idea, having a ROD GUIDE TOOL you can use to guide and PULL THE PISTON INTO THE BORE WITH IS EVEN A BETTER IDEA
use those good L19 bolts and assuming you sellected the good L19 bolts that test at 220,000 psi, for each the differance is 24.2 thousand lbs vs 33 thousand lbs or a 36% increase in strength, but the stock rod bolts are 160,000 psi so your really swapping from about 17.6 thousand to 33 thousand in strength or an 88% stronger rod bolt
http://arp-bolts.com/pages/technical_torque_us.shtml
http://arp-bolts.com/pages/technical_installation.shtml
viewtopic.php?f=53&t=1168&p=12205&hilit=cleaning+

rods

#p12205
http://issuu.com/arpbolts/docs/catalog2 ... ipBtn=true
viewtopic.php?f=54&t=8463&p=29691&hilit=piston+squirters#p29691
reasonable quality connecting
rods
are CHEAP
http://www.cnc-motorsports.com/product.asp?ProdID=3150
http://www.cnc-motorsports.com/product.asp?ProdID=8817
viewtopic.php?f=86&t=10680&p=46162#p46162
keep in mind if a rod comes loose at high rpms you'll be LUCKY to save the intake, heads, blocks and cam are frequently damaged, spending an extra $90 for the better rod bolts is a total no brainer, in my opinion, if spending an extra $400-500 on

rods

and $90 on better bolts prevents rod failures, thats a minor consideration, when you may be spending $5500-$12,000 plus on an engine build.
you might also want to be aware that over revving and floating the valves, and using a poorly designed oil system is a major potential source of engine failures
I see

rods

and rod bolt failures blamed frequently when engines self destruct at high rpms, but its NOT always what it at first might appear to be....are there any detailed pictures of the

rods

or rod bolts that failed??? in many cases the source of the problem can be seen with a careful detailed exam, if you don,t know the SOURCE of the problem your doomed to repeat the sequence... [b]and keep in mind a good deal of what might appear to be rod/rod bolt failures, are ACTUALLY the result of over revving the valve train,and loss of valve train control, OR detonation, theres no way to compress a bent valve or broken piston ring land without potentially damaging the

rods
w
ell worth reading
http://www.rehermorrison.com/techtalk/63.htm
viewtopic.php?f=53&t=1168
viewtopic.php?f=53&t=1110&p=5644#p5644
http://arp-bolts.com/pages/technical_failures.shtml
IM OFTEN ASKED WHY I DON,T REBUILD CHEVY CONNECTING
RODS
, WELL MAYBE A PICTURE WILL HELP,
a good set of SCAT FORGED 4340 forged connecting
rods
costs less than $400 and they are 150%-200% stronger than MOST OEM chevy SBC
rods
it will cost you almost that much to replace the bolts with ARP wave lock bolts, balance and polish and resize stock
rods
and you have far weaker
rods
when your done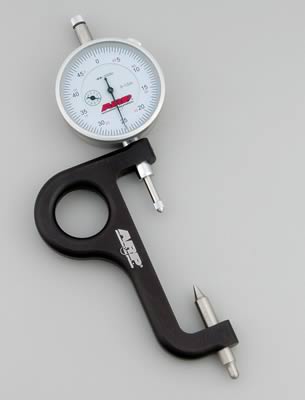 Do not assume all the rod bolts will all take the same torque to get to the specified listed stretch
SUMMIT SELLS ROD BOLT STRETCH GAUGES
http://www.summitracing.com/parts/ARP-100-9942/