Ok youve just installed your crankshaft in the engine block, with new main bearings and everything's well coated with assembly lube,and oil, and youve torqued down the main caps to spec. in at least three stages, and then gone back and rechecked the studs or bolts per the manufacturers instructions, but you have yet to install the pistons and rods, OK, its time to check the rotational resistance at the first stage.
With the crank shaft alone in the main bearings, any inconsistency in the assembly lube thickness, or journal surface finish could and probably will cause a difference in rotational resistance or drag, if it spins fairly easily with a couple fingers on the crank snout with all the mains torqued down and your plastic-

gauge

checks and micrometers say the bearing clearances are correct your going to be fine, I generally look to have less than 5 ft lbs resistance , on keeping it rotating, once it starts to move, a properly installed strait crank in a properly honed set of main caps with properly clearances main cap bearings well coated with a 50%/50% mix of assembly lube and marvel mystery oil on the bearing crank surfaces and less than 10 lbs to get it to start rotating as the surface tension of most assembly lubes will resist rotation until it starts to rotate, then the resistance to rotation drops off rapidly

now once you add all the connecting rods, pistons and rings obviously resistance to rotation will increase as rings slide along bore walls and you've added rod bearings, Keeping in mind that we are discussing a short block with no heads installed yet and rings riding on well oiled cylinder walls, that should require less than 40 ft lbs to spin, less than 30 lbs of resistance is ideal, because an engine turns more easily with the heads removed or the spark plugs removed.
[b]a crank bye it self ,sitting in a properly machined block with the bearings in place, having been coated with a decent assembly lube, (I generally mix CRANE CAMS ASSEMBLY LUBE WITH MARVEL MYSTERY OIL IN ABOUT A 50%/50% mix on bearings) and the main caps torqued in place should require no more that 10 ft lbs to start to spin (MAXIMUM) and in most cases noticeably less to keep it spinning, in-fact most are easily spun with finger pressure alone.
[/b]
if it takes more than 10 ft lbs somethings either not machined correctly or your clearances or lube are wrong.
after you add the rods and pistons with the rings its resistance to rotation obviously increases but should still be UNDER 40 ft lbs to spin an assembled short block,If your carefully checking clearances you should see a minimal increase in resistance to the crank rotation, during assembly, as each piston assembly is added and torqued into place as ring drag increases resistance but the bearings should add little or any drag if properly sized and lubed.
obviously youll want to check the piston to bore clearance at several locations along the circumference of the bore to piston clearance, and check the blocks cylinder bore for consistent diam. and the bore being truly round in shape and but don,t forget to check the piston ring groove back clearance in the ring grooves and the ring end gaps plus look for piston pin bind in the piston pin bore, look for rod journals that are tapered or out of round and connecting rods with a big end thats not round or bearing that are not consistent in diameter across the bearing bore, but Ive also occasionally seen guys try to install rods without checking side clearance or who failed to get the correct side of the connecting rods facing each other or guys using rod bearings that didn,t have the correct edge bevel to clear the journal s radias edge, usually the narrower clevite (H) series have extra clearance
Get out the torque wrench and with the damper bolt installed turn the crank,and while its yet to have the rods and pistons installed, and its lying in its bearings,
IT SHOULD TAKE ABOUT 10-12 ft lbs OR LESS to get it moving, and LESS than 10 lbs to keep it moving.
EVEN IN NEW MAIN BEARINGS, it should REQUIRE EVEN LESS ONCE IT LAPS INTO PLACE WITH THE ASSEMBLY LUBE
IF it takes more force theres a clearance issue or the crank or block needs to be checked carefully for straightness, journal tapper and roundness and surface finish and the bearings need to be checked for clearance and proper installation and crush,
remember if it won,t turn or spin easily STOP RIGHT THERE and find out why!
don,t forget to check the TRUST BEARING fore and aft movement/CLEARANCE
once youve installed EACH connecting rod, you'll want to do the test again, remember each piston with its rings adds drag, AND YOU NEED TO VERIFY THE RING GAPS AND PISTON GROVE DEPTH AND CLEARANCE TO ALLOW THE RINGS TO SLIDE BACK INTO THE GROOVES, but in a well oiled cylinder,its not going to add a huge increase, in drag, as the rings ride on an oil film that prevents incorrect full surface physical contact, between the ring face and bore walls, and the bore surface will lap into the rings and vice versa during the break-in process.
IVE dunked my piston/ring assembly's in a can of MARVEL MYSTERY OIL just before installation with a ring compressor and have never seen the slightest indication of problems either on ring sealing getting the rings broken in, or on tearing the engines down later for inspections the amounts not that great
, ideally each one installed adds a bit of resistance
but at no time should the short block take over 40 ft lbs ABSOLUTE MAXIMUM to start it spinning,and LESS than 20 lbs to keep it moving, even with all the rings and pistons installed,yes you need to verify the bearing clearances during assembly
and
IT SHOULD take between 20lbs-25 lbs to start it spinning if the clearances are correct! and LESS than 20 lbs to keep it moving
IF it takes over 40 ft lbs to get it rotating ,youll need too DISASSEMBLE and FIND OUT WHY!

when you get the crank polished take the time and effort to clean out any cross drill oil feed passages and to very carefully de-burr the passage opening edges, as this is a very commonly overlooked issue, below is what at first looks like a perfectly polished crank, with oil feed passages to the rod bearings,
but the deep scratches the oil feed passage openings left in the rod bearing surfaces bare witness, after a single rotation, during a trial assembly show they are HARDLY burr free or ready for use, and obviously he failed to check each rod bearing during the assembly process, and probably ignored , what was very likely un-even or rather excessive resistance to the crank rotation. which should never exceed about 40 ft lbs even with all 8 rod bearings and pistons installed
http://www.automedia.com/Engine_Assembl ... 100901e1/1
http://www.automedia.com/Engine_Assembl ... 100901e2/1
http://www.automedia.com/Engine_Assembl ... 101001e3/1
watch the slide show, read the links, its a fairly well done speed course in the basics
READ THIS LINKED INFO
viewtopic.php?f=69&t=9930
Common assembly clearances
GET THE RING END GAP TOO TIGHT AND WHEN THE RINGS EXPAND WITH ENGINE HEAT THE ENDS TOUCH THE RINGS LOCK IN THE BORE AND THE PISTON LANDS SHEAR OFF

GET THE GAP A BIT TOO LARGE AND YOU MIGHT BURN A BIT MORE OIL OR LOOSE SOME COMPRESSION, YOU'LL SEE A CHART LATER IN THE THREAD, BUT GENERALLY YOU'LL WANT .0045-.0065 PER INCH OF BORE DIAM. FOR A RING END GAP
(ALWAYS consult your piston manufacturer for recommended clearances. Many pistons require a tighter bore)
Piston to bore 0.0055 - 0.0065" ( measured at centerline of wrist pin, perpendicular to pin)
Piston ring gap MINIMUM end clearances Top 0.022"
2nd 0.016"
Oil 0.016"
Wrist pin 0.0006 - 0.0008" in piston, 0.0008 - 0.0010" in rod for full floating pin (End play 0.0 - 0.005"
Rod bearings 0.002 - 0.025" , side clearance 0.010 - 0.020"
Main bearings 0.002 - 0.003" , 0.005 - 0.007 crankshaft end play
Piston to head clearance 0.035 MINIMUM including gasket (steel rods), 0.060" MINIMUM aluminum rods
Valve to piston clearance MINIMUM 0.020" exhaust , 0.010" intake NO VALVE FLOAT
Recommended: 0.080 intake, 0.100 Exhaust (steel rods) 0.100 intake, 0.120 Exhaust aluminum rods
most piston compression rings have a dot on the upper surface to indicate the side designed to face the top of the piston
ideally the pressure above the piston gets behind the top compression ring and increases the force holding the ring face to the bore surface, noticabl;y more than the ring tension alone can do.
http://www.enginelabs.com/engine-tech/e ... ng-tension
If you put together a stock 400 Chevy, and put standard tension rings in it, it's probably going to take about 30 to 35 foot-pounds of torque to turn that shortblock," Massingill said. "If you put it together with the rings that we utilize [for the Engine Masters Competition], it's going to take about eight or nine pounds. Can you imagine, at 7,000 or 8,000 rpm, the difference that that is? It can easily be 30-35 horsepower."
BTW
IVE dunked my piston/ring assembly's in a can of MARVEL MYSTERY OIL just before installation with a ring compressor and have never seen the slightest indication of problems either on ring sealing getting the rings broken in, or on tearing the engines down later for inspections
remember that when you go to re-install the compressed piston rings, and piston in the engine block,bores that dunking the piston in MARVEL MYSTERY OIL , just before, its slid into the ring compressor will coat the rings and bore contact areas enough to prevent many small problems that insufficient lube might case
bearings AND connecting rods have an inner facing side and outer side the inner side facing the matching rod has far less edge clearance because they don,t need the radias that is required for the edge of the crank journals
btw
heres the good assembly lube (I usually add about 10% oil too the assembly lube,to get it easy to smear on surfaces during the assembly process)
http://www.cranecams.com/index.php?show ... l=2&prt=15
Ive generally found the H-series bearings are the best choice
MORE USEFUL INFO
BE 100% SURE that the oil pump bolt or STUD doesn,t protrude past the inner main cap surface , because if it bears on the rear main bearing shell it will almost always result in a quickly failed rear bearing
failure to use the correct stud, bolt or nut or check clearances when mounting an oil pump can cause problems
ONE RATHER COMMON MISTAKE IS USING THE WRONG OIL PUMP STUD OR BOLT TO MOUNT THE OIL PUMP AS IF EITHER EXTENDS THRU THE REAR MAIN CAP IT CAN AND WILL BIND ON THE BEARING AND LOCK OR RESTRICT, SMOOTH ROTATION
http://engineparts.com/techbulletins/CL77-1-205R.pdf
viewtopic.php?f=50&t=1222
http://www.chevyhiperformance.com/tech/ ... index.html
viewtopic.php?f=50&t=10363
http://www.4secondsflat.com/Thrust_bear ... lures.html
http://www.circletrack.com/techarticles ... index.html
http://www.connectingrods.net/connectin ... tretch.php
http://www.circletrack.com/techarticles ... index.html
http://www.circletrack.com/enginetech/1 ... education/
http://engineparts.com/it_bearinginstall.asp
http://www.circletrack.com/enginetech/c ... ce_basics/
http://engineparts.com/it_crankinstall.asp
viewtopic.php?f=53&t=8685&p=30565#p30565
viewtopic.php?f=53&t=247
http://www.youtube.com/user/cpmotors#p/u/3/mPwCsPik7KU
http://www.chevyhiperformance.com/tech/ ... index.html
the CRANE assembly lube is excellent but IVE used this grease mixed with a bit of mobile 1 oil as a substitute on bearings at times with excellent results
advance auto carries some
http://www.grumpysperformance.com/p1171 ... _large.jpg
http://shop.advanceautoparts.com/productdetail.aspx?MfrCode=VLV&MfrPartNumber=632&CategoryCode=3251
if your well lubed short block won,t spin at under 40 ft lbs once assembled even with high drag rings its a HUGE PROBLEM!
you need to use moly assembly lube
pull ALL the pistons and rods and verify the crank alone takes LESS than 15 lbs to spin, if not start checking clearances, once that's done verify the piston side clearances, then ring end gaps, ring to groove clearances in the pistons and the piston pin to piston pin bore side clearances,then remember the rods have an inner and outer facing side, and the bearings do also in most cases, check rod side clearance and thrust bearing clearance, and when your assembling the pistons & rods to the crank rotate the crank after each ones installed to find any unusual increased drag, a slightly bent rod, or the wrong bearings can add a good deal of drag




one factor to keep in mind is that rods typically have a side that rides against its matched companion and a side thats BEVELED for clearance on the crank journals radias

EXAMPLE


notice the top rods non-beveled side that faces the matching rod is up, but on the lower rod the the beveled side that faces the crank counter weight is up on the lower rod



notice how one side of the bearing holding section has a radias (left)(GOES TOWARD CRANK COUNTER WEIGHT) but the opposite sides flush (right) (FACES MATCHED ROD)




you really need to read thru these threads
viewtopic.php?f=53&t=1795
viewtopic.php?f=53&t=1138
viewtopic.php?f=53&t=1168
viewtopic.php?f=53&t=247
viewtopic.php?f=50&t=989
viewtopic.php?f=69&t=2645&p=6834#p6834
viewtopic.php?f=50&t=1027
http://www.circletrack.com/howto/1818/index.html
viewtopic.php?f=50&t=55
btw spray the bearing and the crank surfaces, and the plastigage with WD40 before you measure clearances and it won,t tend to stick as much
WATCH THIS VIDEO
NEVER USE A TORQUE WRENCH LIKE A BREAKER BAR TO LOOSEN BOLTS as it TENDS TO QUICKLY DESTROY ITS ACCURACY & consistency
http://www.youtube.com/watch?v=zgwwOJ0B ... r_embedded
viewtopic.php?f=53&t=852&p=1812&hilit=resistance+rotation#p1812
viewtopic.php?f=53&t=2726&hilit=plastigauge
viewtopic.php?f=54&t=10500&p=44355&hilit=bearing+clearances#p44355
viewtopic.php?f=59&t=1390&p=3423&hilit=+precision#p3423
http://www.chevelles.com/forums/showthread.php?t=379622
ONE youve installed the engine in the car, and ASSUMING you've PRE-PRIMED the oil pump and oil runs out of the rockers,if it takes more than 40 ft lbs to get it to turn freely , without the spark plugs installed, or accessory belts on, or the transmission installed, somethings binding or the clearances are wrong, Id start by loosening all the rockers and see if it makes a difference, you would not be the first guy to think everything's adjusted correctly yet have the valves not adjusted correctly
read these threads above
if youve used a quality assembly lube, and have the correct clearances it should require NO MORE than 40 ft lbs of force to start an engine too turn and

under 20 ft lbs to keep it spinning

,
and thats with new rings in a newly honed bore, that effort required should drop rapidly to the point that less than 20 ft lbs are required to spin a short block after its been well oiled and rotated dozens of times.
one factor some new guys over look is that rods and bearings are designed with one side having a bevel that faces the counter weights and a non-bevel edge facing the matched rod
In any application where your tightening a nut on a stud , such as on the outer threaded ends of main cap studs or head bolt studs,or rod bolts, youll want to use a lube on the threads that gives consistent torque reading from your torque wrench indicating the correct bolt or stud TENSION, oil and MOLY assembly lube and various thread sealants do not always do that,the end in the blocks course threads have thread sealant, the fine threads on the outer end require a totally different lubricant
GOOD and VERSITILE
WORKS GREAT BUT LIMITED TO A NARROW BORE RANGE AND EXPENSIVE
http://www.amazon.com/KD-Tools-850-Diam ... 0002STSMG/
this type (ABOVE) handles many applications but the cheap versions are a P.I.T.A. to work with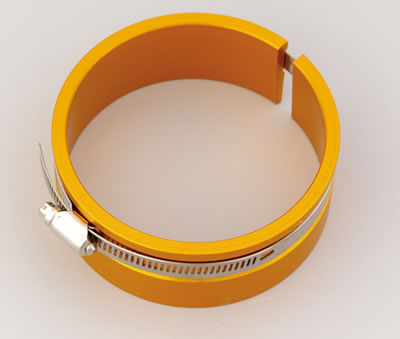 BTW when you go to buy a ring compressor....this type(ABOVE & BELOW) works far better than the others, but its specific to a very limited range in bore size applications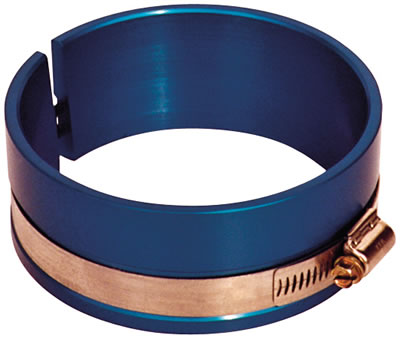 http://store.summitracing.com/partdetail.asp?autofilter=1&part=PRO%2D66766&N=700+115&autoview=sku
Proform 66766 $31
Tech InformationInstallation Tips
Engine Bearing Installation and Fitting Tips
When measuring bearing measurements, they should always be taken at 90-degrees to the parting line to determine the minimum clearance. If measuring the bearing wall thickness, use a special micrometer with a ball anvil to fit the curvature of the bearing ID. The best way to determine bearing clearance is to measure the bearing ID with the bearings installed in the housing and the bolts torqued to the specified assembly torque. Use a dial bore
gauge
to measure the bearing ID at 90-degrees to the parting line, then subtract shaft size from bearing ID to determine the clearance. If the dial bore
gauge
is zeroed at the actual diameter of the crankshaft journal to be installed, the dial bore
gauge
will then read clearance directly and the subtraction calculation can be eliminated. About .001" clearance per inch of shaft diameter is a good rule of thumb. Increasing that by about .0005" will add a little margin of safety when starting out, especially for rods. Example: .001" X 2.100 = .0021" then add .0005", so starting out set clearance at .0026" for a 2.100 shaft.
If clearance adjustments need to be made, use either an extra clearance part for more clearance or an undersize part for less clearance. It is permissible to mix sizes if less than .001" adjustment in clearance is desired. When mixing sizes for a select fitting: a) never mix parts having more than .0005" difference in wall size; b) and always install the thickest wall shell in the upper position if installing a rod bearing or the lower position if installing a main bearing. When working with a reground shaft, always measure assembled bearing ID's first. Next have a shaft sized to produce the desired clearance since there are no extra clearance parts available for undersize shafts.
When measuring a bearing ID or wall thickness, avoid measuring at the parting line. The diagram illustrates there is a parting line relief machined into nearly all bearing shells. This relief is to allow for any mis-match between upper and lower shells due to tolerance differences, or possibly resulting from cap shift or twist during assembly. To determine bearing wall eccentricity or assembled bearing ID ovality, measure at a point at least 3/8" away from the parting line.
When installing any bearing DO NOT ATTEMPT TO POLISH THE BEARING RUNNING SURFACE WITH ANY TYPE OF ABRASIVE PAD OR PAPER. Bearing overlay layers are extremely soft and thin – typically .0005" on high performance parts. These thin layers can easily be damaged or removed by an abrasive media. Because the overlay layer is electroplated, it may exhibit microscopic plating nodules that make it feel slightly rough. The nodules are the same material as the rest of the plated layer and will quickly be flattened by the shaft. Bearing surfaces can be lightly burnished with solvent and a paper towel if desired.
Arriving at the correct choice of a high performance bearing for any given racing application is much like determining what clearance works best. From past experience, our knowledge of the intended usage and common sense can guide us in making an initial choice. Next, we can fine tune the selection process based on those results. The information given here is intended to aid in the initial selection as well as the fine tuning process.
The following table serves as a brief overview of the features included in each of the special Clevite 77® brand high performance bearing series.
narrow bearings have beveled edges to prevent the edge of the crank journal radias touching the bearing, h series are beveled edge bearings designed for higher loads so they are a bit harder
70-95 454 Chevy Clevite performance main bearing set. Clevite 77 "H" Series bearings have a medium level of eccentricity, high crush, and rod bearings have a hardened steel back and thin overlay. These bearings also have enlarged chamfers for greater carankshaft fillet clearance and are made without flash plating for better seating. Use "H" Series bearings with crankshafts that have oversize fillets and where engines run in medium to high RPM range.