having the oil temp cycle between about 190F-215F is about ideal,for street driving, but anything under 245 F on the high temp side is nothing to worry about, under high performance conditions as long as your using a quality oil (SYNTHETICS DO TEND TO BREAK DOWN OVER TIME BUT AT A SLOWER RATE) and you should change it and the filter out at at least every 4500-5500 miles, with the standard oils ,now the synthetic oils usually fine for about double that mileage if you swap to a new filter every 3000miles or so, but crud does accumulate, and oil does break down, so generally pushing over about 7000-12000 miles even with oil filter changes is a bad idea
I know many of you gentlemen would rather, jump out a 12 floor window than read linked info, so short answer
any quality oil that will maintain 20 psi at idle rpms while the engines oil temp remains in the 180F-210F range will normally be fine as thats the most effective lubrication range, but OIL MUST OCCASIONALLY reach 215F to burn off acids & moisture
temps above about 245F tend to break down most oil over time, synthetics can usually handle temps in the 245F-270F range far longer than mineral base oils, but ALL oil tends to break down and get fouled with acids,ash,and bits of crud over time and so it must be filtered and changed regularly.
ADDING AN auxiliary oil cooler and a high capacity baffled oil pan or a deeper ribbed aluminum transmission pan and transmission fluid cooler with its own electric fan will not only help reduce engine and transmission temps it also tends to reduce the thermal loads on the current radiator, normally reducing over all engine temps slightly or in some cases very noticeably
MORE INFO IN LINK
viewtopic.php?f=54&t=296
oil needs to reach and exceed 215F to prevent moisture from forming acids from the exhaust gases and particulates trapped in the oil.
coolant temps in the 190F-220F range are perfectly normal.
adding a separate powered fan version trans cooler generally drops the engine temp noticeably simply because the hot trans fluid tends to raise the coolant temp running thru the block significantly
http://www.digitalcorvettes.com/forums/showthread.php?t=81691&highlight=cooler
viewtopic.php?f=54&t=1396&p=3221&hilit=+switch#p3221
http://www.gi.alaska.edu/ScienceForum/ASF7/747.html
http://www.volvoclub.org.uk/engine_oil_history.shtml
http://www.upmpg.com/lubricationnews/wh ... index.html
http://temp.corvetteforum.net/c4/vader86/160.html
http://www.ifitjams.com/radiator.htm
viewtopic.php?f=54&t=8463&p=29691&hilit=piston+squirters#p29691
swap to a 10w30 or 10w40 synthetic if you have not yet done so,adding a 7-8 qt baffled oil pan will help (BIG TIME), keep in mind most synthetics handle temps up to about 270f -280f quite easily while some mineral base oils tend to slowly degrade at constant temps over about 245f and Id suggest getting a decent oil cooler installed before you damage the cars drive train, adding a high volume oil pump and brazing the oil pump pick-up so its a minimum of 3/8"-1/2" from the oil pan floor is a good idea, and CHECK your ignition timing MILD detonation raises engine temps.you might as well get a dual trans and oil cooler, trans fluid temps over about 190F tend to effect transmission life.
BTW HERES AN IMPORTANT TIP, IT is really common for guys to use lines to oil coolers that are far to small, that restrict flow oil flow or select a transmission or oil cooler that has to small of internal passages,

shop carefully you want a MINIMUM of 1/2, or AN8 line size

and 5/8" or AN10 is BETTER
http://www.kevko.net/wetsump_chevy.htm
http://www.digitalcorvettes.com/forums/showthread.php?t=85963
http://en.wikipedia.org/wiki/Lubricant
http://www.stefs.com/products.html
http://www.moroso.com/catalog/categorybrowse.asp?CatCode=11000
http://www.milodon.com/oil-pans/oil-pans-from-milodon.asp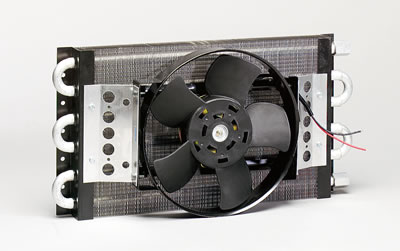 OIL COOLER
Perma-Cool 12318 $195.95
http://store.summitracing.com/partdetail.asp?autofilter=1&part=PRM%2D12318&N=700+115&autoview=sku
Perma-Cool 13311 $169.95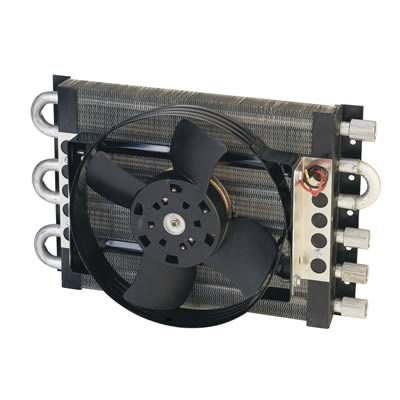 OIL AND TRANS FLUID COOLER
btw if you want to run nitrous this would be a good idea
http://www.kb-silvolite.com/article.php ... ad&A_id=64
keeping the engine oil cool, basically comes down to having the oil flow thru both the engine and the cooler but having the surface area of the cooler large enough and the number of passes thru the cooler long enough to ,allow the oil to transfer most of the heats its absorbed in the engine back out into the air flowing thru the cooler,before its routed back to the engine,and that generally requires ducting cool air into the cooler and placing it where the flows not restricted, on my corvette I removed the rear spare tire, and built a mount that allowed a good deal of clearance and no significant engine heat, with it working all the time I had problems getting the heat over 220 f and it mostly stayed at or near 200f, theres basically about 3 qts in the upper engine and oil passages at any time , absorbing heat so having a similar volume in the cooler, releasing heat during the same time makes sense,and having a similar amount in the baffled oil pan sump and filter sure helps, naturally if you have the oil routed to spend more time with the majority of the oil being heated and less of the oils times spent cooling average temperatures rise rapidly
BTW one frequently overlooked factor, in cooling your engine or adding an additional oil cooler, is your alternator size,in amps and wiring the alternator correctly, if your running a 70amp-100 amp stock alternator and using electric fans to cool the engine,its not going to provide the power required to spin the fans nearly fast enough to cool the engine like a better 200 amp alternator can
first suggestion is to get a second temp gauge and check the temperature reading is really is as indicated, if it is swap to a decent synthetic oil in the 10w30 range or at least the thinnest viscosity that maintains 20 psi at hot idle temps, as SYNTHETICS don,t generally start breaking down until about 280F PLUS while mineral base oils tend to start degrading after repeated 250F use, and the thinner the oil the faster it circulates thru the clearances, and the faster heats absorbed and transferred out off the hotter components
and Id need to know more about the complete engine parts list, clearances, etc. but Id sure want to verify the fuel/air ratio is at about 12.6:1 not alot leaner and your ignition timing was carefully checked to not be a couple degrees advanced from ideal., and that your running a 7-8 quart oil pan, heres the oil cooler I use and I had to install a thermal switch or it OVER COOLED my engine oil in FLORIDA where average outside air temps closer to 90F,
my oil pan looks similar to this
http://canton.carshopinc.com/product_in ... 88bb985ecf
Canton Oil Pans
11-120 and 11-120T Oil Pans
but I extended the sump forward with 14 ga steel and a tig welder to add 4 inches extra to the sump to get 10 qt capacity
http://www.summitracing.com/parts/PRM-1 ... mage=large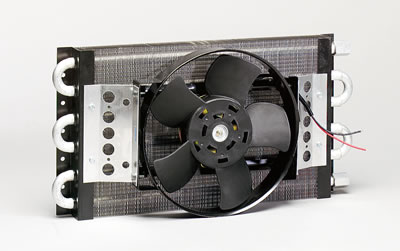 But I was always under the impression that Chevys liked thicker mineral oils, and I should avoid synthetics? Not true then?
NOT TRUE, TRY THE THINNER SYNTHETIC OIL, as LONG AS YOU HAVE A MINIMUM of 20 PSI at hot idle your fine!
IVE run a MIX of 90%/ synthetic 10% mineral oil in my race cars for many years
usually 1 qt MARVEL MYSTERY OIL, 9 qts MOBILE 1 10w30 synthetic
http://www.marvelmysteryoil.com/
https://www.mobiloil.com/USA-English/Mo ... /Oils.aspx