this is kind of a reminder/repost, but I came up recently,when a friend purchased an original 1966 chevelle with the original low- po BBC engine in it, he complained the timing was inconsistent and his oil pressure fell after about 2500rpm.....he thought the oil pump was defective, we did a few tests then pulled the oil-pan and front timing cover and replaced the oil pump and timing chain, the pictures below are from a similar problem but youll get the idea.
the original timing sets had nylon coated aluminum gears that worked fine until they got a lot of mileage and a few over heated oil baths where they eventually got brittle, and started shearing bits of gear teeth into the oil pan, and all that plastic crud starts to clog up the oil pump, pick-up screen
that's FREQUENTLY a symptom of the oil pump pick-up being mounted too close to the oil pan floor or a restricted oil drain in the upper engine or too small of an oil pan capacity or no windage tray,or crap collecting in the oil pump pick-up screen that restrict flow into the pump as the rpms increase, ALL RESULT in restricted RETURN of oil flowing into the oil pump
THE OIL PUMP PICK-UP VIBRATING CLOSER TO THE OIL PAN FLOOR, OR LOOSE CRAP like bits of gaskets or sealants partly blocking the screen on that pick-up, COMES INSTANTLY TO MIND!
one of my friends had purchased a 1967 fire bird 400 from a guy that had 120k on the original engine it had good oil pressure at idle and up to about 3000rpm where it peaked then fell off if revved higher, the guy that sold the car said it had been that way for several YEARS, ever since he had the timing chain replaced? my buddy thought he was crazy, (thinking the timing chain had zero to do with oil pressure), but being more old school, I had a very good idea of the cause, and when I explained it too him he thought I was nuts, but I was correct, when we pulled the oil pan the oil pump pick-up was crammed full of plastic fragments from the original aluminum and nylon timing set,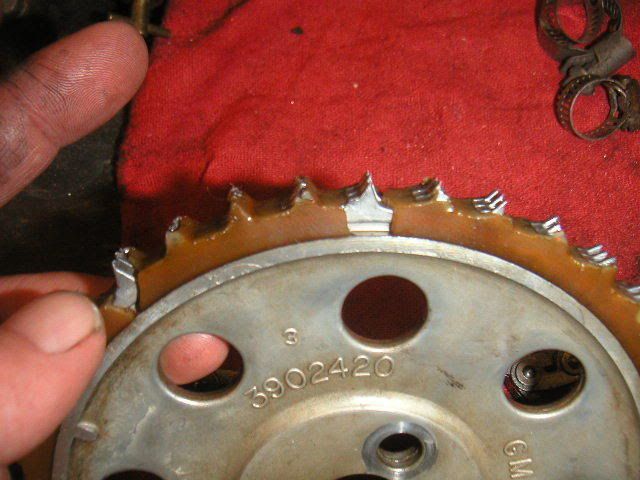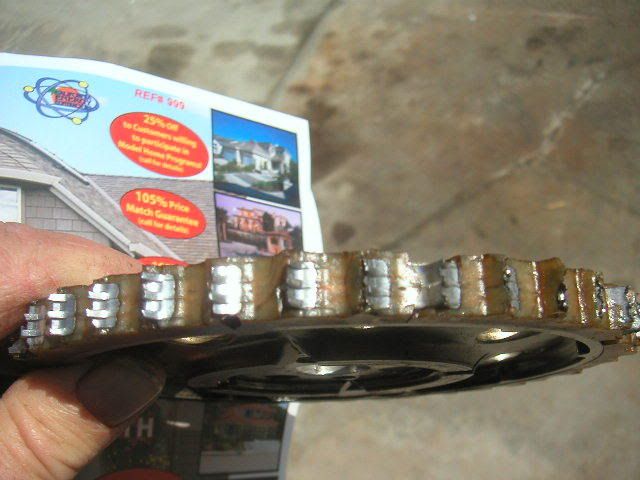 (similar to this)that had dropped into the sump as the old original timing set had worn. replacing it with a cloyes true roller set and a baffled 8 qt oil pan, and a high volume pump, instantly put the oil pressure curve back where it should have been[/b]
Why you don,t use the stock nylon coated aluminum gears on a high performance engine build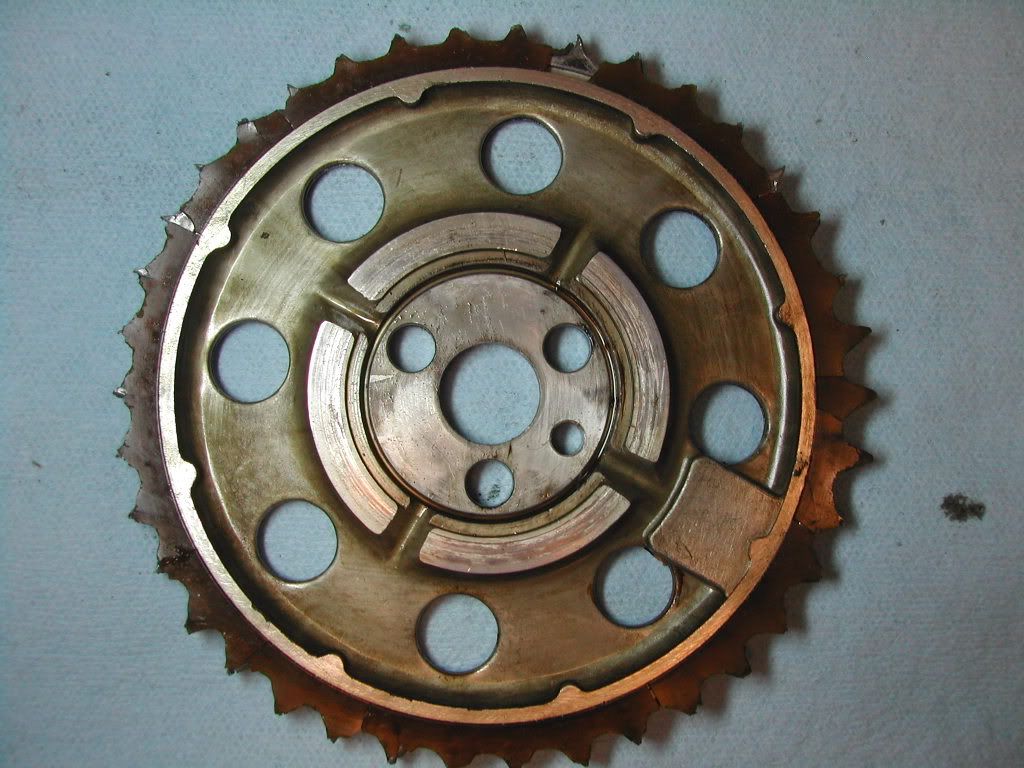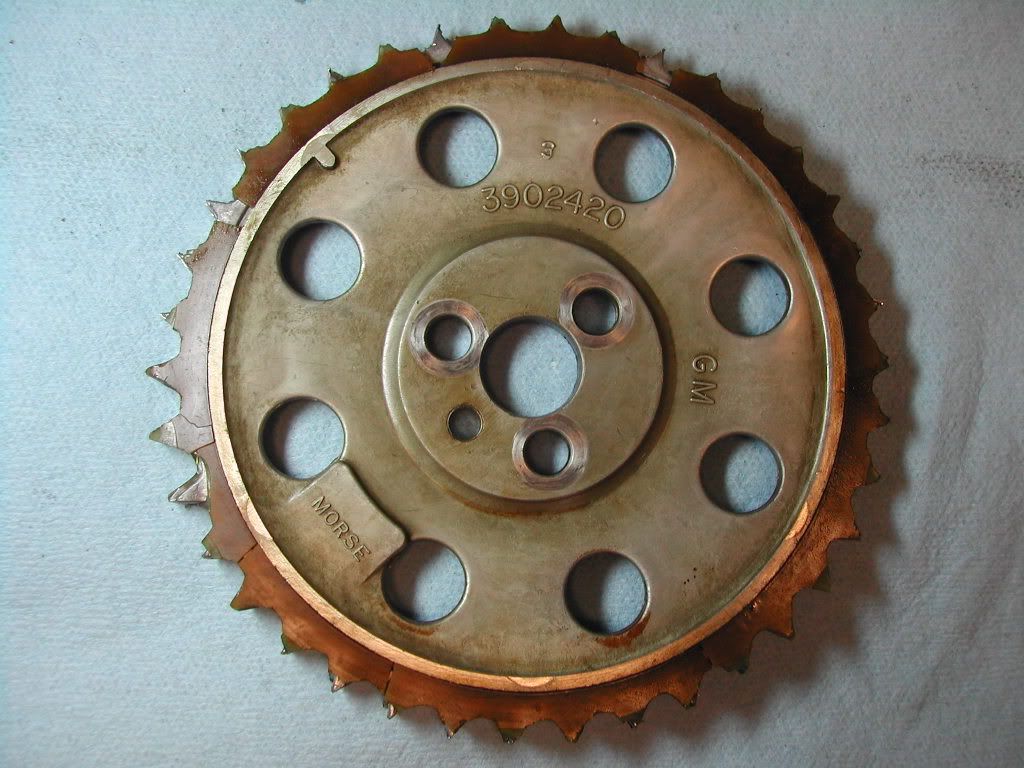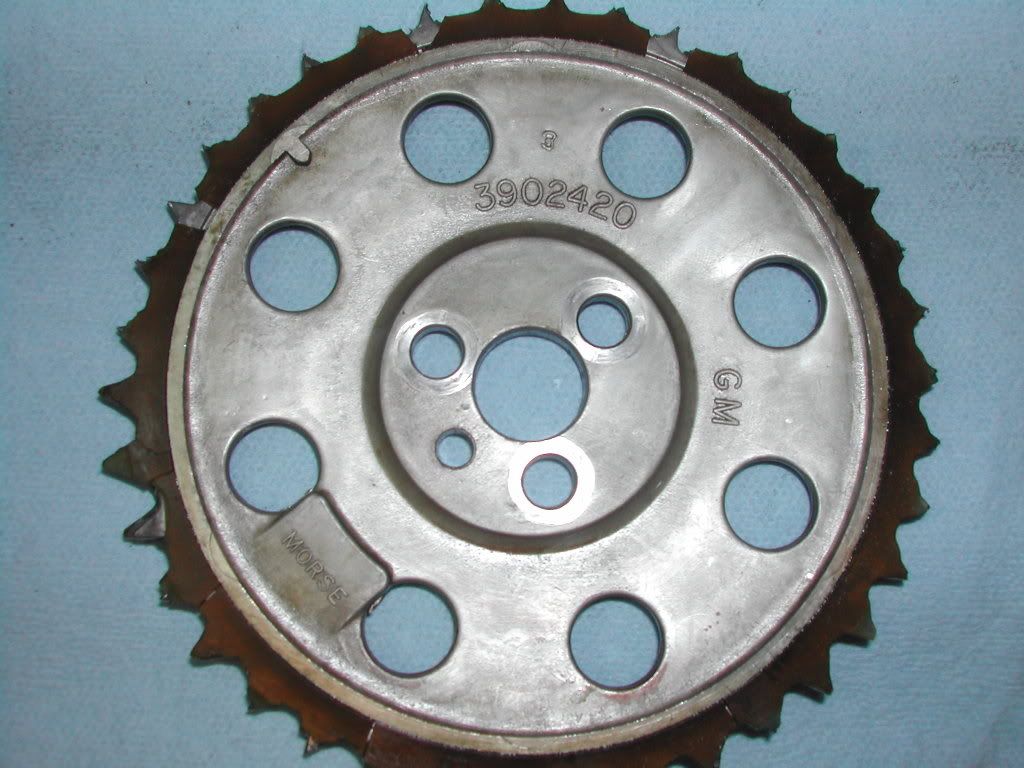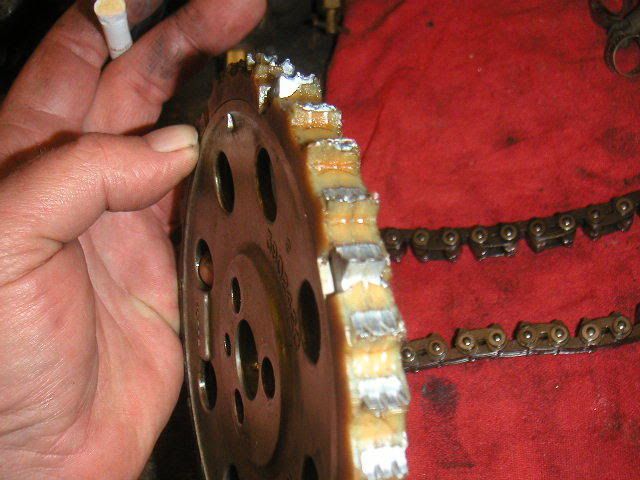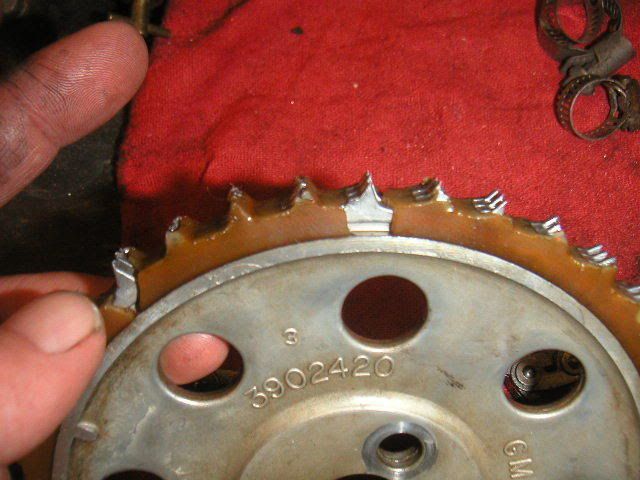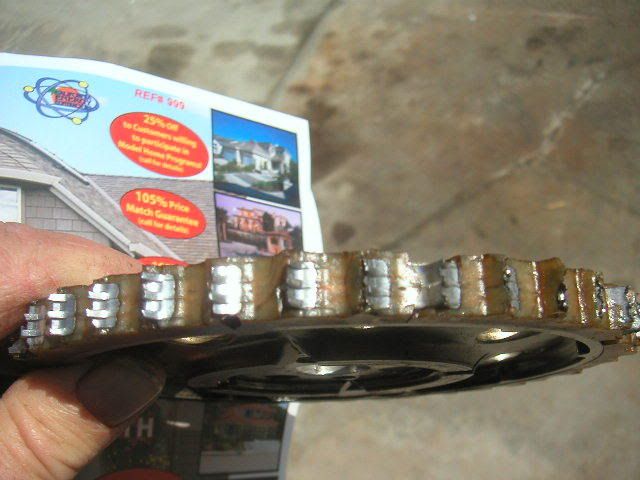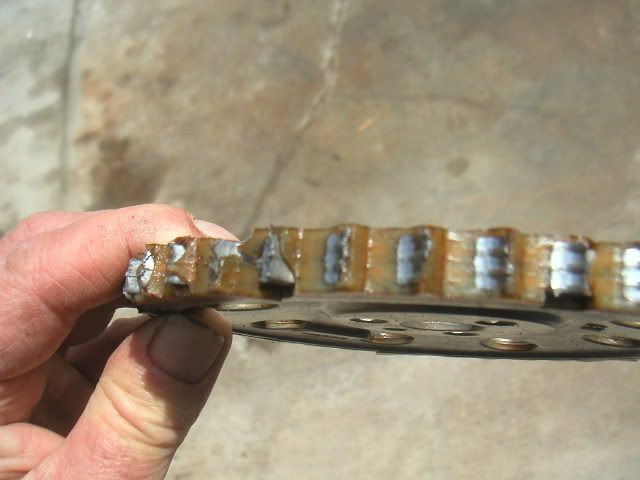 BTW, if your still not convinced, think about WHERE all those little pieces of nylon go and what they do,if your clueless...they tend to block or restrict the oil flow into the oil pump pick-up and get ground up and forced into the oil passages by the pump gears
The CLOYES true roller style is vastly superior
how come its 180 degs out of phase?
I get this question all the time, well here's something I see lots of guys don't understand, ONCE YOU'VE INSTALLED A CAM WITH THE TIMING MARKS YOU MUST ROTATE THE CRANK 360 DEGREES BEFORE DROPPING IN THE DISTRIBUTOR, while its true that if the, timing marks are positioned so the crank is at 12 o,clock and the cam gear is at 6 o,clock that the cam lobes will be in the position that fires #6 cylinder that HAS NO EFFECT AT ALL (on finding TDC,) for aligning the degree wheel with TDC,or THE timing tab pointer, for degreeing in the cam, the piston passes thru TDC TWICE in every firing cycle once on the firing/power stroke and once on the exhaust stroke, the cam rotates at exactly 1/2 the speed of the crank so to make it easy to line up the marks they install it with the marks at the closest point 6/12 for easy indexing, rotate the engine 360 degrees to the #1 TDC power stroke and the crank gear will still be at 12 o'clock 12/12 but the cam will be at 12 o,clock also, rotate another 360 degrees and your back where you started. its simply easier to index the cam at the point where the index marks align closely. look at how the cam lobes themselves open the valves when the cam is just installed the #1 cylinder valves are slightly open and the #6 are closed per "Lunati" ''YES YOU ARE RIGHT - WHEN CRANK IS AT TWELVE AND CAM IS AT SIX THEN #6 CYL IS FIRING AFTER YOU LINE UP YOUR MARKS AND INSTALL GEAR THEN ROTATE YOUR CRANK ONE REVOLUTION AND THEN DROP THE DIST. IN - AT THAT POINT