many fuel
pump
failures can be traced to failures to use a decent fuel filter between the
pump
and the tank, or improper installation, or in many case failure to use the proper fuel pressure regulator with a low restriction return line to the fuel tank, some pumps are not designed to work with fuels that contain alcohol, and some brands and specific models of fuel pumps are known to have more frequent failures.
the newer E10 and E85 fuels contain alcohol and there are lots of older pumps and components that the alcohol will slowly degrade as they were designed before those fuels were commonly in use.
be aware that electrical fuel pumps , and in tank electrical fuel pumps are cooled by the fuel sloshing over them, and the fuel running thru them so they tend to last significantly longer if you keep the fuel tank at least 1/3rd full and then refill it rather than allow it to get almost completely empty between fill ups, allowing an electric
pump
to get hot due to low fuel levels or lack of a fuel pressure regulator with a return line , which tends to allow higher flow rates with a lower restriction to flow will generally burn out relays or pumps or fuses faster as a hotter electrical fuel
pump
has higher electrical current loads

BTW alcohol in fuel tends to cause aluminum to oxidize over time
http://video.foxbusiness.com/v/2000862202001/
viewtopic.php?f=32&t=596
viewtopic.php?f=32&t=33
http://web.archive.org/web/200701062316 ... 1.htm#FPHP
http://www.underhoodservice.com/Article ... lures.aspx
http://www.underhoodservice.com/Article ... ctors.aspx
http://www.popularmechanics.com/how_to_ ... 72236.html
http://www.elektro.com/~audi/fuelpump/
http://www.youfixcars.com/chevrolet-fuel-

pump

.html
viewtopic.php?f=55&t=635
viewtopic.php?f=55&t=1030
viewtopic.php?f=55&t=211
yes your fuel filter design matters a good deal, Im always amazed at the guys that either don,t read the filter specs and can,t tell a 10 micron filter from a 60 micron filter and the guys that think a stock fuel filter designed to support 350 hp will still function if asked to supply a 550 hp engine without restricting the fuel flow rates, you need to understand your applications minimal flow rates and pressure requirements BEFORE selecting a MATCHING FUEL FILTER DESIGN
some filters are for EFI, some for CARBURETOR APPLICATIONS , and both the flow rates and the filtration in microns does matter, carbs can generally tolerate more particulates than injectors, and its rare to exceed 17psi in a carb fuel system or be under 35 psi with injection
look at these five fuel filters, you would need to be marginally retarded to think they all provide the same flow rates, pressure ratings and degree of filtration
http://www.summitracing.com/parts/SUM-230105/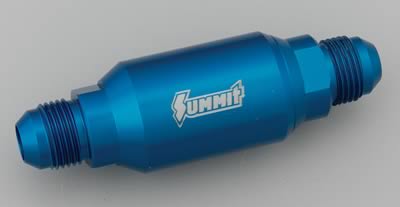 Deliver maximum fuel filtration to your engine.
Designed for carbureted systems, our filters flow 130 gph and have a reusable 40-micron element. Each 4.00 in. long filter is machined from aircraft-quality billet aluminum. They're available in red,
blue
, or black anodized or polished finishes with -6 AN or -8 AN fittings.
OR
http://www.summitracing.com/parts/FRM-HPG1/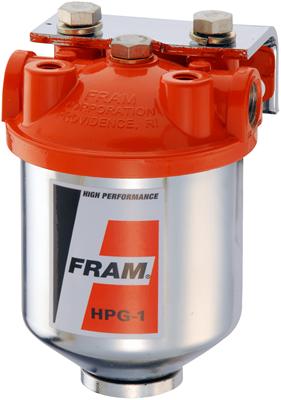 These Fram high-performance fuel filters can trap particles as small as 10 microns. They have a maximum flow rate of 90 gph, and a housing that can handle pressures up to 200 psi.
http://www.summitracing.com/parts/SUM-G1512/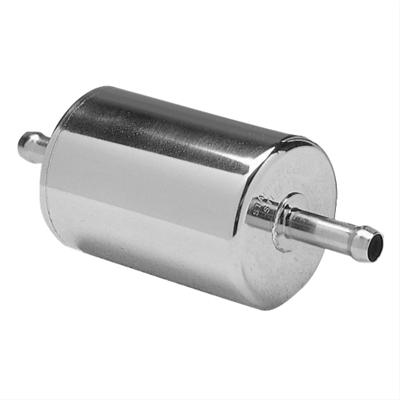 Designed for carbureted systems, our precision-welded fuel filters are rated to handle pressures up to 100 psi and trap particles as small as five microns. They are made from high-quality stainless steel and polished to a show-quality finish.
http://www.summitracing.com/parts/SPE-2228/
http://www.summitracing.com/parts/PRM-8 ... mage=large