"whats a CHEAP, yet decent carb/intake for my 383/400sbc"
most of us are on tight budgets, I know I an most of the time
http://www.j-performance.com/index.php? ... view&id=27
the CORRECT answer to that question depends, on factors like the carb,transmission and rear gearing you've used and if your using headers,and what cam your using etc. if your engine spends most of its power band below 6000rpm a decent dual plane intake is indicated, in many cases a edelbrock rpm air gap or weiand air strike matched to a 650-750cfm carb is a good choice for street/strip performance applications
http://www.holley.com/0-3310C.asp
youll be hard pressed to beat your performance on a basic , 350-383 hydraulic cam engine, with a HOLLEY 750 vacuum secondary carb for both ease of tuning and low cost ,high value in most street cars looking to make under about 450hp.
and a decent street/strip intake that matches is the
8501 - Weiand Intake Manifold
when you select an intake manifold the goal is usually to maximize the engines volumetric efficiency, in the engines intended power band,(how efficiently you can fill the cylinders with a full fresh charge of fuel/air mix)
dual plane intakes almost always produce better average power in the 1500rpm-6000rpm range, while single plane intakes rarely equal or produce better hp until about 4000rpm, but by about 5500rpm the power produced tends to be similar in the 383-400sbc , after about 6000rpm theres generally a trend showing the better single plane designs having better flow rates PROVIDED the heads and cams selected, are also designed to maximize the higher average power band.
many people are surprised to find the dual plane intakes, work as well as they do with the larger duration cams, theres a link below youll find interesting
keep in mind that in most cases the fuel pressure at the carb inlet port NEEDS to read 4.5-5 psi MAX and you NEED to set the float levels per the carb manufacturers instructions, having the pressure , higher at for example 6.5 psi will in many cases cause the needle & seat valve to constantly leak excess fuel, into the carb while the engine runs
http://www.holley.com/8501.asp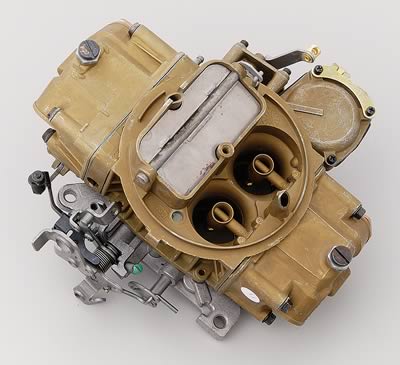 http://www.summitracing.com/parts/HLY-65-3310/
this is what ID use on a street 383/400 in many applications as it gives you good value for your money,
now with better heads,more compression, a more radical cam with more than about 235 dur. at .050 lift, a 3.73:1-4.56:1 rear gear etc, this intake below might be an option., but too take full advantage, of the single plane intake design and flow youll need to spend most, of your time in the 4500rpm-7500rpm plus power band
http://www.summitracing.com/parts/HLY-300-110/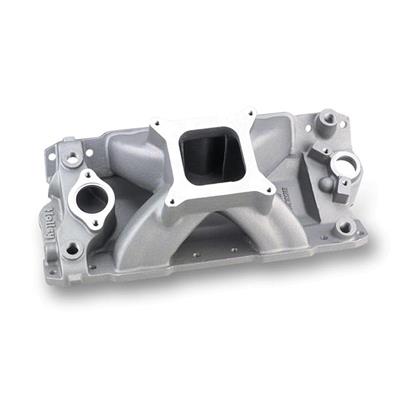 Im sure youll find these threads of interest
viewtopic.php?f=44&t=392&p=5415&hilit=+test+intake#p5415
viewtopic.php?f=52&t=322
viewtopic.php?f=55&t=2857
viewtopic.php?f=52&t=333
viewtopic.php?f=52&t=148
viewtopic.php?f=55&t=2953
viewtopic.php?f=52&t=462
viewtopic.php?f=55&t=858
viewtopic.php?f=44&t=773
http://www.carcraft.com/techarticles/se ... index.html
http://www.circletrack.com/ultimateraci ... index.html
http://www.circletrack.com/enginetech/c ... index.html