UNPLUG the harness from the
injector
,BTW To remove the connector from the
injector
, push carefully in the middle of the locking clip, with your thumb, This will make the sides, and tips move OUT WARD in their connector slots allowing the tips that hold the
injector
into the connector to slide out of the way from the
injector
body, and you can then pull the sides away. WATCH the locking clip - IT can and WILL come off and get lost, if your not careful put your V.O.M. meter on
OHMS
and put the leads across the two connectors ON THE
INJECTOR
,it should read about 11-16
OHMS
in most cases, a few are designed to read up to 19
ohms
, or as low as 9
ohms
,
BUT ALL INJECTORS IN A SET SHOULD READ WITHIN ONE OHM OF EACH OTHER
if its out of that range by a wide margin ITS MORE THAN LIKELY DEFECTIVE, c
hecking the
OHMS
reading as a first step will frequently detect a defective
injector
, naturally using your trouble codes , a shop manual and a fuel pressure gauge won,t hurt and a shop scope , or engine analyzing software with a read out to your laptop computer helps and can further isolate the problem, at IDLE speeds placing a finger tip on the side of the
injector
will usually allow you to feel it (CLICKING) adding a couple cans of
injector
cleaner and about a pint of MARVEL MYSTERY OIL to a full tank of fuel can sometimes free a sticky
injector
that partly clogged, but don,t do it frequently as its very hard on the CATS and O2 SENSORS if done constantly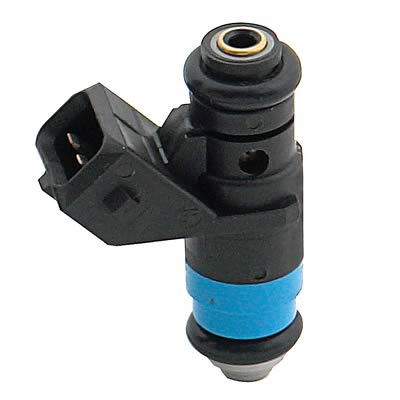 partly clogged injectors tend to reduce power and increase emissions
notice, the
injector
resistance is usually stated in the description
Brand: ACCEL
Product Line: ACCEL Fuel Injectors
Part Type: Fuel Injectors
Part Number: ACC-150826
Injector
Advertised Flow Rate (lbs/hr): 26 lbs./hr.
Injector
Advertised Flow Rate (cc/min): 269.0cc/min
Injector

Impedance: 14.4

ohms
Driver Type: 12 V saturated circuit
Overall Height (in): 2.880 in.
Seat to Seat Height (in): 2.270 in.
Manifold O-Ring Outside Diameter (in): 0.573 in.
Fuel Rail O-Ring Outside Diameter (in): 0.574 in.
Outside Diameter (in): 0.943 in.
Injector
Plug Style: Bosch/Amp-style
Wiring Harness Included: No
O-Rings Included: Yes
Quantity:
MORE
INJECTOR
INFO
"Most early EFI systems were batch-fire systems (TPI) where the ECM fired all eight OR BANKS OF FOUR injectors simultaneously. Usually batch-fire systems fire the injectors once per engine revolution. This way, the injectors could be sized small enough to be more easily controlled at idle. Later, sequential EFI systems were refined to fire an
injector
a few degrees before the intake valve opened. Generally, sequential injection offers more precise fuel control at the price of increased complexity. But on production engines, the benefits are more in the area of emissions and driveability than in performance".
Like all electrical devices, injectors have an internal resistance to the flow of electricity. The amount of resistance is measured in
Ohms
, or impedance. The higher the number, the more the resistance. Injectors are either high impedance or low impedance. It's crucial to get the proper type. While high and low impedance injectors may look identical on the outside and fit the same, if they are the wrong type they can fry your ECU,
injector
resistor pack, or other expensive parts. High impedance injectors are sometimes called "peak and hold" injectors, while the low impedance injectors are often called "saturated injectors." Make sure you get the right type. If you're not sure what you've got, you can check the resistance of your
injector
with a DMM (digital multi meter) set to measure
Ohms
. Saturated injectors have a resistance between 10-18
ohms
and peak-hold injectors have a resistance around 2-6
ohms
.
your corvette was designed to use the 10-18 ohm rated injectors
viewtopic.php?f=55&t=2055&p=5481#p5481
viewtopic.php?f=55&t=2055
http://www.scottsautorepair.net/viewtopic.php?f=10&t=33
http://www.eficonnection.com/eficonnection/default.aspx
viewtopic.php?f=55&t=1241&p=2648#p2648
http://users.erols.com/srweiss/tableifc.htm
http://www.conleyracing.com/article_fuelinjectors.htm
http://www.ecs.fullerton.edu/~sowell/ja ... estRig.pdf
http://www.youtube.com/watch?v=cvlnG5Ki ... re=related
http://www.youtube.com/watch?v=cy_yaAOK ... re=related
http://www.youtube.com/watch?v=_g8PdrT0 ... re=related
http://www.youtube.com/watch?v=NIz5c9ML ... re=related
viewtopic.php?f=70&t=7309&p=24862#p24862
http://www.youtube.com/watch?v=VfynoxL2 ... re=related