read, the linked info, because understanding the concept and the correct use of the linked calculators will effect your engines power curve, doing it correctly helps to provide a wide power band, doing it wrong tends to significantly reduce power potential.
now keep in mind if your cam timing does not match your headers intended scavenging power range, and the rpm its designed for , the engines displacement and intake flow rates, so that all factors are designed to maximize flow in a set rpm band and flow rate, (IE, complement each other) you'll have a marked reduction in the power potential, and NO header will function correctly with significant back pressure beyond the header collectors
, on the extremes,Ive seen several dyno tests where carefully tuned headers allowed to engine to produce 50-70 more horse power,than the stock exhaust manifolds, and Ive seen tests where adding a restrictive exhaust to open headers resulted in 70-80 horsepower losses,, as in most component choices selecting the correct matching parts adds a good deal to the results but mis-matched components can hurt your power curve noticeably.
that one reason you need to read dyno tests in magazines very carefully, because its rather easy to make any headers or exhaust, cam, or intake manifold look good or bad by simply carefully selecting the parts... in the test that they are compared too, by carefully selecting the other components that favor the parts your trying to sell or parts the restrict the competitions components, from reaching their potential.
a great set of tuned headers on a killer engine combo with a restricted exhaust,or a mis-matched cam, or a mis-match intake will show little if any power gains, and removing those components, and swapping in the correct matched components will boost hp on even mediocre headers.

The question always comes up about , choosing the header primary pipe diameter, as in should you get 2" or 2.125" or 2.25" primary's headers on that big block, or 1.675" ,or 1.75" on your small block ETC. the rule of thumb is to match the exhaust port size or use only slightly larger, the restriction the exhaust system you place behind any size header will pose a much greater chance of costing you potential performance than the change in primary pipe diameter, in most cases simply because most commercial headers are designed more for low cost and ease of production than to maximize performance.
Now that does not mean you can,t get good commercial headers or that your choice in header type, diam. or length won,t effect your results, but unless you match the header design that you instal to the application, displacement, compression, cam timing and other factors your already working at a disadvantage.
A COUPLE HOURS SPENT READING CAN SAVE YOU MONEY AND EFFORT
http://www.superchevy.com/how-to/49178- ... -increase/
http://www.carcraft.com/techarticles/header_basics/
http://www.sandersonheaders.com/Lets-Get-Technical.html
you will occasionally see dyno test results similar to this, that show about a 20 hp spread in the power curve, that seem to indicate that the difference in header configuration is not overly critical,but keep in mind these results are almost always done on 350-383 displacement engines with fairly mild compression , below 9.5:1 and fairly low duration cams ( example ,below 230 deg @.050 lift )and stock or mildly restricted exhaust systems, an engine with a fairly tight LSA and high compression and a low restriction or open exhaust can take full advantage of the headers scavenging the cylinders in a tuned rpm range significantly boosting the power produced, the tuned exhaust header has a greater effect on a higher compression ratio engine of larger displacement with a tighter LSA cam
http://www.bgsoflex.com/bestheader.html
http://www.wallaceracing.com/header_length.php
http://maxracesoftware.com/pipemax36xp2.htm
http://victorylibrary.com/mopar/header-tech-c.htm
viewtopic.php?f=56&t=495
viewtopic.php?f=56&t=7017
viewtopic.php?f=56&t=260
viewtopic.php?f=3&t=1817&p=4698#p4698
http://maxracesoftware.com/pipemax36xp2.htm
http://stockcarracing.automotive.com/49 ... sions.html
http://www.carcraft.com/techarticles/03 ... index.html
http://www.racingbeat.com/2001header/headertest.htm
http://www.carcraft.com/techarticles/he ... usion.html
http://www.hotrod.com/techarticles/engi ... index.html
viewtopic.php?f=56&t=185
viewtopic.php?f=56&t=961
viewtopic.php?f=56&t=495
viewtopic.php?f=56&t=495&p=29147#p29147
viewtopic.php?f=79&t=497
viewtopic.php?f=56&t=1247
viewtopic.php?f=56&t=789&p=1143&hilit=+pipe#p1143
viewtopic.php?f=56&t=1503
shorty or block hugger designs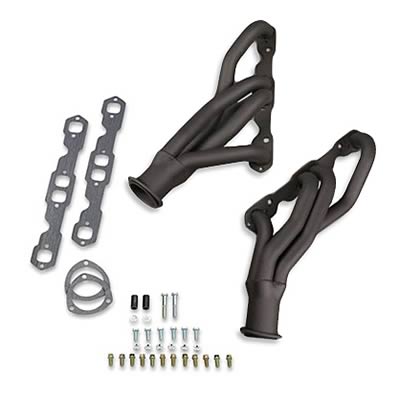 long tube full size headers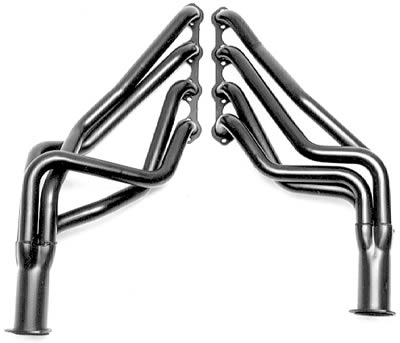 theres a great deal of info on the site about selecting or building headers, but one major factor is that a NON-RESTRICTIVE exhaust system MUST be installed with ANY HEADERS to allow them to work correctly. for headers to work correctly they require an exhaust pulse to allow its inertial energy to drag the following charge along with it out the exhaust.
if you can,t visualize that it might help to find a 3 ft long section of 2.5" pvc pipe and wrap a bit of tape around a full coke can so it slides easily thru the PVC, pipe but fills its interior diam., now place the pipe horizontally insert the coke can and drop the opposite end strait down while you hold your hand over the end the coke can was inserted into, as the mass of the coke can falls you'll feel air dragged with it , the same basic thing happens with an exhaust pulse, its mass is far less but its traveling much much faster, and depending on the rpm and displacement it does generate significant energy that can be used to draw the next intake runners charge into the cylinder as it draws out the next exhaust charge during the cams overlap duration (LOOK INTO CAM TIMING)
keep in mind the LENGTH of the header tube effects the rpm levels and energy transferred as it takes time for that mass of hot exhaust gas to travel thru the primary tube, naturally a longer distance tends to require a longer time and the longer duration tends to impart a longer and stronger negative pressure wave to assist the next pulse IF ITS TIMED CORRECTLY and the header primary tube is the correct dia. and length for the engines displacement,compression, cam timing, and several other factors, but again, it works far more effectively if the exhaust system is a low restriction design that doesn,t reduce the scavenging effect of the pulse waves, and the tubing is long enough to work effectively
viewtopic.php?f=52&t=1070
viewtopic.php?f=52&t=333
viewtopic.php?f=52&t=480
viewtopic.php?f=56&t=352
viewtopic.php?f=56&t=1166
http://www.slowgt.com/Calc2.htm#Header
http://www.bgsoflex.com/auto.html
viewtopic.php?f=80&t=10730&p=46843#p46843
these threads might help
http://www.pontiacracing.net/js_header_length1.htm
this MELROSE
exhaust is well designed and should give a good idea as to what your trying to do,when building a custom exhaust,or if your not into welding and fabrication you could buy one
http://www.melroseheaders.com/products/ ... ms/c-4.php
a well thought thru design on an (X) pipe and cut outs

keep in mind headers loose a great deal of their potential horsepower gains if there matched up to a restrictive exhaust
http://www.melrosecorvette.com/1984-199 ... ic-option/