ok you want you car to perform well and you've heard all your adult life, that you need a low restriction exhaust and that a good set of long tube headers out performs shorty's, headers,
you might have researched a bit deeper and found formulas that indicate the ideal length of the collectors and header primary
,
you might even be the one guy out of 20 that actually took the time and effort to run a flexible tape measure thru each primary and out the collector and found that about 90% of the factory headers use pipes and collectors that are far too short to produce the ideal power range, now what?


AND be aware that there's strait and angle plug, SBC heads and BIG BLOCK HEADS with raised exhaust ports ,and there's round and square exhaust ports, and its smart to check with the manufacturer as to what style heads the headers are designed too fit correctly or you could have major clearance issues.




[color=#FF0000]ITS extremely important that you ask questions and get accurate answers , BEFORE purchasing headers about what style cylinder heads the headers are designed to fit, below is pictured a set of headers obviously designed for factory strait plug heads but bolted to a set of angle plug heads making spark plug access and wiring a clearance and heat , destroying ignition wire nightmare
http://forum.grumpysperformance.com/viewtopic.php?f=52&t=2712&p=7032&hilit=angle+plug#p7032
http://forum.grumpysperformance.com/viewtopic.php?f=70&t=840&p=9944&hilit=angle+plug#p9944
[/color]
Once you get much past the headers, the pipe size has little to do with the power curve unless you're choking the exhaust at high rpm's.
[/quote]
I have got to agree here,its been my experience on many muscle car engines that a large displacement ,high compression performance engine, thats been specifically camed and geared correctly to maximize the exhaust scavenging will be easier to demonstrate this with than a low compression, mid sized v6 or v8 thats camed to run in the 1500rpm-4000rpm band like most factory transportation type cars are. but the exhaust behind the headers will be less critical than the headers dimensions and collectors design and collector length which can be critical to getting the engine to produce good power over a wide rpm band, but past that you feed both collectors into a correctly size (X) pipe with about 20" on each leg past the (X)and
as long as the exhaust system past that point is not restrictive sound levels may change but power tends to be fairly consistent. i usually get that DEER IN THE HEAD LIGHTS STARE when i ask what the exhaust back pressure actually reads with a GAUGE, at the collectors, (X) PIPE and about 12"past the (X) pipe, at peak rpms under load , simply because most guys have never hooked up a guage and watched it as the car ran thru the 1/4 mile lights at top speed


you might be surprised at what a few tests show you and how much time and money you can avoid wasting.
diam. of the pipes is not as critical as the exhaust BACK PRESSURE the engine sees in the mid and upper rpm ranges, a 2.5" pipe has ABOUT 5 square inches of area a 3" pipe ,about 7 square inches of area so, if you swap from a set of 2.5" exhaust pipes to a 3" dual exhaust , in theory youve reduced the resistance to exhaust flow by 35%-40% which MAY result in some gains if you were previously restricted, adding an (X) pipe adds a further reduction in the restriction to exhaust flow.
knowing a few constants in engine pressure and flow helps, Im always amazed at how few guys bother to measure exhaust temps, exhaust back pressure and fuel/air ratios.

an engine usually requires approximately 2.257 cubic feet per minute per horsepower to maximize intake flow and exhaust flow at about 115 cfm per square inch

so assuming your building a 500 hp engine / 2 (divided by 2 as there's normally two header collectors on a v8) we have 250hp per header collector, (open header collectors) multiply that by 2.257 cfm and you see you need 565 cfm and divide that by 115/square inches and we see we need a 4.9 square inch minimum exhaust collector pipe, per side (open header collectors), or if using mufflers this of course assumes a very low restriction muffler.
its a rule of thumb or rough guide on the expected combined potential max exhaust port flow rates of the exhaust primarys, taken from an observed average of hundreds of recorded dyno results, and not taking into account any flow loss or restriction,and calculating some heat expansion ,its basically worthless except as a way to figuring what size exhaust pipe size thats likely to work, or what size will be restrictive to flow.

http://www.harborfreight.com/fuel-pump- ... 93547.html
viewtopic.php?f=56&t=1503
viewtopic.php?f=56&t=185
viewtopic.php?f=56&t=1166
viewtopic.php?f=56&t=495
if you look closely youll see the major difference is how easily exhaust flow pulses can move into the adjacent pipe to balance flow, the (H) pipe requires two 90 degree turns while the (X) pipe can easily balance with only part of a pulse expanding as it passes the (X) PIPE) merge point, the ease in balancing pressure, and reducing restriction greatly favors the (X PIPE DESIGN)
notice the X pipe design has several variations, the type above is more effective than the type below at blending and equalizing the pulse volume from either side but even the more restrictive version below still works well.
heres a good example showing why an (X) pipe is very efficient at equalizing and blending exhaust pulse flow rates
viewtopic.php?f=56&t=1166
well most header manufacturers will produce what they feel is a decent compromise between performance and ease of installation, while keeping their cost to manufacture as low as they can, and since a shorter headers easier to install and costs less to produce in materials, and its less likely to have clearance issues far more of the commercial headers are much shorter than the ideal length.
almost all header manufacturers need and do find a compromise between building the best possible headers , with the widest potential power band,and the most cost effective design they can build that still functions reasonably well, and fits as many similar applications as possible, and while a longer header tends to produce more low and mid rpm power, the ratio of power gains are reasonably small compared to the added expense of building true custom headers that fit, each possible application, due to clearances, and additional materials, and producing a header that may only fit a single year , with a single engine or type of cylinder heads,or maybe only limited to several years of production, and the cost difference between lets say a 32" and a 36 " header primary design, limiting the market potential, makes producing headers with the ideal measurements cost prohibitive.
the the additional gains are there to be had, but unless your willing to build a custom design that may only fit a few cars, and are looking for every possible gain, it may not be worth the extra effort, if it costs you an additional $200-$300 dollars to build a header that produces an extra 10-15 ft lbs of torque ,(or in some cases noticeably more) most header manufacturers would much rather opt for a less expensive option
there ARE EXCEPTIONS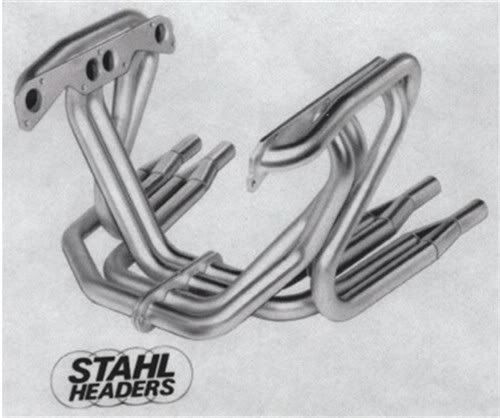 and some simple fabrication work to graft on collectors like these
to common headers like these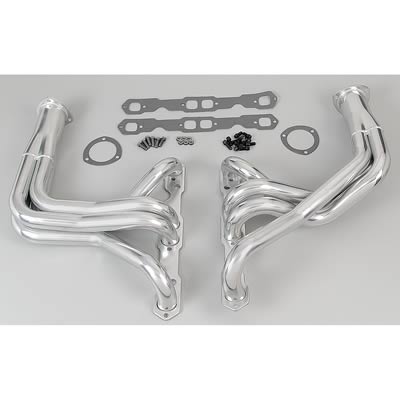 usually results in gains in performance, at a reasonable cost to the few guys willing to take that extra effort
well the more advanced guys, and racers have found that that making longer headers out of short factory designs is far less work intensive than building headers from scratch, and its fairly quick process to correct, with longer collectors or primary pipe extensions like pictured below,
but that usually requires some minimal cutting and welding to produce a decent , semi custom header, so if you don,t have the skill or tools many guys avoid doing it!
yes its usually well worth the cost and time and effort, most guys who have never had a car with headers of the optomum length have never seen how effective true tuned headers can be or heard and felt the difference they make over the crappy store versions with the much shorter tubes
you can usually use a band saw or cross cut saw to cut of the usually pathetically short factory collectors and weld on an extension giving you noticeably more low and mid rpm torque, that the factory supplied version.
collectors, like those pictured below that transition from 4 primary too two secondary to one collector usually produce better mid and low rpm torque without sacrificing much if any peak hp over the 4 into one collectors, and the smooth merge collectors that are usually far less restrictive can sometimes provide very noticeable improvements in the upper rpm range.
naturally if you match any header to a restrictive exhaust, or use mufflers that restrict flow your effectively killing off a great deal of its potential, just as a restrictive intake system will restrict the headers ability to scavenge the cylinders or if your using a cam that's not designed to run in the same rpm band as the headers and intake are designed to flow efficiently in, so it pays to take the effort to measure back pressure and include an (X) pipe and low restriction mufflers if you do run an exhaust system, and match all the engine components to a single intended power band, and, Id point out that having cut outs to further reduce restriction for on track use can at times help.

use these calculators and measure your current headers and youll find that about 90% of the time they are far to short to provide the ideal power curve
keep in mind the idea behind running headers is to significantly increase cylinder scavenging increasing the width of your power band by increasing the rpm range the cylinders fill efficiently
if your headers primary and collectors are too short, your engine may never reach the rpm range where its providing much help to your power curve
http://www.pontiacracing.net/js_header_length1.htm
http://www.wallaceracing.com/header_length.php
http://www.carcraft.com/techarticles/11 ... ndex2.html
http://victorylibrary.com/mopar/header-tech-c.htm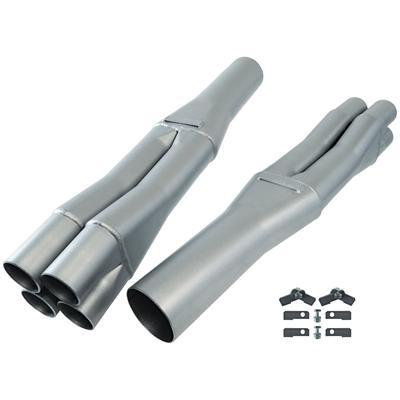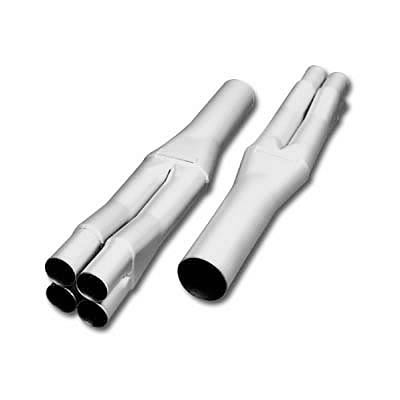 http://www.summitracing.com/parts/FLO-C134218234/
http://www.summitracing.com/parts/HED-14044/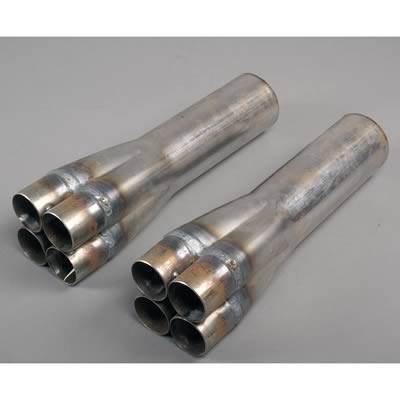 IF YOU WELD STAINLESS EXHAUST PIPE without a back flush you can get weld crystallizing or SUGARING , an ARGON back flush and taping both ends to exclude oxygen helps reduce this significantly as will
tig paste
http://www.solarflux.com/Pages/Productinfo.html
a well thought thru design on an (X) pipe and cut outs
viewtopic.php?f=56&t=495
viewtopic.php?f=56&t=1166
viewtopic.php?f=56&t=1303&p=16831#p16831