http://store.summitracing.com/partdetai ... toview=sku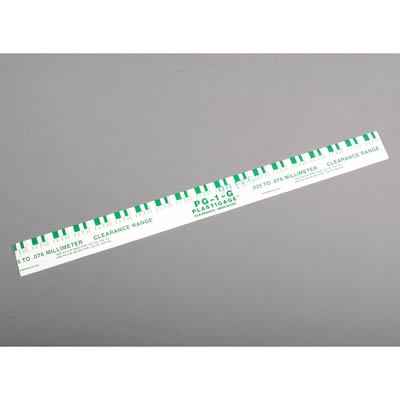 you can buy single strips but its far cheaper in larger size boxes, if your using it frequently


plasti

-

gauge

is an excellent cross check tool, easy to use and accurate, if used correctly, and I would not be a bit concerned if thats all you had to check bearing clearances, I use a fairly expensive set of mics, and snap gauges but I always cross check with

plasti

-

gauge

, and you ll be surprised at how accurate its really is

read these links & threads
http://forum.grumpysperformance.com/viewtopic.php?f=53&t=4294
http://forum.grumpysperformance.com/viewtopic.php?f=53&t=247
viewtopic.php?f=53&t=3449&p=9134&hilit=+assembly+lube#p9134
viewtopic.php?f=53&t=2733
viewtopic.php?f=53&t=852&p=1311&hilit=checking+bearings#p1311
https://www.youtube.com/watch?v=pmTyOza5-po
https://www.fordmuscle.com/fundamentals/plastiguage/
viewtopic.php?f=59&t=1026&p=4327&hilit=

plasti

+

gauge

#p4327
viewtopic.php?f=53&t=2726&p=7077&hilit=plastigauge#p7077
http://www.autozone.com/test-scan-and-s ... 36168_0_0/
http://www.hotrod.com/how-to/additional ... icrometer/
viewtopic.php?f=53&t=9214&p=43456&hilit=plastigauge#p43456
http://www.plastigaugeusa.com/how.html
Clevite 77 Plastigage
P/N Color Oil Clearance Range
MPG1

green

.001 in - .003 in (.025 - .075 mm)
MPR1

red

.002 in - .006 in (.050 - .15 mm)
MPB1

blue

.004 in - .009 in (.10 - .23 mm)
MPY1

yellow

.009 in - .020 in (.23 - .50 mm)
viewtopic.php?f=59&t=1390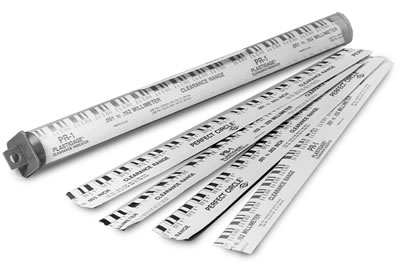 http://store.summitracing.com/partdetai ... toview=sku
Plastigauge, Green Kit, 0.001 in.-0.003 in. Clearance Range, Each
"Accurately measure bearing clearances.
Made from a special extruded plastic thread with accurately controlled crush properties,
Plasti
-gage provides a fast and accurate way to check bearing clearances.
Plasti
-gage is packaged in a calibrated envelope that not only protects the plastic threads, but also serves as a scale to measure the bearing clearance. One package contains enough Plastigage to check both main and connecting rod clearance for one engine. "

now this stuff is really easy to use , it looks like green angle hair spaghetti,, you spray down your crank journal,and matched bearing surfaces with wd-40 so it won,t stick to the surfaces, lay a 1/2" long section in the center of the journal, replace the bearing cap, and torque to specs, then WITHOUT spinning the crank you disassemble the bearing cap, remove the cap and use the edge of the package the

plasti

-gage came in to compare the crushed width to the scale on the edge of the packaging.
simple and REASONABLY EFFECTIVE, if you don,t own snap gauges and a full set of mics.......just remember to remove it from the bearing or journal,before you proceed further, in the engines reassembly
now personally I like the stuff (
PLASTI
-GAGE) as a secondary way to check bearing clearances, but a decent set of mics and a machinists caliper and snap gauges is a good thing to have , and altho
I use

plasti

-gage I don,t trust it alone to check clearances



btw spray the bearing and the crank surfaces, and the plastigage with WD40 before you measure clearances and it won,t tend to stick as much



http://www.harborfreight.com/cpi/ctaf/d ... umber=5649
http://www.harborfreight.com/cpi/ctaf/d ... mber=32214
http://www.harborfreight.com/cpi/ctaf/d ... umber=5043
http://www.use-enco.com/CGI/INPAGE?PMPA ... s/317-0764
http://www.harborfreight.com/cpi/ctaf/d ... mber=97389
now theres FAR better QUALITY tools than the ones I linked too, but unless your doing engines on a regular basis I find these will work reasonably well, naturally if your doing it seriously youll want better quality tools
you might want too read thru this also
viewtopic.php?f=52&t=181
http://video.google.com/videosearch?oe= ... Q&start=20
from chevy high performance mag