one of the first tools most guys buy is a mechanics creeper,

because they usually find it keeps them off the wet ,cold, rough, filthy or oil covered concrete surface thats all too common in many garage work areas, and lying directly on the floor under a car tends to let your shirt and hair act like a mop that collects crud and lying on rocks and greasy parts can be a P.I.T.A.
if you've got a decent welder you can save yourself some cash buy building yourself a custom mechanics creeper, for about the cost of a cheaper one and build a far more satisfactory design.
keep in mind you don,t want to be working under any car that's not 300% securely supported, because your butts on the line so make darn sure you use several decent jack stands on a level concrete floor and never use just a floor or bottle jack to support the car, taking a few extra minutes to use 4 12 ton jack stands rather than rushing the job could easily save your life.
one factor you'll want to look into is how much under car clearance your working with and the surface your rolling on, most of the cheap creepers have flimsy caster wheels that break or get jammed easily,
having a set of 4 of the 12 ton jack stands allows you a great deal more clearance under the car than the common 3 ton jack stands and provides both more stability and a larger safety margin.
on the first notch the 12 ton stands hold the cars frame about 22" from the floor allowing decent work clearance,under most cars while providing decent safety, if you need more theres an extra 10" in the stand adjustment
some careful measurement and fabrication will allow a decent welder to build a very serviceable mechanics creeper, but if your just looking to buy one shop around , a good one might cost over $100 but it should last many years
they commonly range from cheap crap that falls apart in under a month in most cases,

Ive seen several cheap red jack stands, that used to be sold at auto parts stores for under $20 a pair, that looked very similar to these slightly improved designs fail over the years

if you don,t have a lift,and use a mechanics creeper do yourself a HUGE FAVOR and buy and use four of these 12 ton rated, jack stands,or something similar to use on a solid concrete floor
http://www.vulture.com/2012/12/human-hoist.html
viewtopic.php?f=27&t=969
viewtopic.php?f=27&t=1260
viewtopic.php?f=27&t=672
viewtopic.php?f=27&t=26&p=34&hilit=jack+stands#p34
http://metalgeek.com/static/cope.pcgi
to slightly better quality versions
read these related threads
viewtopic.php?f=27&t=26
viewtopic.php?f=27&t=969
viewtopic.php?f=27&t=672
viewtopic.php?f=27&t=98
If your on a fairly limited budget like most of us,working under a car SAFELY starts with a set of 4 decent jack stands and a FLAT CONCRETE FLOOR and a decent floor jack,
IVE rarely seen a year go bye without hearing of someone being crushed when a car fell on them, obviously you'll never want to work under a car supported by only a floor jack, or jack stands on asphalt or dirt
http://www.harborfreight.com/12-ton-jac ... 34924.html
are you not going to feel like a moron if the car falls on you or one of your friends (providing you live of course) from use of some cheap bargain jack stand, when for a few dollars more you could have had substantially larger and stronger and much more stable stands, that were far harder to tip over due to the size of their base and design, under the car your working ons,frame?
guys get killed all the time because they fail to think things thru, you can,t use jack stands on dirt or even most asphalt because the jack-stand feet sink and the car tilts
but its silly to think how little extra expense it takes to save a life
http://www.creepex.com/indexEN.html
now heres a TOOL that at first glance may seem silly, BUT the more I look at this the more I think its a good idea , after thinking about it it makes perfect sense.....its a creeper with a built in safety roll cage to prevent getting crushed if the car did fall
one more reason in and endless list of why you need a DECENT WELDER and some WELDING SKILLS,..... a short trip to the local metal supply store, a few quality casters, and a free weekend could result in a custom version magically appearing in your garage for WELL under $200,
but having a nice chrome /padded ,pro made version will look nicer
I just can,t tell you how often a decent welder comes in handy around the shop
This is the picture they show on how it can protect you.
Unfortunately some of us are shaped like this.
but thankfully ,beer guts
are generally flexible enough to survive a few minor/limited impacts with a cars underside, or many of us would be dead by now, but Ill be building a 19" clearance model If I weld one up, simply to take full advantage of the 20" plus under the cars frame with the 12 ton jack stands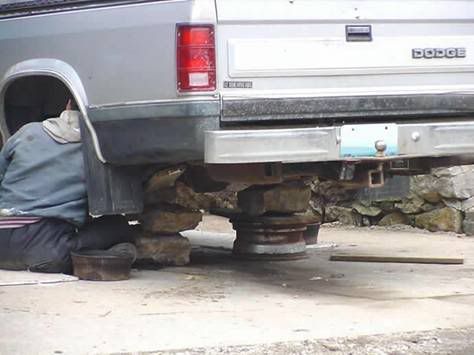 IF you would rather spend time bench pressing your car or truck occasionally and don,t mind loss of a few fingers or a broken leg or back, .....follow this numbskulls example a good yank on a wrench, a friend leaning on the truck, a stiff breeze, ETC. and hes going to be in a world of trouble