Good spark plug wire usually has
less than
about 400-500ohms ohms resistance per ft.
Your correct that less resistance tends to allow more SPARK energy a crossed the plug gap, which in most cases is best set in the .040-.045 range in my experience,
for HEI ignitions
and
.030 plug gap for a VERTEX MAG
.spark plug wire designs vary a great deal between manufacturers and use different materials

you might want to watch these video,s on swapping to low resistance ignition wire
https://www.youtube.com/watch?v=bjpI6nACxlM
http://www.summitracing.com/parts/msd-3508
Q. What should the Ohms per foot be on my wires?
A. ThunderVolt 50 = 40 Ohms
ThunderVolt 8.2 = 40 Ohms
StreeThunder = 500 Ohms
409 Pro Race = 350 Ohms
8mm Spiro Pro = 350 Ohms
8mm Pro Wire Resistor Core = 3,500 Ohms
Full Metal Jacket = 350 Ohms
Extreme Service = 350 Ohms
SST = 500 Ohms
8mm High Energy = 5,000 Ohms
good plug wires usually read less than 500 ohms per foot, less than about 2000 ohms is still decent for some wire designs but if the wire reads something like 36 k ohms plus your usually dealing with less than ideal wires
ID also mention that the older solid copper core ignition wire from the muscle car era, won,t work correctly on the more modern computer controlled cars as its electrical interference tends to cause the more current computer control systems to run poorly, if you can hear the ignition run in the radio static its a sure bet its having some effect on the control computer ability to read and send data from the sensors, and more than likely can eventually damage the computer, so select the type of ignition wire with significant sheilding
routing the wires so they don,t contact headers is critical to long term lifespan, and yes the thicker insulation and higher quality wires do tend to be less likely to arc to each other, or burn as easily.
some applications require the carbon core wires with the metallic outer core design to reduce EMF interference.
THE MOST COMMON SCREW-UP Ii SEE IS GUYS HAVING IGNITION WIRE THAT GETS MELTED ON HEADERS, ITS THE HEADER DESIGN MORE THAN ALMOST ANY OTHER FACTOR THAT CAUSES THIS, SO BEFORE BUYING HEADERS TRY TO FIND A SIMILAR SET THATS BEEN INSTALLED AND CHECK THE PLUG & WIRE CLEARANCE/ACCESS, doing that, so you can avoid badly designed headers, can save you years of grief

TAYLOR,MSD,MOROSO
all make decent wire and you don,t need to go crazy on the price or diam.
, most of the spiral core 8mm-10.4 mm work fine,any of the above listed brands, I prefer the TAYLOR wires personally
do yourself a favor & read the linked info
http://www.thermotec.com/products/14200 ... hield.html
Spark Plug Wire Heat Shield
The Spark Plug Wire Heat Shield offers the ultimate protection for spark plug wires and boots from conductive and radiant heat, which is a problem.
The dual-purpose sleeve has a surface that reflects over 90% of radiant heat up to 2000º, while the inside silica-based fabric prevents conductive heat from penetrating.
Part Numbers
Part Number Description
14200 2 pc. 6" X 2-1/2"
http://cableorganizer.com/insultherm-spark/
http://www.magnecor.com/magnecor1/truth.htm
http://www.taylorvertex.com/Products/index.cgi/main3
getting the timing to retarded or f/a mix too lean and exhaust temps climb, usually resulting in burnt ignition wires or plug boots
http://www.summitracing.com/parts/TAY-99610/
these work on BBC combos with an HEI distributor, and headers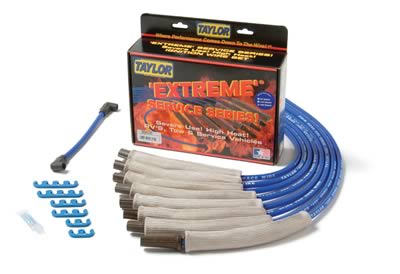 BE AWARE, that theres a significant variation in spark plug location between different cylinder head designs,made by different manufacturers ,and theres both strait and angle plug heads and even the angle plug heads vary a good deal between designs, and many headers won,t work with a few cylinder heads in some applications so its almost mandatory that you call and talk too the tech support guys from both the cylinder head and headers manufacturers, to ask if any specific combo has a history of clearance issues BEFORE purchasing your headers or cylinder heads or both.
http://www.summitracing.com/parts/TAY-84606/
http://www.summitracing.com/parts/TAY-91002/
http://www.summitracing.com/parts/TAY-79667/
ITS extremely important that you ask questions and get accurate answers , BEFORE purchasing headers about what style cylinder heads the headers are designed to fit, below is pictured a set of headers obviously designed for factory strait plug heads but bolted to a set of angle plug heads making spark plug access and wiring a clearance and heat , destroying ignition wire nightmare
FOR PLUGS...
bosch, AC delco, NGK all work
set the gap at .043-.045 and don,t forget to use anti-seize on the plug threads
http://store.summitracing.com/partdetail.asp?autofilter=1&part=LCT%2D37616&N=700+115&autoview=sku
I prefer TAYLOR wires
http://www.summitracing.com/parts/TAY-80617/
a V.O.M
meter
and this tool can come in handy
http://www.harborfreight.com/cpi/ctaf/D ... mber=97577
viewtopic.php?f=80&t=10730&p=46843#p46843