OVERLY HOT TRANS FLUID TEMPERATURE QUICKLY KILLS, A TRANSMISSION, SIGNIFICANTLY REDUCING TRANSMISSION DURABILITY, AND I'D POINT OUT THAT REDUCING THE TEMPERATURE OF TRANSMISSION FLUID ENTERING A RADIATOR HELPS REDUCE HEAT LOADS ON THE RADIATOR ,WHICH TENDS TO REDUCE ENGINE OPERATIONAL TEMPS.

ITS GENERALLY SMART, too Do all you can to keep fluid as cool as possible.
Higher stall converters produce more heat so they need more cooling. YOU may not need the Biggest cooler that can be installed , but you obviously should be calculating what will be needed and have that installed, and coolers with an auxiliary electric fan are a huge asset
If your thinking of adding an oil cooler ,the first question ID have is WHY are you adding an oil cooler and WHAT are your current oil temps that require one? the same question applies to trans fluid coolers, but its almost mandatory to add a trans fluid cooler in the case of a higher stall converter as most stock transmission coolers are barely adequate to maintain reasonable temps under normal driving conditions on the stock components.
most hydraulic supply shops can very easily fabricate flex hydraulic lines with matching ends at any length required,and theres plenty of auxiliary transmission fluid coolers on the market
and from experience I can assure you that if you need a trans cooler the type with the built in fan and at least 1/2" or AN#8 0r in a few cases AN#10 fittings are by far the best choice,simply because, it allows you to expose a great deal more of the trans fluid to the cooling effects of the surface area of the auxillery oil/trans fluid cooler far faster and more efficiently, with far lower restriction to flow rates, and obviously youll need to carefully measure where your going to mount the cooler and run the lines before ordering a cooler but the larger the surface area the better in most applications.
a restriction to flow will generally be the part of the connecting lines with the smallest cross sectional area, if you look at most automotive oil or transmission coolers they have AN#6 (3/8")or AN#8 (1/2")connections, so lines significantly larger won,t do much for increasing flow rates

DEEPER transmission oil pans come in a wide range of designs, some have air flow tubes to aid trans fluid cooling, Ive used them in the past,but these tend to reduce under car clearance so measure, GROUND CLEARANCE carefully WITH TWO PEOPLE IN THE CAR,
and think about speed bumps and raised manhole lids
keep in mind you need to know your homework, youll want to jack your car up and place a 2x4 with a block of modeling clay under the current transmission oil pan an then jack the car down, and have you and a friend sit in it to get a realistic idea as to current transmission oil pan to road clearance before thinking about use of a deeper oil pan on the car,youll want to maintain a 3.5"-4" MINIMUM road clearance to avoid damage from most road hazards like taller than usually speed bumps and manhole lids etc. if you can,t drive over a 3 foot long section of 4x4 lumber (which BTW measure about 3.5" x 3.5") in the street without hitting the transmission or engine oil pan your unlikely to clear some of the taller speed bumps and manhole covers projecting out of road surfaces
If you decide on a pan with those air flow cool tubes ,that can keep the cool air flow thru the hot trans fluid youll need to keep the tubes free from road crud blocking them,if they are free to flow air, they help, the problem is that keeping the hole clear is a bit more difficult than you might think if you live in an area with dirt roads or (MUD DOBBER WASPS)
when I had that style transmission pan I had to put the car up on the lift about once a week and power wash out the tubes because I drive on a few dirt roads, regularly, and on a car that has the oil pan on the transmission less than 5" off the pavement the holes tend to fill with crud fairly fast, I eventually swapped to the cast aluminum pan with external ribs that increased the surface area as it was stiffer, leaked less, at the gasket mating surface and was less maintenance.
READ THIS THREAD BELOW ITS GOT MORE GOOD INFO

viewtopic.php?f=57&t=176
viewtopic.php?f=71&t=4909
http://www.tciauto.com/tc/cooler-fittings
http://www.transmissioncoolers.us/Merch ... Code=guide
http://www.transmissioncoolers.us/Merch ... an-coolers
viewtopic.php?f=71&t=2817&p=7265#p7265
viewtopic.php?f=57&t=176&p=8390&hilit=cooler+transmission#p8390
http://spockboxes.com/TransmissionFluid ... QGZWmdbVug
http://www.allpar.com/eek/atf.html
http://www.converter.com/vigilante.htm
http://www.summitracing.com/parts/prm-12318/overview/
IVE FOUND THE USE OF BOTH A REMOTE MOUNTED, FAN EQUIPED TRANS COOLER AND
THE TALL CAST ALUMINUM TRANSMISSION PAN THAT ADDS A FEW QUART CAPACITY, WITH ITS RIBBED PAN SURFACE THAT ALLOWS HEAT TO DISSIPATE EFFICIENTLY
(IF YOUVE GOT THE REQUIRED CLEARANCE HELPS)
BUT ITS ADDING A DECENT , ELECTRIC FAN EQUIPPED TRANS COOLER THAT KEY, TO KEEPING THE FLUID TEMPS UNDER 180F for LONG TERM DURABILITY
you can,t generally see a extended capacity transmission pan so having a chrome plated one that won,t dissipate heat well makes little sense, and the stamped steel ones tend to flex and leak far more easily than the cast aluminum ones with the ribs do
I removed my (spare tire) and installed a rather large trans cooler with a powered fan .in its place along with a 2 quart aluminum trans pan adding a bit more capacity, this deeper oil pans only about 1.5" deeper than stock but it requires you to think about the reduced ground clearance because a c4 corvette trans pan has already minimal clearance to the road surface, with two adults in the car, making trans oil pan to road surface rather close to the ground
one of the first things I noticed when I installed a 8 quart baffled oil pan (further modified with extended sump) and a transmission and oil cooler on my car was the very noticeable drop in engine temps, in fact the engine had a hard time getting the oil temps up to 215F which is required to burn off moisture in the oil that gets into the engine if it sits for days in Florida, the cure was installing a 190f t-stat and a bye-pass/return on the oil cooler, that bye-passed the cooler with about 90% of the oil flow routed to the cooler until the oil got hot.
if you want to keep the temp from making wide swings as the car runs..
there are 190F-195F t-stats
http://www.ecklers.com/corvette-thermos ... -1991.html
http://www.ecklers.com/corvette-low-tem ... -1995.html
and optional sensors you can use to turn on the fans at lower temps like 195f-200f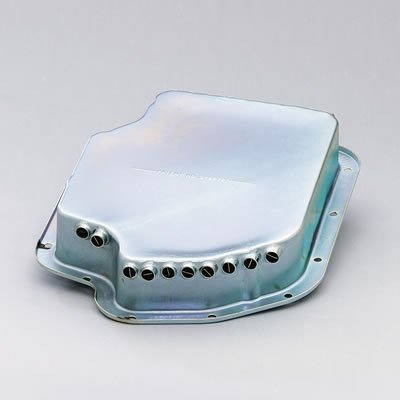 the tubes with air flow cooling holes look like a good idea but in the real world they plug up with mud or leak most of the time, get the ribbed aluminum pan and save yourself the grief
# Small compact cars, No towing Coolers with GVW ratings of 10,000 to 16,000 lbs.
Mid-size cars, Light towing
# Coolers with GVW ratings of 14,000 to 18,000 lbs.
Mid-size trucks & full size cars
Towing up to 5,000 lbs.
# Coolers with GVW ratings of 18,000 to 24,000 lbs.
Pickup Trucks, SUV's
# Towing up to 7,500 lbs. Coolers with GVW ratings of 22,000 to 26,000 lbs.
HD Trucks, Motor homes
Towing up to 10,000 lbs.
# Coolers with GVW ratings of 22,000 to 30,000 lbs.
Super Duty trucks
Large Motor homes
# Coolers with GVW ratings of 28,000 lbs. and UP
http://www.transmissioncoolers.us/Merch ... an-coolers
they work ok at first, but make speed bumps and some driveway entrances a problem and it rarely takes long for crud to plug the tubes and then they are nearly useless, one good mud puddle splash of mud,and your efficiency drops off, a couple and your clogged, I think your best solution will be a electric fan equipped trans cooler, if you've got only paved roads with no speed bumps and your willing to pressure clean frequently you might be ok, at least until the first tall manhole cover rips it clear off.. look under your corvette now with two people in it, I doubt you'll see 4" clearance under the trans pan, make it 1.5"-2" lower and you've got a huge potential problem, save those pans for trucks with more clearance
your best off installing a transmission fluid cooler of significant size to cool the trans under high stress/high heat load conditions,that has a separate electric fan and a thermostatically controlled switch that routes coolant thru the aux cooler once it reaches 180F, so it can,t get any hotter
if you have a performance car with a high stall speed converter, you might want to be discussing the installation of a remote mounted trans fluid cooler on your car, now it might not be mandatory but its always a good idea on a car that has a high stall speed converter as they generate a good deal more fluid heat than a stock transmission.


heres the cooler I installed on my corvette, It was the most efficient one I found that would fit at the time I looked, but it has AN#6 lines, it works just fine but if I had the chance ID select a slightly smaller and thicker cooler with larger line size , when I measured the corvette for the trans cooler I carefully measured the available space I intended to use and selected the largest most efficient trans fluid cooler that would fit in that space but forgot about the room that was required to route the trans fluid lines and fittings , making installing it in its intended location a true P.I.T.A. so I wound up mounting it where my spare tire goes normally in the rear of the car, (NEW GUY STUPID MISTAKE), I,m pointing out so you might avoid that little flaw in your plans should you choose to install a trans cooler
http://www.summitracing.com/parts/PRM-12318/

BUT having learned a good deal, since that time, if I had to do it over I would go with a slightly smaller size cooler with larger AN#8 lines if I was doing it today
http://www.summitracing.com/parts/der-15800/overview/
http://www.bulkpart.com/Merchant2/merch ... ct_Count=5
http://www.ws6transam.org/transcooler.html
mines mounted where the spare tire is usually
..more info in link
viewtopic.php?f=57&t=176
keep in mind automatic transmissions tend to add a significant amount of heat to radiators that use the lower section to cool the transmission, adding a large efficient trans fluid cooler to the car can also significantly reduce the heat loads on the radiator
many guys don,t realize that adding an oil and/or a transmission fluid cooler, with its own fan and radiator that allows those liquids to be cooled separately, to your engine and drive train, significantly reduces the heat load on the radiator, and generally allows the engine temps to decline noticeably. in fact just adding a high volume oil pan and a transmission cooler can drop your engine coolant temps 20F-30F in many cases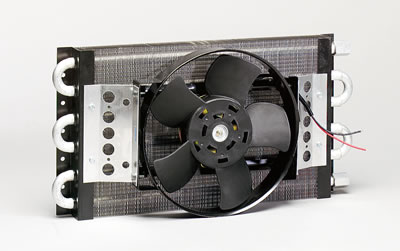 remote mounted oil filters can be used along with an oil cooler to to increase transmission cooler efficiency, and the remote filter and cooler used on a transmission also tends to increase fluid capacity ,and as a result the systems cooling efficiency as the longer the fluid remains in transit outside the trans dissipating its absorbed heat, the use of a auxiliary fan equipped fluid cooler on a performance transmission with a high stall speed converter tends to significantly increase its potential durability.
a rather common issue with adding oil coolers, is that many of the coolers available can significantly restrict fluid flow because of the small restrictive internal cross section of the internal tubing, AN #6 and 3/8" tube coolers can be quite restrictive, the AN#8 are better but DUAL AN#8 coolers and AN#10 lines generally work the best, and there's also frequently limited space to position a cooler in the outside cool air flow mandating a powered fans.
the solution to both issues can and frequently does require use of two different oil coolers but placed in series this can further increase flow restrictions, the solution is in use of larger internal cross sectional area,transfer lines and mounting the twin coolers in parallel thus doubling the effective cross sectional area reducing the flow restriction the cooler potentially could produce if used in series
http://auto.howstuffworks.com/auto-part ... olers2.htm