now I know few cars with less room to mount an efficient oil cooler with a fan than a c4 corvette, and after I installed a 3200 rpm stall converter in my corvette it became obvious i needed an aux trans fluid cooler.

READ THRU THESE THREADs ALSO
viewtopic.php?f=57&t=176

viewtopic.php?f=32&t=430

viewtopic.php?f=71&t=10749&p=46948#p46948

viewtopic.php?f=57&t=176&p=12473&hilit=corvette+trans+cooler#p12473

[b]BTW HERES AN IMPORTANT TIP, IF YOUR INSTALLING A REMOTE OIL COOLER, IT is really common for guys to use lines that are far too small, that restrict flow oil flow or select a transmission or oil cooler that has to small of internal passages,

shop carefully you want a MINIMUM of 1/2, or AN8 line size

and 5/8" or AN10 is BETTER.
[b]

many guys don,t realize that adding an oil and/or a transmission fluid cooler, with its own fan and radiator that allows those liquids to be cooled separately, to your engine and drive train, significantly reduces the heat load on the radiator, and generally allows the engine temps to decline noticeably. in fact just adding a high volume oil pan and a transmission cooler can drop your engine coolant temps 20F-30F in many cases, an effective trans fluid cooler should allow you to keep the trans fluid temp in the 160F-to-180F temp range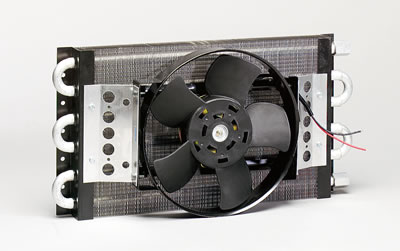 remote mounted oil filters can be used along with an oil cooler to to increase transmission cooler efficiency
a rather common issue with adding oil coolers, is that many of the coolers available can significantly restrict fluid flow because of the small restrictive internal cross section of the internal tubing, AN #6 and 3/8" tube coolers can be quite restrictive, the AN#8 are better but DUAL AN#8 coolers and AN#10 lines generally work the best, and there's also frequently limited space to position a cooler in the outside cool air flow mandating a powered fans.
the solution to both issues can and frequently does require use of two different oil coolers but placed in series this can further increase flow restrictions, the solution is in use of larger internal cross sectional area,transfer lines and mounting the twin coolers in parallel thus doubling the effective cross sectional area reducing the flow restriction the cooler potentially could produce if used in series
http://auto.howstuffworks.com/auto-part ... olers2.htm
http://www.grandprix.net/upgrades/cooler.html
http://www.iroczone.com/projtranscooler.htm
http://www.chevyhiperformance.com/tech/ ... index.html
http://www.bulkpart.com/transmission-cooler.html
viewtopic.php?f=54&t=1280&p=2741&hilit=+tank+oil+drops#p2741
http://www.fordmuscle.com/forums/tech-e ... ooler.html
heres a decent trans cooler
http://store.summitracing.com/partdetai ... toview=sku
heres a decent trans and engine oil combo cooler
http://store.summitracing.com/partdetai ... toview=sku
MOST guys run 3/8" lines to the transmission cooler, theres not much sense in running larger than 3/8"-1/2" lines simply because the restrictions in the trans in and out ports make larger lines wasted effort and smaller lines are too restrictive
heres my corvettes trans cooler
http://store.summitracing.com/partdetai ... toview=sku
notice the 3/8" NPT fitting size, measure very carefully and a local hydraulic supply can make you custom lines to fit your cars custom trans cooler installation, making the install far easier, btw if you do what I did the spare tires removed and the carry lid that covers it needs to be modified but it works great
heres one way to hook up cooler lines in tight places
keep in mind you can install a heat controlled valve that routes

cool trans or engine oil

back to the engine or transmission but one either fluid heats up it routes the

hot fluid thru the cooler
Id also point out that swapping to a 7-8 quart oil pan significantly increases the surface heat transfer area and in my experience that significant reduces oil temps all by itself.
Id also point out that adding an auxiliary oil cooler with electric fan ,mated with larger AN#10 oil line size,and use of the longer higher capacity oil filter(s) to any corvette (STOCK OR BIG BLOCK ENGINE SWAP) adds effective oil flow volume to the engine, this can be a HUGE advantage when theres limited room due to ground clearance or header clearance issues that limits the size of the oil pan itself that can be used.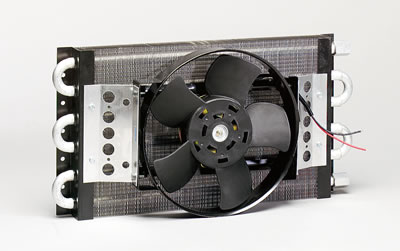 http://shop.perma-cool.com/1073-Oil-The ... s-1073.htm
keep in mind the whole idea of an aux trans fluid cooler is to increase the transmission durability by keeping the trans fluid temps low, an effective trans fluid cooler should allow you to keep the trans fluid temp in the 160F-to-180F temp range (in the 160f-170F range ideally) this is best done efficiently by routing the trans fluid thru the radiators heat exchanger then thru an aux radiator style oil cooler with its own electric fan, which will effectively dissipate the remaining absorbed heat much further ,lowering and controlling the fluid temps still further before the fluid returns to the transmission to be re-used.
theres certainly not much room under the hood and ground clearance is a huge issue
I first calculated the size of cooler I wanted , then realized there was no place it would easily fit, until I thought about replacing the rear spare tire with the cooler by purchasing a second spare tire carrier cover and a sheet of thin perforated steel plate so I could cut out a decent size area of the surface and cover it with the of thin perforated steel plate tpo protect the fins on the cooler yet allow a good deal of easy access to the airflow under the car, and mounting the cooler in place of the spare tire allows easy servicing,from behind the car nothing obvious shows or hangs down as I painted the perforated screen flat black, just like the spare tires carrier cover,and since the trans cooler is mounted inside the spare tire cover its up out of the way of road trash, yes you'll need to run the lines from the transmission back to the oil cooler but after careful measuring

I had a local hydraulic shop fabricate two 5/8" inside diam trans fluid lines that are designed to work at up to 300 psi and 300f temp, to fit the cooler with the correct end adapters

keep in mind youll want a cooler with a minimum of AN#8 fittings so that the internal line size is not restrictive to flow and matching lines to the transmission with a minimum of 1/2' inside diam. a cooler with AN#6 or 3/8" lines size is likely to restrict flow rates
http://www.summitracing.com/parts/der-15800
theres obviously many options you can chose, in an oil or fluid cooler, but remember theres limits to the room available and the lines adapters and connections, take up room around the cooler core radiator fan assembly, so measure carefully, look for AN#8 connections and a decent size cooler to be sure the limited air flow will still cool fluid easily
http://www.summitracing.com/parts/der-15850
http://www.summitracing.com/parts/flx-45908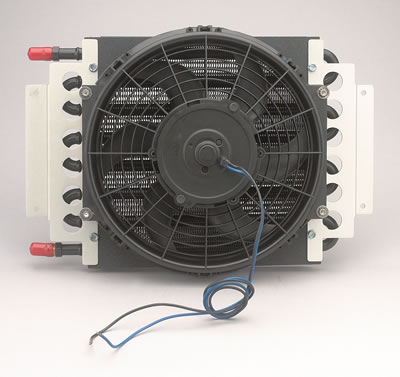 SOURCES FOR CORVETTE CARRIER COVERS
http://www.corvettesalvage.com/index.ph ... cts_id=471
http://www.vette2vette.com/
http://www.onlinemetals.com/merchant.cf ... top_cat=60
viewtopic.php?f=71&t=662&p=12989#p12989
I posted this bit of info, that will be useful if your swapping to a big block, because the stock radiator won,t be adequate
you tend to find the better radiators cost more, but are better built and more efficient
http://www.summitracing.com/parts/gri-6 ... plications
(griffen 3.5" thick, $727)
http://www.summitracing.com/parts/dwr-1139084a
(dewitts 3.25" thick 388 square inches of core face $525)
http://www.summitracing.com/parts/bci-62031
(becool 2" thick 360 square inches of core face $525)
HERES a Dewitt aluminum rad and wow is it a lot thicker! Here is the old:
And the new:
it should be obvious the DEWITT ALUMINUM radiator (pictured above) provides far more heat transfer surface area, Theres several well known sources for quality aluminum radiators and just as obviously theres clearance and space issues to consider.
(measure carefully and get the most effective aluminum radiator you can afford because the stock 1.5" thick radiator won,t work well)
most big blocks used in engine swaps produce a good deal more power than a stock SBC and burn a good deal more fuel, this results in a good deal more heat thats generated that needs to be transferred efficiently to outside air flow,the engines power generating extra power seems to always require a larger size radiator , now obviously without knowing the radiators fluid capacity,surface area and air and coolant flow rates I can,t tell if your radiator is fully up to the task at hand, but the symptoms that are usually described, of the engine heat building rapidly if the cars not moving tend to point to a need for a higher air flow rate thru the radiator.
I generally use 2-or-3 core 1.5 inch tube designs ,that are at least 3" thick if given a choice, but theres a good many factors involved, and adding a 200 amp alternator or a more efficient fan and adding an additional oil or trans cooler could very easily make a huge difference, as it lowers the heat loads on the cooling system