problems limiting results on the hobby
--------------------------------------------------------------------------------
that problem is a serious lack of money we can afford to spend on car parts due to lifes little expences like food,rent,wives ETC.and wasting the money we do get.
theres four major areas/variations, I see guys screw up in frequently
(1) the DEAL, where guys buy parts that don,t match simply because they get a good price,(usually on used parts that failed to work on a buddies car)
(2)lack of planning
where guys buy parts seemingly at random as the money becomes available, that don,t match or ones that may look good but can,t work well togeather, usually as a result of magazine articles,half understood, where they failed to duplicate the WHOLE COMBO
(3)money burning a hole in your pocket!!
this is where youve saved $1100 toward the purchase of the $1900-$3000 heads you know you need and the "DEAL" appears, you figure that youll get the cheaper parts and get the cam,intake,ETC. and be better off...
(4) building the WRONG CAR,youve always wanted a 600 hp big block,in a 1965 GTO, or 1967 corvette,1969 camaro ETC. but your pouring money into building a 1980 caprice with a 355 simply because you have one and don,t think you could ever afford your dream goal
so I was wondering if anyones got any good ideas as to work from home jobs,hot stock market tips, and care to share them??
or the older guys can point out the ERROR of HASTE and not sticking to the PLAN vs RESEARCH AND BUILDING IT CORRECTLY
its more realistic to find a source of income to finance the hobby thru a second source/(job)
any suggestions gentelmen???????
remember you can either throw MUCH greater amounts of money at a build where alot is wasted,or learn to do it slowly and correctly too plan on a budget
Id point out that YOUR skill level depends a great deal on both YOUR determination to get the job done correctly and the group of guys you hang out withs SKILL LEVELS.
if you hang out with a bunch of guys that don,t have a clue or the tools skills and determination to succeed your at a HUGE disadvantage
WE can,t change the past,we ALL, learn some lessons the hard way,
its learning to not repeat mistakes and looking at other peoples mistakes and learning from those screw-ups that advances the hobby and helps you prevent FUTURE problems
heres the secret, if your not actively working toward your SPECIFIIC goal WITH a check list, and having done the research to make sure it will work once its done, your very unlikely to ever reach/attain your goal
it helps a great deal set a goal,to write up a check list,with ALL necessary parts, collect the parts ON that LIST and not get OFF COURSE.
lets assume youve always wanted
a 700 hp 572 bbc,
http://electronic-pr.com/pr/text/new_wp_369.htm
a 4l80E trans
http://www.transmissioncenter.net/4L80E.htm
a DANA 60 rear
four wheel disc brakes
and 4 weber carbs on that big block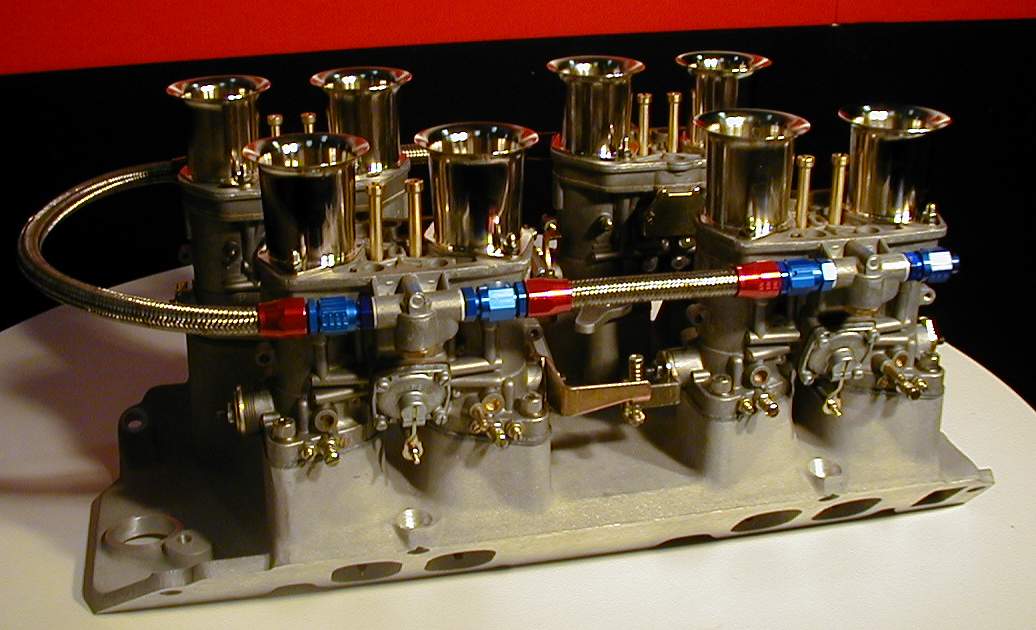 http://www.carburetion.com//Weber/wildv8.asp
stuck into a 1967 COBRA replica
http://www.factoryfive.com/table/ffrkits/roadster/roadsterkit.html
ONE OF MY BUDDIES DREAM GOALS
first step,make damn sure you really want to reach the goal, RESEARCH everything you can on similar cars and drive trains
list IN DETAIL all the components and possiable sources
step two, budget what ever you can EVERY week into a fund, and sell off anything (speed parts, old cars,)you currently don,t need to REACH that goal.
get a check list, start making contacts amoung suppliers and club members that may help you reach the goal,DON,T BUY STUFF THAT IS NOT ON THE LIST OR SPEND CASH THATS NOT NECESSARY on other GOAL:S
the time to change
whats ON the list
or find what parts work correctly is BEFORE BUYING PARTS
"So what am I to work on/play with for the next 33 years while I save up the money, and where do I learn the skills? "
your hardly the first guy to point out that "problem" or be the first guy working on an extremely tight budget, or not having all the skills, but If you joint a couple local CORVETTE or HOTRODDERS clubs and spend a good deal of time helping guys in those clubs work on THIER cars WHILE making LOTS of friends and contacts, youll be very surprized at the amount of parts ON YOUR LIST that will pass bye your nose durring the next few months/years and the skills you can pick up or find someone that has, ESPECIALLY if your very helpful and let it be known exactly what your working towards
it goes back to making a specific list and sticking to it EXACTLY
you may not have the cash for much but if you visit enought salvage yards and talk with and help enought people ypoull quickly find a good deal of the parts youll need, its all the small stuff that adds up and takes time anyway, so get that detailed list of parts, do the research, and joint the local guys with similar goals.....sure It can take years, Ive spent 5 years just getting about 2/3rds of the parts for my bbc engine swap in my corvette, but at least I KNOW exactly what I need and have accumulated a good deal of it so far and you can also!!!
its HARDLY rare to find guys willing to swap you parts they don,t need for HELP on thier projects, Ive gotten several complete used bbc engines and a 4L80E trans and several rear end assemblys, corvette parts,ETC. that way over the years...you may not have much use for lets say a 455 buick engine, or dodge 440, but if some guys willing to give it to you for rebuilding his engine or trans ETC. its almost sure to find a new home and be converted in money toward your project goals, and if your INTO the GROUP, and WILLING TO HELP OUT OTHERS, DEALS LIKE THAT WILL APPEAR....JUST don,t think you need to get PAID for all work, the object is BOTH gaining PARTS and GAINING SKILLS AND FRIENDLY CONTACTS in the hobby
making a good friend out of a guy with a few assets like a tig welder or a lift for the time it takes to do a few small projects like brake jobs is time well invested