once your engines hp and torque levels start to significantly exceed the factory levels its not at all uncommon for the engines twisting movement in the frame to start stressing the factory motor mounts, this can result in difficult shifts due to linkage geometry changes or jammed throttles etc.
On the motor mounts, the driver side is under extension or stretching and the passenger is under compression, as the engine torque increases with shifts etc. so the load is on the driver side. This is the reason for the solid driver mount most guys use is to limit engine movement,. As far as the trans goes, I like having something to absorb any vibes in the car so Ive generally used the hard plastic/ or POLY trans mounts. The weaker part is the aluminum trans case
many guys go to the stronger aftermarket poly motor mounts or add a short section of chain from the drivers side cylinder head to the drivers side frame to limit the shock loads on the motor mounts that speed shifts, high stall speed converters, higher rear gears and slicks, and much higher torque loads impart to the factory mounts,
the first time you bust an engine mount and the throttle jams wide open , you might see the advantages


many guys simply bolt a short section of chain or an adjustable strap with heim joint ends,between the left side car frame and some solid location like a bolt on the the left engine cylinder head that has just a bit of slack so as the engine torque increases stress on the motor mounts it tightens up as the distance between the left cylinder head and frame increases and significantly reduces the load on the motor mount.


POLY MOTOR MOUNTS and a decent grade 8 -7/16" bolt about 3.5" long is the common solution,to broken stock motor mount in a high stress application,
btw on some motor mounts the bolt holes either don,t line up exactly or the holes a bit under sized so a bit of drill bit time might be required to get the thru bolt to clear easily, so don,t get crazy, test fit the bolt before you install the mounts

if youve built a real torque monster solid mid plate mounts might be a good idea
http://stores.channeladvisor.com/Summit ... s/CEE-4031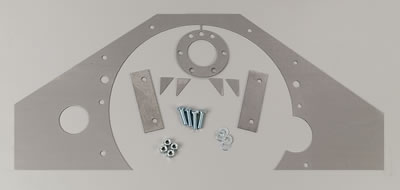 http://www.kmjent.com/cart/product.php?productid=1047
http://www.kmjent.com/cart/product.php? ... 602&page=1
IF your having trouble getting motor mounts to line up correctly ,you do realize that chevy motor mounts come in several styles and heights
1- 11/16"
1- 3/4"
2 -1/8"
2- 3/8"
2 -9/32"
theres also spacers for motor mounts
Part # Description
62535 Motor Mount Shim Kit
1/16", 1/8", and 3/16" thick, 2 ea.
Standard Chevrolet bolt pattern
Works great with Chevy Motor Mounts 62500, 62510, 62515, & 62530
Used to make slight adjustments to engine height to compensate for minor oil pan, linkage, and header interference
Great addition to engine swap kits
Part # Description
http://www.moroso.com/eb/catalog/naviga ... =main.menu
theres far more than just these designs
viewtopic.php?f=71&t=545&p=684&hilit=engine+mounts#p684
viewtopic.php?f=50&t=704&p=1573&hilit=engine+mounts#p1573
viewtopic.php?f=38&t=879&p=1377&hilit=engine+mounts#p1377
viewtopic.php?f=87&t=783&p=4910&hilit=engine+mounts#p4910
viewtopic.php?f=50&t=44&p=103&hilit=engine+mounts#p103
viewtopic.php?f=38&t=200&p=235&hilit=engine+mounts#p235
http://www.speedwaymotors.com/m/405_Eng ... -Kits.html
http://www.racecarparts.com/Big_Block_Chevy.html
http://www.eficonnection.com/eficonnection/58x.aspx
http://www.tperformance.com/street_rod_ ... or_mounts/
http://www.brokenkitty.com/xj/xjv8.htm
http://www.highangledriveline.com/unlti ... system.htm
http://www.highangledriveline.com/toy_flange.html
http://www.mrdriveshaft.com/U-Joint%20P ... 20U-Joints
http://www.pirate4x4.com/tech/billavist ... ndex4.html
https://sdp-si.com/eStore/Direct.asp?GroupID=574
http://www.billshotrodcompany.com/673/5301.html
http://www.speedhound.com/lsxswap.html
http://www.billetspecialties.com/assets/pdf/747.pdf
http://kwikperf.com/
http://www.progressiveautomotive.com/motor.htm
http://chucker54.stores.yahoo.net/enginemounts.html
http://www.sachserodshop.com/pdf/5.pdf
http://www.tdperformance.com/categories/?id=3102
http://www.hotrodsusa.com/store/bills.html
http://www.campbellenterprises.com/motorplates.htm
http://www.alangrovecomponents.com/
http://chucker54.stores.yahoo.net/enginemounts.html
http://competitionengineering.com/catal ... Code=11025
http://engine-swaps.com/frames/frame_Torquestrap.html
http://www.carcraft.com/techarticles/po ... index.html
http://www.fordmuscle.com/archives/2000/04/quicktips/
http://competitionengineering.com/catal ... Code=10029
if you want to get fancy and do a really nice job you can fabricate custom, adjustable length torque straps with HEIM joint swivel ends,and heavy wall stainless or chrome moly steel tubing and weld a lower bracket to the frame
http://www.pacificnorthwestbearing.net/ ... _info.html