now Im sure most of you guys have seen or used both types, (the old cork 4 piece sets and the newer synthetic one piece design oil pan gaskets)
in my opinion the newer synthetic one piece style is FAR superior!
if you read the instructions they say to not use a sealant, Ive found that use of contact cement ONLY on the surface between the upper gasket and blocks lower edge to be a better idea as you can slide the gasket in place then install the oil pan, especially if your under the car, but I also advise the use of STUDS in the BLOCK whenever you can use them as its so much more precise and keeps the gasket from moving as much during the installation procedure.Ive usually used the gasket with contact cement on the upper surface and studs to keep in located until the pans aligned and installed, because doing it way makes the installation far easier
BTW the 4 corner studs are a different diam. (larger) so keep that in mind and you don,t want the studs to extend to far below the block as it can cause clearance and installation problems if your sliding the pan on/off under the car with the K-member,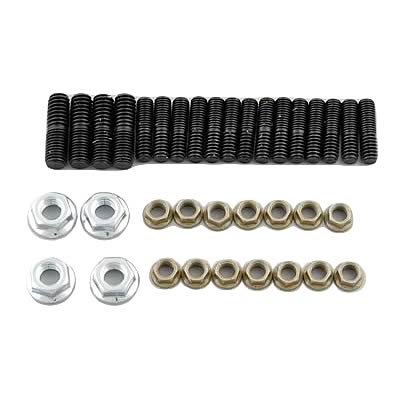 viewtopic.php?f=51&t=1718&p=4257&hilit=rear+seal#p4257
viewtopic.php?f=32&t=699&p=972#p972
viewtopic.php?f=54&t=525&p=4599&hilit=clay#p4599
viewtopic.php?f=53&t=301&p=1815&hilit=+one+piece+crank#p1815
viewtopic.php?f=27&t=26
viewtopic.php?f=32&t=474&p=585&hilit=+synthetic#p585
http://store.summitracing.com/partdetail.asp?part=MOR%2D38350&autoview=sku
THIS MAY COME IN HANDY
viewtopic.php?f=54&t=65
viewtopic.php?f=52&t=761&p=1092&hilit=+sequence#p1092
and remember the oil pan will only clear that K-member with the crank counter weights in a single location, so if your having a caniption fit trying to get it to clear the K-frame the counter weights more than likely in the wrong rotational location, SPIN IT OVER A BIT TO CLEAR :thumbsup:
ONE PIECE OIL PAN GASKETS
HERES A BASIC LIST
SMALL BLOCK FELPRO
http://www.jegs.com/webapp/wcs/stores/servlet/product_10001_10002_746664_-1_10197
TWO PIECE REAR SEAL
OS34509T: Thin seal
OS34510T: Thick seal
http://www.jegs.com/webapp/wcs/stores/servlet/product_10001_10002_47050_-1
one-piece main seal blocks use this one:
OS34500R
Which type you use is dependent on your oil pan, not the block or timing cover.
BBC LISTED ALSO
http://www.jegs.com/webapp/wcs/stores/servlet/product_10001_10002_746664_-1_10197
http://store.summitracing.com/egnsearch.asp?Ntk=KeywordSearch&DDS=1&Ntt=oil+pan+gaskets&searchinresults=false&N=700+115&y=8&x=43
here you can see the thin line of sealant under the rear main cap, thats sometimes overlooked resulting in a slow drip near the rear main seal